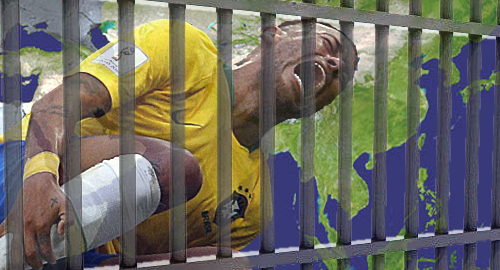 The Asian police force rivalry over the scale of their 2018 FIFA World Cup betting arrests is nearing a fever pitch as the tournament reaches the quarter-finals.
From the start, Thailand's national police force has made volume its priority, and deputy police spokesman Krisana Patanacharoen said Wednesday that the authorities had so far arrested 9,420 individuals on World Cup betting charges, roughly 5,000 more than during the entire 2014 FIFA World Cup.
Nearly 8,900 of these detained individuals were ordinary bettors, while another 392 were pinched for hosting gambling events – including 79 online gambling hosts – plus 149 bookmakers' agents.
Showing a little outside-the-box thinking, Thai authorities also raided a couple retail shops they suspected of supplying much of the technical gear used by some of the busted online gambling operators to bypass the government-monitored internet channels.
Police in Vietnam have taken a different tack, largely ignoring rank and file bettors in favor of the more headline-friendly online betting operators. On Sunday, police in the northern city of Ninh Binh arrested eight individuals involved in an illegal online betting ring, the third such bust since the tournament began.
In Singapore, police staged multiple raids on Monday, arresting 31 individuals involved in a betting ring that handled over S$4m (US$2.9m) in wagers over the first two weeks of World Cup action. Police also seized S$1.2m in cash along with the standard digital tools of the trade.
In Kuala Lumpur, police staged 285 World Cup gambling raids as of June 29, arresting 342 bookies and bettors in the process. The local anti-vice brigade claimed most of the bookies were of the online variety.
In Taiwan, police arrested a Taipei man for running a major online betting operation that handled wagers worth NT$140m ($4.6m) since the start of the year, including NT$40m on World Cup action. The ringleader had 11 'downstream' agents connecting with punters, while he connected with two betting websites, V13 and TGA888.net.
Mainland China has been relatively quiet on the illegal betting arrest front, perhaps because its legal Sports Lottery has proven more popular than anyone could have imagined. Official stats show sports lottery spending on the World Cup to July 1 hitting RMB28.6b ($4.3b), more than double the amount spent during the entire 2014 World Cup. And this year's feat has been achieved without the benefit of the online sales channels that were still allowed during the 2014 event.
Comments