Another review from the World Series of Poker, this time focusing on a stacked final table in the Millionaire Maker including Joe McKeehen, Barny Boatman and Justin Liberto, none of whom finished on top.
I guess it was prophetic.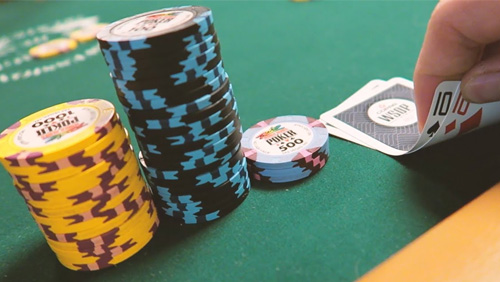 In the build-up to a World Cup where England will inevitably face Germany and lose, Sam Razavi had no chance when it came to his heads-up battle with Arne Kern in the Millionaire Maker.
But before we get there.
What a final table.
Seriously, boys and girls.
Isn't the purpose of these gimmicky mass field events to allow the amateur to turn a wet dream into the solid gold, dry feel of a bracelet?
The $1,500 buy-in No-Limit Hold'em Millionaire Maker attracted 7,361 entrants, and sitting at the final table were three people who owned five bracelets, and all told the last nine had earned over $25m in lifetime earnings.
The star attraction was Joe McKeehen. The shaven-headed wonder was making his second final table appearance of the summer, after finishing third in the $3,000 Shootout. McKeehen came into the series on the back of a two World Poker Tour (WPT) Main Event final table appearances. The man was on a rush.
Justin Liberto brought his aggressive style and single gold bracelet to the table, and let's not forget the two-time bracelet winner, Mr Barny Boatman; a man who could have written this a lot better than me.
Moving down the pecking order and Ralph Massey once finished 7/18054 in the COLOSSUS III proving he has the fancy footwork to get through dance floors chocked full of chip rifflers. And Manuel Ruivo beat 535 entrants to win the Mid-States Poker Tour (MSPT) DeepStack Championship Series at the Venetian two days before this one began.
Boom busting.
For the sake of parity, Ruivo, Massey, Liberto and Boatman hit the rail like rusty tin cans hit the floor after being nailed by hairy coconuts, and that left three.
Joe McKeehen.
Sam Ravazi.
Arne Kern.
At this point, your money has to be on the former World Champion, followed by Razavi, and then, maybe, Kerne. But it didn't turn out like that. Not at all.
McKeehen was on the verge of building a stack capable of winning his third bracelet when Razavi cracked the crown of his kings with the crappy looking A8. All-in pre-flop, an ace on the flop, and Kern eliminated McKeehen one hand later when his snail-like hand beat the snail-like hand of McKeehen.
Heads-Up
Kern – 34.2m
Razavi 21.1m
If you don't know either of these two, then let me help you out.
Razavi lives in the Philippines, and spends most of his time beating people up on the Asian Poker Tour (APT), where he has won the Player of the Year (POY) title more times than Cristiano Ronaldo wins the Golden Boot. It was his second appearance on a WSOP Final Table after finishing fourth in a $3k event in 2015.
Kerne on the hand is an unknown dollop of sauce in this hotdog bun. A 25th place finish in the Season 6 European Poker Tour (EPT) Prague Main Event for €27,200 was his largest score before this. But he is German. Ravazi is English. Say no more.
Razavi began as the chaser, but he soon became the chased when he opened to 2.4m from the button and Kern called. The Ah7h7s landed on the flop, Kern checked his option, Razavi bet 2m, Kern check-raised to 5m, and Razavi called. The turn was the 8c, and Kern moved all-in putting Razavi at risk for all of his doughnuts. Razavi made the call. It was Razavi ahead with 73o for trips, and Kern looking for help with T9o for the open ender. The 9d hit the river with a splash and Razavi took a 42.1m v 13.2m chip lead.
Before the subconscious had even given Razai the opportunity to create the vision of a bracelet in his prefrontal cortex, Kern pulled the handpoint hard, and Razavi was sent spiralling down a set of tracks heading into the buffer stops.
Razavi moved all-in holding A4o, Kern woke up with A8o; doubled up, and never released the lead ever again after that hand. The final act of both players in a thoroughly exhausting and exhilarating ride saw Kern move all-in holding 42s, Razavi called with AJo. The dealer put three more spades on the flop, Kern picked them up, dug a hole and Razavi climbed inside.
Game over.
Final Table Results
1. Arne Kern – $1,173,223
2. Sam Razavi – $724,756
3. Joe McKeehen – $538,276
4. Michael Souza – $402,614
5. Justin Liberto – $303,294
6. Manuel Ruivo – $230,120
7. Barny Boatman – $175,865
8. Ralph Massey – $135,383
9. Sean Marshall – $104,987
1,105 people earned a pretty penny in this one including the former Triton Poker Montenegro winner Manig Loeser (17th), previous November Niner Joseph Cheong (23rd) and WPT Champions Club member Iaron Lightbourne (38th).