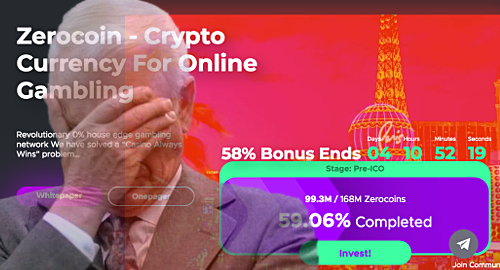 Wannabe cryptocurrency online gambling operator ZeroEdge has announced a second round of its initial coin offering, despite ample evidence that the entire operation is a scam.
ZeroEdge held the first pre-ICO sale of its Ethereum-based 'Zerocoin' crypto token in late February, reeling in investors with the company's pitch of launching an online sports betting and casino business that would corner the online gambling market with its 0% house edge (which, as we pointed out in our original coverage, isn't actually zero).
Echoing the adage that history repeats itself first as tragedy, then as farce, ZeroEdge is now planning a second ICO round in June, this time offering a 58% discount on the price of its token. That hefty discount suggests either the first round didn't sell as much as the company had hoped or the company has been forced into the hard sell routine due to some damning evidence that their business is a sham.
On March 28, Medium.com published an in-depth examination of ZeroEdge that determined "the casino and the 'Zerocoins' they are launching on March 27 are all fake." We strongly advise everyone to read the full article to understand the lengths to which scammers will go to flog their useless pump-and-dump tokens.
The investigation by Simon Casey uncovered some serious red flags, including bogus claims by elusive ZeroEdge CEO 'Adam Casey' (no relation) about working for legit bookmakers William Hill and Centrebet, plus a list of 'advisors' who expressed surprise at their inclusion on this list, and claims to hold a Curacao gaming license that actually belonged to one of their competitors.
Casey's investigation also uncovered an email from a ZeroEdge rep named 'Tom' who apparently contacted Keith Whyte at the U.S. National Council on Problem Gambling "looking for partners who can help us to developed [sic] this casino concept further and cure gambling addiction problems."
It took them a week, but ZeroEdge.bet published a rebuttal on Medium that claimed "there really is no scam and no gimmick in sight" but failed to address any of Casey's findings, likely because they couldn't. The rebuttal essentially boiled down to a version of 'haters gonna hate' and claimed doubters were all just upset because ZeroEdge was so revolutionary. Uh-huh…
People… For the love of God, there's really no point to gambling ICOs, or any ICOs for that matter, except to enrich their issuers. There is already a well-established cryptocurrency – Bitcoin Cash – that offers low transaction fees, fast transaction processing, the ability to spend it at a rapidly growing number of merchants, not to mention the security of knowing the technology won't disappear the day after you wire your hard-earned cash to Uzbekistan.
Comments