Week 35 of the Premier League sees Arséne Wenger wave the white flag; Stoke slides closer to the abyss after failing to beat Burnley at home and Man City humiliate Swansea with a 5-0 drubbing.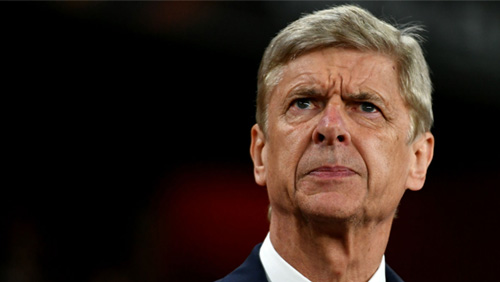 Arséne Wenger won three Premier League titles and seven FA Cups. Considering he won most of these competing with Sir Alex Ferguson at his pomp he deserves a hat tip.
Ferguson devoted 26-years of his life to the dressing room. Wenger is in his 22nd year. But there is one primary difference. The United manager left the club as a champion; Wenger leaves feeling alienated, unappreciated and unwanted.
On Friday, Wenger told the press that he would finally step down at the end of the season quoting the global status of the club as a brand as the primary reason, given that most of the focus on Arsenal seems to be on Wenger.
If only the man had moved on after his last FA Cup win.
At 68-years-old, it's time to send his football boots to the charity shop. The Premier League is no place for an old man. With Arsenal 11-points behind Spurs despite beating West Ham 4-1 at the weekend. Unless they win the Europa League, they will miss out on Champions League football for the second successive season.
The Premier League will never see the likes of Wenger again.
Arsenal's CEO Ivan Gazidis said the next Arsenal manager has to be "Open minded, brave and bold."
Here are the odds.
Odds on the Next Arsenal Manager
 Luis Enrique 5/2
Carlo Ancelotti 5/1
Joachin Loew 7/1
Brendan Rodgers 8/1
Patrick Vieira 9/1
The Battle For Relegation
With only three/four Premier League games remaining on the calendar here are the relegation odds.
Relegation Odds
 Stoke 1/16
Southampton 4/9
Swansea 4/1
Huddersfield 5/1
Almost all bookmakers have stopped taking odds on West Brom's demise despite picking up another point this weekend coming back from two goals down to draw 2-2 at Anfield, a week after beating Man Utd at Old Trafford.
Danny Ings and Mohamed Salah had put Liverpool into a commanding 2-0 position with 18-minutes of the game remaining. Jake Livermore and Salomon Rondón struck in the 79th and 88th minute to steal a point.
Ahead of Stoke's home tie against Burnley, Paul Lambert said his team needed to win three of the remaining four games to avoid relegation. Badiu Ndiaye gave Stoke the start they required finding the bottom corner in the 11th minute, but Ashley Barnes scored his sixth goal in eight games to stop Stoke from winning their first game in 11 matches.
"There are still a lot of twists and turns to come," Lambert told the press after the match.
Stoke's Remaining Games

Liverpool (A)
Crystal Palace (H)
Swansea (A)
Southampton picked up a solid point in a goalless draw against Leicester at the King Power Stadium, and three of their final four games are at home. If the Saints can beat Bournemouth and Swansea, and collect something at Goodison then who knows. There is also the after-effects of losing to Chelsea in the FA Cup Semi-Final. Will the day out at Wembley inspire them, or will the loss see them play the final four games winded?
Southampton's Remaining Games
Bournemouth (H)
Everton (A)
Swansea (H)
Man City (H)
Swansea was never expected to beat Man City, but Carlos Carvahal won't be happy with his side conceded five without reply. The drubbing means Swansea are winless in six in all competitions, and they lie two points clear of the drop zone (David Silva, Raheem Sterling, Kevin De Bruyne, Bernardo Silva and Gabriel Jesus scored for City). Those home games against Southampton and Stoke will decide the fate of the Welsh side.
Swansea's Remaining Games
Chelsea (H)
Bournemouth (A)
Southampton (H)
Stoke (H)
Huddersfield didn't play this weekend, but they did pick up a point against Watford in midweek with a goalless draw. Scoring remains the Terriers Achilles heel and looking at the fixture list they won't penetrate any of these defences. The only saving grace for Huddersfield is the difficulty in obtaining points of those around them.
Huddersfield's Remaining Games
Everton (H)
Man City (A)
Chelsea (A)
Arsenal (H)
Results in Full
Brighton 1 v 1 Spurs
Bournemouth 0 v 2 Man Utd
Burnley 1 v 2 Chelsea
Leicester 0 v 0 Southampton
West Brom 2 v 2 Liverpool
Watford 0 v 0 Crystal Palace
Arsenal 4 v 1 West Ham
Stoke 1 v 1 Burnley
Man City 5 v 0 Swansea
To Be Played (Mon)
Everton v Newcastle
Premier League Table
1. Man City – 90
2. Man Utd – 74
3. Liverpool – 71
4. Spurs – 68
5. Chelsea – 63
6. Arsenal – 57
7. Burnley – 53
8. Leicester – 44
9. Everton – 42
10. Newcastle – 41
11. Bournemouth – 38
12. Watford – 38
13. Brighton – 36
14. Crystal Palace – 35
15. West Ham – 35
16. Huddersfield – 35
17. Swansea – 33
18. Southampton – 29
19. Stoke – 29
20. West Brom – 25