Week 35 of the Premier League kicks off with a spot of midweek action as Brighton move eight points clear of safety with a vital draw at home to Spurs.
When you've been absent from the limelight for 34-years, the last thing you need is for the spotlight to cast you aside like a steak bone. After Brighton's battling 1-1 draw against the away day specialists Spurs, it seems likely that the bone still has some meat on it after all.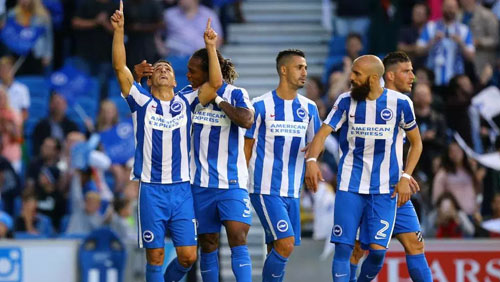 Spurs arrived at the Amex unbeaten in 12 away games, albeit licking their wounds after the 3-1 defeat to Man City ended their 14-match unbeaten run. Mauricio Pochettino made six changes, ahead of the weekend's FA Cup Semi-Final tussle with Man Utd, and that must have given Brighton some hope.
And the Seagulls need hope.
Going into the end zone Chris Hughton's men have to face Brighton, Burnley, both Manchester clubs and Liverpool.
Crikey, governor.
That terrible run-in means the home ties against Spurs and Man Utd have to be the place where Brighton pick up points if they are to avoid the Sarlacc Pit.
Mission #1 accomplished.
Spurs had only failed to win one game all season when ahead (Burnley), and so when Harry Kane made the most of some excellent work from Heung-Min Son to score his 26th league goal of the season, you could have forgiven the Brighton fans for heading to the local cinema to buy some popcorn.
Fortunately, the response was quick.
143 seconds to be precise.
Serge Aurier (who is making a habit of this) brought down Jose Izquierdo in the box, and up stepped Pascal Groß to slam the ball into the back of the net.
1-1.
Groß is every inch as crucial to Brighton's survival as Harry Kane is to Spurs' lofty ambitions. The strike was the German star's sixth goal of the season. Mix in his eight assists, and you have a contribution that only Mohammed Salah can beat in Premier League stats when it comes to percentage contribution in total team goals.
Spurs should have still won. The destroyers in dark blue peppered Matthew Ryan with 16 shots, twice as many as the home side, but the Brighton keeper was invincible on the night and well-deserved of his man of the match award.
The draw still means Brighton are winless in six. However, with eight points separating them from third from bottom Southampton, and the bottom three looking as likely to pick up points as a shit-stained toilet is going to be cleaned in a coffee shop, I think they can enjoy the limelight for one more season at least.
Brighton's Remaining Games
Burnley (A)
Man Utd (H)
Man City (A)
Liverpool (A)
Relegation Odds
West Brom 1/1000
Stoke 1/10
Southampton 4/9
Huddersfield 5/1
Swansea 9/2
Brighton 9/1
West Ham 20/1
Crystal Palace 25/1
Premier League Table
1. Man City – 87
2. Man Utd – 71
3. Liverpool – 70
4. Spurs – 68
5. Chelsea – 60
6. Arsenal – 54
7. Burnley – 52
8. Leicester – 43
9. Everton – 42
10. Newcastle – 41
11. Bournemouth – 38
12. Watford – 37
13. Brighton – 36
14. West Ham – 35
15. Huddersfield – 35
16. Crystal Palace – 34
17. Swansea – 33
18. Southampton – 28
19. Stoke – 28
20. West Brom – 24
Comments