Prague – 17 April 2018 –The curtains have closed three week for the second edition of Prague Gaming Summit and the organizers are delighted to announce that the growth of the event was noticeable.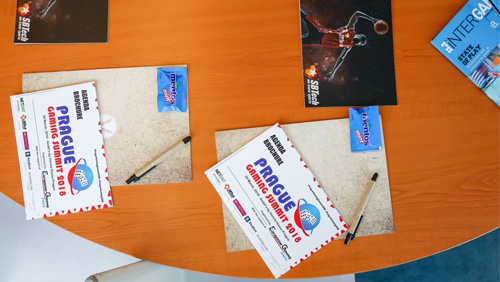 The second edition of Prague Gaming Summit was held at Vienna House Prague on the 29th of March and it was a sold out event. The initial plan included seating of 100 top level delegates, however due to the high demand, the event was extended to 120 delegates.
The organizing team would once again like to thank the supporting sponsors of the event:
•  BetConstruct (Lanyards and Badge Sponsor)
•  NetEnt (Main Stage Sponsor)
•  SBTech (Registration Sponsor)
•  PLANZER LAW (Networking Break and Lunch Sponsor)
•  Tal Ron, Drihem& Co. Law Firm (Legal Sponsor)
•  BtoBet (Digital Sponsor).
The main highlights of the day
The event started smoothly with delegates starting to network straight away and eagerly waiting for the information to be shared by expert speakers. The delegates were greeted by Betty, Tereza and Christina, who handled the smooth registration and made sure everyone has all the information about the program that has commenced at 9:30 AM (Prague local time).
"Prague Gaming Summit is definitely the most important event when it comes to learning and networking with the experts of the industry from Central European countries. NetEnt is always interested in finding partners that comply with local laws and we have dedicated ongoing efforts in order to provide the best solutions in regulated markets. Being among the delegates who also attended the inaugural edition in 2017, I can say that this year's event has doubled in participant numbers and has taken the event's experience to the next level."
Nadiya Attard – Head of New Sales at NetEnt
"The 2nd edition of Prague Gaming Summit was really an amazing one. In comparison with the first year there was visible improvement and I hope it will continue next year as well. Perfectly organized, nice place for conference and also good panels to discuss. Always good to be here and meet the right persons from industry. See you next year in Prague"
Vladimir Horak – Business Development Manager at Betgenius
The first panel of the event was dedicated for the local market and highlighted the main developments of the Czech Gambling Market. The panel was moderated by Dr. Joerg Hofmann (Melchers Law Germany) who introduced the speakers of the panel. Dr. Hofmann was joined by Jan Rehola (PS Legal), Jakub Kolomicenko (Endorphina), Ivan Sagál (Bird&Bird), TalZamstein (Fortuna Group).