888Poker's 8-Team World Series of Poker Promotion returns for a second season, this time with a new team, a few new team captains and a new set of rules.
888Poker and the World Series of Poker (WSOP) are like Cagney and Lacey. I can't remember a time when the pair wasn't joined at the hip. Last year, the online poker room made the most of that union through their 8-Team WSOP Promo, and they believe it's worth another shot.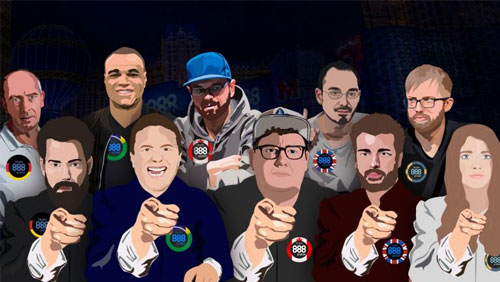 Backstory.
In the months leading up to the 2017 WSOP, 888Poker announced the inaugural 8-Team promo. The online poker room would send five teams of three players to the WSOP (Captain, Wingman and Online Qualifier). The job of the Captain and Wingman was to do everything in their power to ensure their qualifier lasted the longest.
Team Brazil (Captain Bruno Politano, Wingman Denilson, and Qualifier Joao Sousa Monteiro) won the promotion after Monteiro made it to Day 4 before hitting the rail in 583rd place for $22,449 – not bad for a $30 online satellite buy-in.
8-Team Are Back; One More Team; New Rules 
888Poker is once again running the 8-Team promotion, but several changes are in play.
There will be six teams, not five, with the Spaniards added to the mix. The role of Team Captain falls to Marti Roca, the man who qualified for the 2017 World Series of Poker Europe (WSOPE) Main Event playing online at 888Poker and went on to win the bloody thing for €1.1m.
Nice.
The other team captains are as follows:
Chris Moorman, Dominik Nitsche and Parker Talbot keep their captaincy roles at the helm of Team UK, Germany and Canada. Last year's winning captain, Bruno Politano is out on his arse, replaced by Vivian Saliba. And Martin Jacobson has pulled rank over Sofia Lovgren as Captain of Team Sweden (winning the WSOP Main Event affords you that power).
888Poker will announce the Wingmen (or women, let's not be sexist here) sometime before the end of the promotion (June 4). Last year, the wingmen consisted of a series of professional poker players and former sports stars. Expect much of the same this year.
Joao Sousa Monteiro won a free seat into the 2018 WSOP Main Event. 888Poker felt a little sad about that move. This year, every team member wins a buy-in for the 2019 extravaganza.
And it's a points system this year.
Teams pick up points for making it through the day, having the most chips, bonus points if the entire team makes it, and a massive last longer bonus for the longest lasting qualifier.
If you want to take part in 888Poker's 8-Team Promotion, then I suggest you start playing your poker in their front room.