An illegal gambling sting in Wichita that somehow included the businessman and high stakes poker lover Brandon Steven has ended with two people pleading guilty to various charges, four more people ready to take a swing, and Steven given the all clear.
An FBI investigation.
It sounds sexy, right?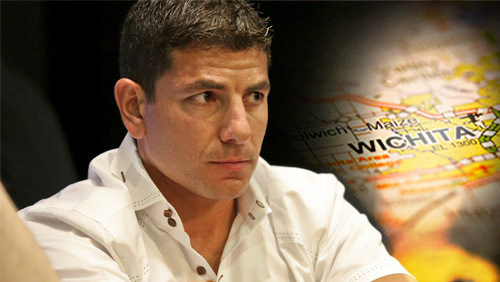 I guess it all depends on the soul of the song. Back in February 2017, I covered the Wichita Eagle's ink that the businessman, and high stakes poker lover, Brandon Steven was part of an FBI investigation. A year on, I can close this one down, and it's not very sexy at all.
Two people have pleaded guilty to charges of operating an illegal gambling business and various tax evasion offences. Four more people are expected to follow (three of whom are police officers). And Brandon Steven is not one of them.
The Wichita illegal gambling investigation has been ongoing for more than three-years, but one doubts Aaron Sorkin is going to interested in turning into Molly's Game Part Deux.
The United States Attorney's Office for the District of Kansas has slapped the invisible cuffs onto the wrists of Danny Chapman and Daven 'Smoke' Flax. Chapman seems to be the Molly Bloom of the outfit. The 67-year-old confessed to being an underground bookie, who took action from Wichita residents between 2013-17. In that time he amassed a $1.5m fortune and laundered his money through the ownership of classy cars – ten of them to be exact. Chapman pleaded guilty to single count of operating an illegal gambling business and one count of tax evasion.
At the height of his powers, Chapman employed five people who acted as runners. One of them was Flax, who was also running an underground poker game that got quite big. The 46-year-old is said to have continually moved the game around the Wichita area to escape the all-seeing eye of the fuzz, and he might have gotten away with it if the feds hadn't busted Chapman.
Flax held his hands up to two counts of operating an illegal gambling business, and one count of writing porky pies on his tax return. Flax's Achilles heel was the same as Blooms (although not as high and sharp). He took a rake.
News reports cleared Brandon Steven of any wrongdoing. His brother, Rodney, and State Senator Michael O'Donnell were also given the all clear. My impression of Sherlock Holmes assumes Steven got caught up in the wiretaps because he is the owner of a car dealership and plays poker, two activities that would have put him in the crosshairs of Chapman.
The feds have charged four more people as part of the sting.
Michael Zajowski and Bruce Mackey face charges of obstructing a criminal investigation after the court revealed they tried to use their police powers to identify undercover officers investigating the illegal poker games. A third boy in blue, Michael Frederiksen, has been charged with lying to the FBI about his involvement in the game.  (didn't his parents tell him that was wrong) Brock Wedman, not a copper, has also been charged with obstruction of justice and telling fibs to the FBI.
The sentencing follows with those in the dock facing five years in the clink and $500k in combined gambling and tax fines. However, as anyone who has watched Molly's Game can attest, the six of them will likely end up with 200 hours of community service and a movie deal.
Comments