In this week's Poker Routines Lee Davy catches up with the UK online grinder, Luke "LFMagic" Fields to find the keys to his success.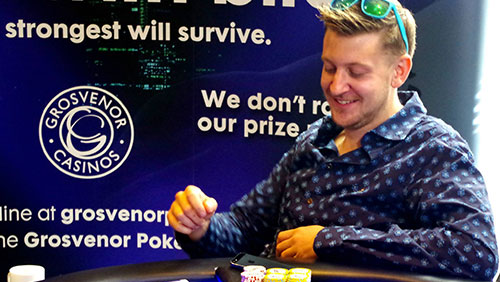 Luke "LFMagic" Fields is one of the UK's fiercest online grinders with over $3.3m in online earnings, including a 2011 Full Tilt Online Poker Series (FTOPS) victory, beating 2,461 players to earn $200,904. Fields is also a Grosvenor United Kingdom Poker Tour (GUKPT) Champion after taking down the Tournament of Champions event in 2010 for £44,250.
Let's see how he does it?
When did your aspirations to become a poker player begin? 
Having played from a very young age (12), I was always adamant that I would do something out of the ordinary for a living whether that would have been pursuing magic professionally or playing poker. When I moved to Leeds for uni after finishing my A-levels and had casinos on my doorstep is when poker became seemingly the only thing I could imagine doing.
How do you spend the first hour when you wake up? 
Usual plan of action is taking the dog for a walk then cook some eggs and make a protein shake!
Do you have defined goals for how many hands/sessions you play in a week? 
I used to when I was playing MTTs full time, but with HU PLO hypers I have to wait for action so I'll sit in the lobbies whenever I can, sometimes even on my phone if I'm on the cardio machines at the gym!
Where do you play online, what types of games, and stakes? 
I play across Stars, Party and 888 mainly with Stars taking the majority of my action with it being the only site that has the traffic for HU PLO hypers.
Do you have a specific routine that you go through before you begin an online poker session? 
Given most of my MTT sessions now are early mornings and off-peak I make sure I've always eaten breakfast before regging up. With evening sessions I'll always try and train or play tennis then sauna before regging up.
When you first sit down to play poker how do you begin? 
I'll quite often play a couple of lower buy-in HU PLO hypers first before sitting the higher buy-in lobbies just to get my head in the game. With MTT sessions I'll write a list of all the games I'm aiming to play and collate all investors who have bought a piece if I've sold some action on 2+2.
What tools do you use when playing or reviewing? 
Up until last year, I was screen recording nearly every MTT session I played and watching them back quite regularly, but since moving over to the hypers, I don't bother anymore as these games are massively player dependent. I'd much rather be sitting in the lobbies than reviewing previous games given I'll often play over 1000 a month.
What're your thoughts on listening to music when playing? If you do, what do you listen to? 
I can't play online without music on! You can usually find me clicking buttons and listening to disco/soul/house. The two most commonly played artists on my Spotify are probably Frankie Knuckles and Chic and everything in between.
If you use a HUD then how do you use it? 
It's very rare that I'll use my HUD if at all these days although I used to. It's not necessary for the hypers and with me playing mainly small player field P/NLO8 and off-peak mid/high mtts I'm always playing against the same number of regs. I most certainly should be utilising it more efficiently though.
What system do you use for taking notes on your opponents? 
Relating to the previous question another reason is that I make extensive notes on everyone and have done for the past ten years. I colour code player types like most other pros too.
What is your process of review?
I have a handful of friends who I share MTT hands with on Skype a lot to line check, and that's about it now. There are only really two other people sitting the hyper lobbies now that I believe are any good and we don't sit each other so we'll share hands occasionally too as well.
How do you educate yourself about poker? 
Regarding keeping abreast with what's going on in the poker world, I have 2+2 saved as my Home page, so I flick through the popular sub-forums on there mainly.
How do you improve your mental state?
Like I said before if I'm playing a full evening MTT session I merely have to play some sport or go to the gym first, get the endorphins kicking in before the session. This puts me in a great state of mind before playing every time.
How much of your time is spent playing versus learning? 
As above with the nature of HU PLO hypers and the small ROI, it makes sense to just get as much volume in as possible. I originally moved over to these to try and flatten out an MTT downswing and have learnt as I've played primarily.
Are you consciously trying to emulate the style of a particular player?Do you have people you look to as models for your game?  
There are countless people in poker I have the utmost respect for, but I would never say I've emulated anyone's style as such. I'm one of those stubborn people that prefer to learn by doing and make countless mistakes before I feel comfortable changing something or trying something new out!
Is poker easy? Does it come naturally to you? 
Poker in 2017 is certainly not easy; it has never been tougher to win. Poker has always come kind of natural to me for sure though; I progressed a lot quicker than some friends who started playing casually around the same time, and I think this is due to having a mathematical brain and what was probably somewhere close to an obsession with the game at a very young age initially with NLHE HU SNGs.
What books/courses/mentors have helped improve your game (doesn't have to be a poker book)?
Living with poker players in the past and having friends and backers over the last ten years that are amongst the best at their specific disciplines has been paramount to improving and staying motivated in poker for me for sure. A lot of that has been down to luck; speaking to someone at the right time or being introduced to them through mutual friends etc. One of the best individual resources I would recommend to anyone is the Mersenneary e-book from HUSNG.com which was, and I assume still is available for free download on the site.
Was there ever a time when you didn't want to play poker? How did you get out of the funk? 
I'll occasionally go through a period where I don't want to play but it never usually lasts that long. I'm sure most poker players will agree that there are days where you just feel so right about everything, and you're winning all the flips. The days when you seemingly can't win a pot can be incredibly demotivating which is why it's essential to have some other interests away from the computer. I guess everyone is different though which makes being able to instantly forget about a bad session whether in terms of results or quality of your play crucial to any sport.
How does poker make you feel?
I still get the same buzz I've always had running deep in tournaments or winning one which is great! Outside of that bad days still make me feel 'meh' for a short while, but it's always something that leaving the house and doing something sorts out. Since moving to the hypers the bad days, there can be very very stressful as you can lose a ton of buy-ins very quickly. Overall though it's worth it, and the freedom I get from playing these games as my primary grind now makes me feel good and allows me to have a ton of hobbies and sports that I enjoy playing.