partypoker has released a partial schedule for the forthcoming Caribbean Poker Party in the Dominican Republic, and news from the partypoker LIVE Grand Prix Austria and DTD1000 in Nottingham.
There are three ways to keep warm in November.
Fill a hot water bottle and rest it on your privates.
Push your bed next to the radiator.
Or.
Jump on a jet plane and head to the Dominican Republic to compete in the partypoker Caribbean Poker Party.
If you have the money for the trip to Punta Cana, or have qualified online, and have been waiting for partypoker to release the full schedule, then the organisers have released details of the Main Event and High Roller parts.
The beautiful black butterfly amongst the caterpillars is the $5m Guaranteed $5,300 buy-in Main Event. The winner earns a million bucks. Day 1A begins Mon 20 Nov. If the price tag frightens you, then don't sweat. There is a myriad of ways you can book your seat via the satellite routes available online at partypoker or live at the event.
There is a $10,300 buy-in High Roller beginning on Fri 17 Nov (unlimited re-entry). And there will be a $25,000 buy-in Super High Roller taking place on Sun 19 Nov (unlimited re-entry).
Partypoker is guaranteeing $10m in prize money throughout this festival. Details of the side event will sneak out in due course.
Vladimir Burstein wins the partypoker LIVE Grand Prix Austria. 
How do you manage to create a €507,310 prize pool from a €115 buy-in?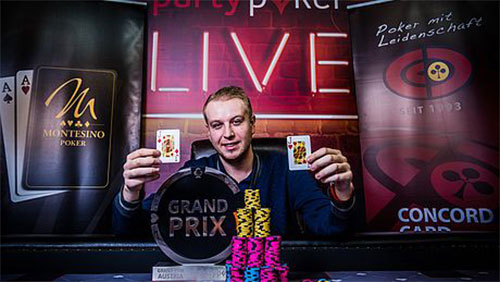 If you are the partypoker LIVE Grand Prix Austria, you host 13 different Day 1's around the world, and 16 online. If you do that, then 5,230 entrants pay their dues, and you get your half a million euros.
The most significant slice of that pie now lies in the bank account of Martin Lechter, but he didn't win. Lechter picked up €48,530 after the final five players agreed on a split deal. Lechter went on to lose to Vladimir Burstein in heads-up action who picked up €47,250.
Burstein has been a professional poker player for two-years. He specialises in cash games, and rarely plays tournaments. His previous best score was a 43rd finish from 8,120 entrants to win $13,861 in the $888 Crazy Eights World Series of Poker (WSOP) event in the summer.
Final Table Results
1. Vladimir Burstein – €47,250*
2. Martin Lechter – €48,530*
3. Rolando Lombardi – €32,980*
4. Aristeidis Moschonas – €32,560*
5. Unknown – €29,920*
6. Ela Kubincova – €13,500
7. Unknown – €10,000
8. Dragan Zaric – €7,500
*Indicates a five-handed deal
Ben Dobson Wins the DTD 1000 
UK pro, Ben Dobson, has beaten a stellar field to take down the £500,000 Guaranteed DTD1000 at Dusk Till Dawn (DTD) in Nottingham.
The event attracted 481 players, and Dobson beat a final table that included luminaries such as Phillip Mighall (2nd), Matt Moss (4th), and Paul Zimbler (7th).
Dobson is no stranger to picking up the win at DTD. He won the £550 SkyPoker UK Poker Championships in DTD back in 2014 for £45,000. He also finished 3/474 in a 2015 $2,500 Omaha/Seven Card Stud Hi-Low 8-or-Better event at the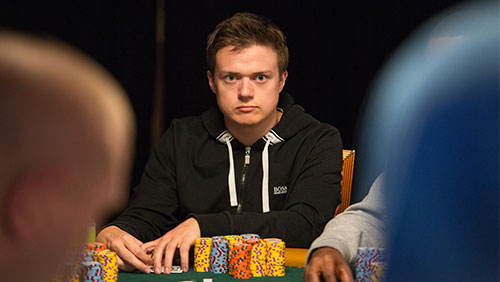 WSOP for $105,893.
Final Table Results
1. Ben Dobson – £93,600
2. Phillip Mighall – £83,900
3. Emma Fryer – £47,500
4. Matthew Moss – £37,500
5. Adam Maxwell – £30,000
6. Mariius Alexandry Gicovanu – £23,500
7. Paul Zimbler – £18,500
8. Timothy Hickling – £14,500
Other notables that went deeper than a meat temperature gauge in a slice of Elephant steak were Jonty Willis (14th) and Richard Trigg (41st).