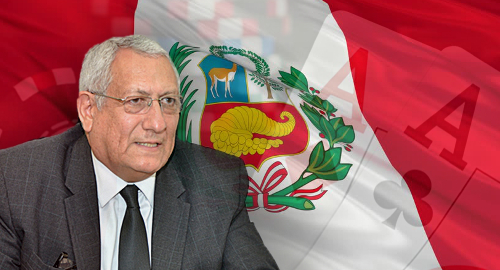 Peru's land-based gaming overseer wants legislators to approve rules that restrict online gambling to companies with a physical presence in the country.
On Tuesday, Manuel San Román Benavente (pictured), the head of Peru's gaming regulatory body La Dirección General de Juegos de Casino y Máquinas Tragamonedas (DGJCMT), told local media outlet Portal de Turismo that his group had worked with the Financial Intelligence Unit to craft a bill it plans to submit to Peru's Congress that would regulate online sports betting and casino games.
For the record, this isn't the first time Román has made such a claim. In June, he was telling media that online legislation would be introduced in Congress by the end of July. But it seems that the Ministry of Foreign Trade and Tourism, to which the DGJCMT reports, has yet to give the online bill its official seal of approval.
Online gambling is neither legal nor illegal in Peru; the activity is simply tolerated. Peru's Civil Code allows pretty much all forms of gaming except greyhound racing and gaming machines aimed at minors. But Román wants the government to codify certain online rules to benefit companies that already have boots on the ground.
The DGJCMT wants to require Peru-facing gambling sites to have a company incorporated in the country so that it will be required to pay taxes (rates not yet established, although land-based operators pay 12% on their revenue). Román also wants to establish strict rules for advertising, promotion and sponsorship and force Peru-facing sites to operate exclusively from .pe domains.
For operators not willing to abide by the above rules, Román plans to enlist the help of the Ministry of Transport and Communications to block the domains of noncompliant sites. Although someone should probably inform Romån that Colombia, the continent's first jurisdiction to formally regulate online gambling, recently had to consider payment-blocking when its domain-blocking strategy proved as effective as using a strainer as a coffee mug.
The DGJCMT recently announced that the land-based casino and slot machine industry had contributed around PEN 300m (US $92m) in taxes to government coffers in 2016, a sum 7.6% higher than the industry anted up in 2015.
Comments