Lee Davy continues to dive deep into the guts of the greatest poker players in the galaxy, this week poking around in the ribcage of Jim Collopy. 
Jim Collopy was spearfishing when I convinced him to share the secrets to his success.
So this column is much more than an insight into the lives of the most gifted poker players in the world. It saves the lives of sentient beings, baby.
Who are you?
I'm a Washington, D.C. native, NYU graduate, and masters candidate at UC San Diego School of Global Policy and Strategy in International Political Economy.  I have toured internationally for over a decade across six continents, and enjoy competing at the highest levels in a variety of games, formats, and languages.
What is your claim to fame? 
I make the game fun.
When did your aspirations to become a poker player begin? 
ESPN introduced us in the summer of 2003, between grade school and high school.  Competing in sports and academics was all I knew, but my athletic ceiling was too low, and academia was always more of a means to an end than an end in and of itself.  I never looked back.
How do you spend the first hour when you wake up?
Check the waves, make freshly squeezed juic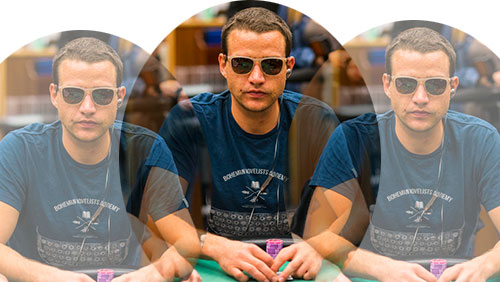 e, chug water, grind coffee, and thumb through a major periodical.
What time of the day do you find it easier to play poker and why?
After sunset.  I prefer to be outside during the day.  I prefer breaking games to starting games, primetime hours to trading hours, short-handed games to full-ring games, and imbibing hours to teetotalling hours.  Schedule permitting, I think my modus operandi is best—so long as you can get a chair and action.
Do you have defined goals for how many hands/sessions you play in a week?
No, my defined goals are more qualitative than quantitative.
Where do you play, what types of games, and stakes? 
I play all over.  I prefer big-pot rotation mixes, high-stakes, low rake, and in legitimate games.
Do you have a specific routine that you go through before you begin a live session? 
Ideally, I come in rested, nourished, and exercised.
When you first sit down to play poker how do you begin? 
I order a beverage, find out the daily specials, and size up my opposition while determining my buy-in and considering my stop-loss.
What do you often do at a table other than play and observe?
I like to make the game fun.
What're your thoughts on listening to music when playing? If you do, what do you listen to?
I think headphones don't help the game.  I prefer home games that choose music like they choose the telly channel unless they're brave enough to dealer's choice through DJs.  If I use headphones, I listen to a wide range of music and delve into podcasts if the hours, conversation, or action become too monotonous.
What system do you use for taking notes on your opponents?
I try to pay attention and remember the important bits of information.
Do you have a specific warm down routine after you have finished a session? 
I try to sleep as soon as I can.
What do you eat when you play live?
I try to eat well, but the venue dictates my diet.  A proper kitchen will draw a crowd.
What is your process of review?
I focus on the hands that merit discussion, think them over, and seek out the wisdom of stronger players. Familiarity with the game and lineup adds value in spots that are more contextual.
How do you educate yourself about poker? 
I have a strong network that takes the game quite seriously.
How do you improve your mental state? 
I try to sleep well, eat well, exercise and build a life outside of the game.
How much of your time is spent playing versus learning?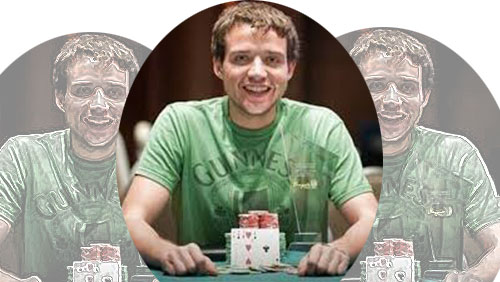 The ratio varies, but its dictated by action.
How do you know when to stop a session? 
The game breaks when it breaks. I try not to leave unless I must.
Are you consciously trying to emulate the style of a particular player? Do you have people you look to as models for your game? 
I admire certain qualities, approaches, and styles of particular players.  I like the way Stephen Chidwick and Dominik Nitsche approach their respective grinds.
Is poker easy? Does it come naturally to you?
I enjoy playing poker, which makes it easier than if I didn't enjoy it, but the game has such depth and complexity that ease has a lot more to do with the competition than the game itself.  Competition comes more naturally to me than poker.
What is your favourite moment in poker? 
I competed in a World Poker Tour event in Barcelona that paused for a penalty kick.  I flew to India for an Asian Poker Tour event that underestimated the impact of wedding season; the event began at the final table.  I chopped the first and last Latin American Poker Tour event in Mexico with eighty-eight other players courtesy of a bureaucratic misunderstanding.
What books/courses/mentors have helped improve your game (doesn't have to be a poker book)?
Cliff "Johnnybax" Josephy and Eric "Sheets" Haber's PokerXFactor helped me hit the online ground running after Phil Hellmuth's five animal archetypes ran their course.
Was there ever a time when you didn't want to play poker? How did you get out of the funk?
Whenever crony capitalism and bureaucracy trump flourishing marketplaces, I wonder why we put up with it.  Lottery operators, racetracks, and slot machine purveyors aren't interested in innovating poker.  This is and should remain a players' industry, and remembering that rudiment helps me escape the funk.
How does poker make you feel? 
Alive.
What is the one thing you know you have to change after answering these question? 
Cliché, but to "be the change [I] wish to see in the world." (Gandhi)
What is the one question I didn't ask but should have asked, and now answer it? 
Personal ethos? The best is yet to come.
Comments