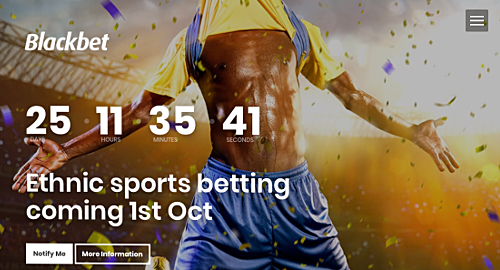 A new UK online gambling site is pitching itself as the go-to destination for 'ethnic sports betting,' whatever the hell that is.
Blackbet.co.uk is currently just a splash page counting down until October 1, after which UK punters will be able to avail themselves of this 'ethnic sports betting' thing. The site contains little other information, other than the declaration that the operators are "a new UK and European focused ethnic sports betting brand," again, whatever that is.
To emphasize the point, the site features a rotating palette of backdrops featuring black athletes and (mainly) black fans. There is some additional text explaining that its mission is to provide "players in our communities" with a thrilling gaming experience "in the safest and most secure environment."
The site does have a 'contact' page but it doesn't actually allow you to submit queries. Direct queries to the email address cited on the contact page have so far gone unanswered. The domain was registered using a privacy service on May 9. There is also a Blackbet Facebook page that was registered on July 28 but has yet to post any content.
So, is someone taking the piss? This almost seems like the kind of thing that those pranksters at Paddy Power would create just to give the likes of Nigel Farage and the Daily Mail nervous indigestion. (Attention Paddsters: the Immigrantbet.co.uk domain is still available.)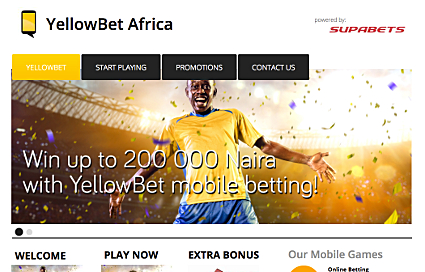 A check of Blackbet's listed address in London reveals a shared office space with a PR firm called Wimbart, which works with a number of African firms, including some based in Nigeria. And we couldn't help but notice that Blackbet's launch date neatly coincides with the anniversary of Nigeria's achieving independence from the United Kingdom in 1960.
And wouldn't you know it, the Blackbet site's artwork appears identical to the graphics on Nigerian-licensed Yellow-bet.com, which launched this January in partnership with African retail and online betting operator SUPABETS. So our money's on SUPABETS announcing its UK arrival within due course.
But that still doesn't explain the whole 'ethnic betting' thing. Is this more or less problematic than the furor that greeted Paddy Power's recent "Always bet on black" tagline to promote its Mayweather v. McGregor betting markets? And is it wise for a profit-minded betting firm to take such a self-described "hyper focused business model?" Our bet, ethnic or otherwise, would be on 'no'.
Comments