Lee Davy sits down with Derrick Morton, CEO of FlowPlay, the virtual world developer, to understand why people need an escape, why they choose FlowPlay's worlds, and much more.
Let's face it; the world sucks balls.
If not, we wouldn't spend most of our time on the phone.
The virtual world is where the fun is at, and nobody knows this more than Derrick Morton, CEO of FlowPlay, a developer of virtual worlds such as ourWorld and Vegas World. 
We caught up with the man Morton, in between a dearth of online weddings, the death of Adobe, and his keen interest in the world of Daily Fantasy Sports (DFS) to find out why the virtual world has our attention, and this is what he had to say.
Why does FlowPlay exist? Were you trying to solve a specific problem?
"When my co-founder Doug and I set out to start our own company a little over ten years ago, we were trying to envision where the gaming world was headed based on the convergence of virtual goods, virtual worlds and casual gaming. For our first product, we wanted to create a virtual world for teenagers serving as both a great place to hang out and meet new people and escape from their day-to-day lives with casual games as the bait. This eventually became ourWorld. At the time, there wasn't anything of its kind for that demographic. A couple of years later, we created Vegas World to provide a similar experience for adults. Vegas World allows players an escape to the Las Vegas strip to play virtual games alongside people from all over the world. Both ourWorld and Vegas World quickly evolved into their own dynamic communities."  
Why is now the time for FlowPlay to prosper?
"Our casual virtual worlds have prospered for years mainly on the desktop because of size and processing resource constraints. Recently, we completely rebuilt our platform using a new technology that will allow our games to run as seamlessly on mobile as they do on the desktop. Next, we're very excited about the opportunity to incorporate our games and communities with the huge global audience of sports fans. Over the past two years, we've designed a suite of social sports wagering games for Vegas World, many of which offer a free-to-play alternative to daily fantasy and season-long fantasy sports betting."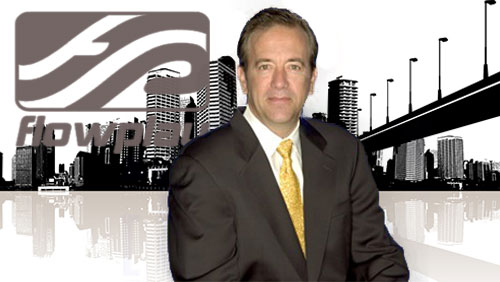 Who are your customers, and why do they care about FlowPlay?
"Our players span a wide variety of age ranges, with ourWorld appealing to mostly 9 to 15-year-olds and Vegas World reaching people ranging in age from 35 to 70 years old. They are extremely dedicated and spirited. These communities are a huge part of what makes our games special, and we've seen them take on lives of their own. For example, Vegas World has inspired over 60,000 in game weddings between players' avatars, even leading to real-life romances that resulted in actual marriages."  
What do the people you want to serve, want? What do they believe? What do they say to their friends about your product?
"People turn to games out of boredom and loneliness. Most games solve the boredom part of the equation but do nothing to help people feel less lonely. While not all people want to engage socially with other players one-on-one in our games, everyone enjoys the feeling of being in a place that feels populated with other people. There is comfort in being in a busy place even if you're just playing a game like slots by yourself. Almost all of our players come for the games but stay for the community." 
What is a recent challenge you faced and what would have happened had you not addressed it? What are your goals for 2017?
"One thing that was going to have a massive impact on our business was the impending death of Flash. Adobe and other tech giants recently announced plans to discontinue support for Flash by 2020, which put several game developers in a difficult position as it has long been a core platform for casual and mobile games. The solution to this problem is very different for every organization as there are many options (like HTML5, Xamirin, Unity and Haxe) with multiple factors to consider. 
"After evaluating all of our options and the pros and cons associated with each, we decided to transition everything to Haxe. We have been rewriting our code without disrupting gameplay, which is no small feat given our game has more than 1 million lines of code. The project has taken over a year to complete so far but had we not addressed it; the consequences would have been far greater than the lengthy timeline to complete a transition.  
"We set out with the goal to complete the transition to Haxe in 2017, and we are just about there. Once everything is completely transitioned, we plan to get back to work extending our product line beyond just our World and Vegas World. We believe the biggest opportunity is to bring sports fans a virtual world to engage with sports games and other sports fans."
What do you value? What promises are you going to make and keep?
"We've talked a lot about virtual communities within our games, but something we truly value as a company is giving back to various organizations through our philanthropy program. We aim to do our part as a member of the Seattle community – through donations to the RAVE Foundation, Blanket Coverage Foundation and Washington's Technology Access Foundation (TAF) Academy – and we run in-game fundraisers in support of national organizations our players care about. These donations come from Vegas World players through the purchase of custom-branded charms in the game and have gone to a diverse set of foundations such as the American Cancer Society, Homes for our Troops, and GirlStart. To date, we have donated more than $200,000 to local and national charities."  
What is the current state of regulation of DFS, and what has to happen for it to succeed globally?
"Fourteen states have currently legalized and are regulating DFS, with eight additional states in active legislation looking to follow suit (Legal Sports Report). However, states that have legalized daily sports betting have done so by imposing huge regulatory fees, and will require millions of dollars on lobbying to even marginally move the needle toward completely regulating the US market." 
What does the blocked DraftKings/FanDuel merger mean for the DFS industry?
"Both companies have claimed they will continue, despite the nixed merger. However, both have yet to reach profitability and report significant operating losses year-over-year, which leads me to question the overall viability of the business model. Competitors will likely look at different avenues to bridge the gap between sports fans and the issue of legality. One is the free-to-play social sports wagering model that we're carving out, where there's an opportunity to tap into a larger base of casual fantasy players in a sustainable and legal way."  
Anything else you would like to share about the DFS industry?
"Based on the interest we see in our Vegas World sports suite and the potential of tapping into the $4.4 billion social casino industry, we feel social sports wagering games are a perfect fit for the casual audience. While DFS will likely continue to face an uphill battle with regulatory and profitability issues, the free-to-play DFS space should see substantial growth in the coming years." 
How will people find you?
"You can find our virtual worlds on the desktop at www.ourworld.com or www.vegasworld.com. We also have several games available for download in the iOS and Android app stores." 
Derrick Morton has been a games and online entertainment executive for over 20 years. He has led the development of over 200 digital entertainment projects. He and Douglas Pearson founded FlowPlay in 2007 to create technology that would allow games to be played by thousands of simultaneous players in a virtual world environment that would run from any device. Before founding FlowPlay, he was a key executive at the top online game websites – iWin, Uproar, Flipside, Virtual Vegas and GameHouse. After RealNetworks acquisition of GameHouse, he became the General Manager of Mobile Games for RealNetworks, a business unit he founded. Derrick has a BA in Cinema/TV Production from USC and an MBA from UCLA.