One of the world's most loved DJs, Steve Aoki, has partnered with the Video Game Gambling Machine (VGM) creator GameCo Inc., to create a skill-based wagering game based on his hit album Neon Future, and GameCo Inc., seal a new deal with Harrah's Cherokee.
First, we had skill-based video games where we can have a wager. Now we have cool skill-based video games where we can have a wager.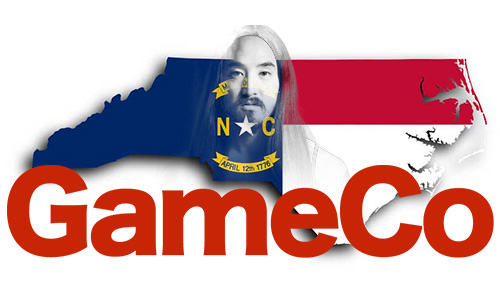 GameCo, Inc., the pioneers of Video Game Gambling Machines (VGMs), has entered into a partnership with DJ, Steve Aoki, propelling the GRAMMY nominated star into the world of video games.
Neon Dream is a first-person running game where players race against the clock to earn as many coins as they can. Aoki based the game on his 2014 smash hit album Neon Future. Players get to listen to the funk that recently achieved Record Industry Association of America (RIAA) gold status. Aoki's record label, Dim Mak Records is heavily involved in the production.
Aoki is a beast when it comes to his work ethic. The DJ has played over 200 shows this year, has 10.6 million monthly Spotify listeners, and has invested heavily in the esports organisation, Rogue. According to Forbes, Aoki has earned £29.5m this year, making him the #5 highest paid EDM DJ in the business.
Neon Dream is expected to hit casinos sometime this summer.
GameCo Roll VGMs Into Harrah's Cherokee 
Up until last week, Neon Dream could only debut in New Jersey or Connecticut, but Aoki's new game could be available in a third state after GameCo inked a deal to expose residents of North Carolina to VGMs.
The deal will see four of GameCo's Pharoah's Secret Temple VGMs move into Harrah's Cherokee Casino Resort in Cherokee. Adam West, VP of Casino Operations, is hoping that the new skill-based format will be a hit with his guests.
"By introducing this new form of gaming entertainment in our market, we continue to elevate the guest experience at our property," said West. 
GameCo Inc., CEO, Blaine Graboyes, believes his VGMs can inspire the 23 million gamers, aged over 21, who are currently sitting in front of slot machines slowly turning into the cast of Awakenings. 
In Nov 2016, GameCo Inc. became the first company to debut skill-based wagering games on the Atlantic City casino floors taking pride of place next to archaic slot machines. More recently GameCo Inc. partnered with Foxwoods Resort Casino Connecticut.
The goal of Graboyes and his team is to be operational in as many major US states as possible by the end of the calendar year. The GameCo Inc. marketing department also has a global eye with talks ongoing to install VGMs in Australian casinos, as well as major European cities.
Comments