The World Series of Poker Main Event has reached the final table with more stories than a Hans Christian Andersen notebook, including Antoine Saout & Ben Lamb making repeat final table performances, and John Hesp making dreams come true for amateur players the world over.
World Series of Poker (WSOP) Player of the Year winners, bracelet winners, high stakes poker pros, former near misses, and 64-year olds who play once a month in a £10 rebuy at the local casino – this is the final table of the 2017 WSOP Main Event.
7,221 players entered, nine remain, and the ESPN scriptwriters couldn't have done a better job if they were to handpick a cast worthy of this most amazing tournament.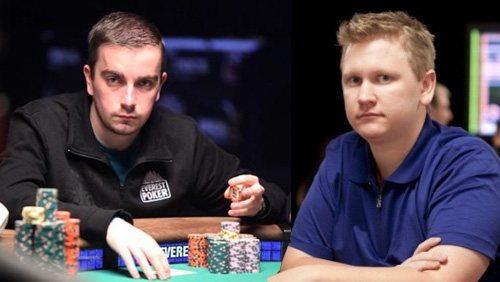 Leading the way is Scott Blumstein with 27% of the chips in play. Blumstein is making his third WSOP cash of his career, with nothing much to shout about before this. Before locking up a million bucks, Blumstein had earned $312k playing live tournaments, with most of that coming in 2016 after defeating 2,368 entrants to capture the $200k first prize in the Deepstack event at the Borgata, in Atlantic City.
But the star of the show has to be John Hesp.
The 64-year-old from Yorkshire, England, only plays poker once a month, and then it's to compete in a £10 rebuy at his local casino. Hesp, who wanted to play in the WSOP Main Event before he met his maker, asked his wife if he could play, and after receiving the nod, he borrowed some sparkly shirts from his mate, packed his Panama hat and headed to the WSOP for the first time in his life. Hesp sits second in chips, and if he wins, it will be one of the greatest stories in Main Event history.
But that's a big IF.
Two former November Niners are also in contention. It could easily have been three. With 10-players still left in the competition, last year's finalist Michael Ruane moved all-in holding AK, and Bryan Piccioli looked him up with pocket tens. The tens held leaving Ruane with chip dust, and he left the building not long after. Piccioli is a former bracelet winner and the most experienced WSOP player at the final table with 30-cashes.
Piccioli isn't the only bracelet winner at the final table. Ben Lamb won the $10,000 Pot-Limit Omaha Championship in 2011; a year when he also made the final table of the $50,000 Poker Player's Championship finishing eighth, and finished third in this very competition to land the WSOP Player of the Year award for good measure. Lamb and Piccioli will be two of the most dangerous players at this final table.
And Lamb isn't the only player making an appearance at the final table for the second time. Antoine Saout finished third in 2009, and 25th last year. Saout will start the final table with 27bb, and if he can double up, he will be a force to reckon with. Saout is joined by his fellow countryman Ben Pollak, who is one of the best French players competing in the High Stakes MTT circuit around Europe.
Damian Salas is another man worth keeping an eye on. Any player who has two Latin American Poker Tour (LAPT) Main Event titles on their resume knows how to reach the pinnacle of the final table. And then you have the unknown element in the shape of the UK's Jack Sinclair, and the American Dan Ott, who between them have recorded less than $20k in live tournament earnings.
Final Table Results
Seat 1: John Hesp – 85,700,000 (107 bb)
Seat 2: Scott Blumstein – 97,250,000 (122 bb)
Seat 3: Antoine Saout – 21,750,000 (27 bb)
Seat 4: Ben Pollak – 35,175,000 (44 bb)
Seat 5: Jack Sinclair – 20,200,000 (25 bb)
Seat 6: Damian Salas – 22,175,000 (28 bb)
Seat 7: Ben Lamb – 18,050,000 (23 bb)
Seat 8: Bryan Piccioli – 33,800,000 (42 bb)
Seat 9: Dan Ott – 26,475,000 (33 bb)
The Money
1. $8,150,000
2. $4,700,000
3. $3,500,000
4. $2,600,000
5. $2,000,000
6. $1,675,000
7. $1,425,000
8. $1,200,000
9. $1,000,000
The Plan
Day 8: Thursday, July 20, 2017 – play down to six players.
Day 9: Friday, July 21, 2017 – play down to three players.
Day 10: Saturday, July 22, 2017 – play down to a winner.