The World Series of Poker has blown through Day 6 of the Main Event and the man who accidentally won a bracelet in 2015, Christian Pham, leads the final 27-players. 
The man who accidentally won a World Series of Poker (WSOP) bracelet, when in 2015, he accidentally registered for a $1,500 2-7 Single Draw event, learned the game on the fly, and beat 219 players to take the title, is the chip leader in the Main Event with only 27-players remaining.
"It's the hope of every poker player, we go to the final table, or we go the top 27, 18 something like that," Pham told PokerNews. "And now, my dream's come true. I'm very happy about that." 
Pham must be feeling dizzy given the heights to which he has climbed in this event, particularly when you consider, he has spent much of the 48th Annual WSOP competing in the $235 Rio Daily Deepstack events.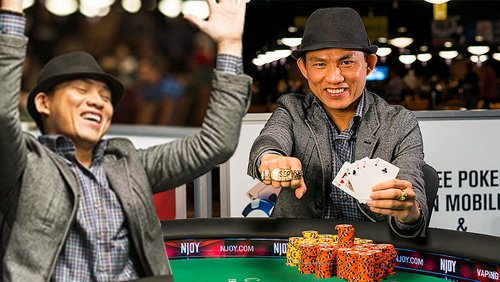 The standout name in the chasing pack is Ben Lamb. The 2011 WSOP Player of the Year, finished third in the Main Event during that tumultuous season, and he has eyes firmly on that top prize.
"I don't care about the final table," Lamb told PokerNews. "I want to win the whole damn thing." 
Lamb is one of the greatest poker players in the game, and the experience of having made the final three surely makes him the favourite to win the whole damn thing with 27 players remaining, and a top three chip stack.
Lamb isn't the only player still left in the competition who has made the final table. Antoine Saout finished third in 2009, and also made it this far last year, finishing 25th, and compatriots: Valentin Messina (28,590,000), Benjamin Pollak (8,870,000), and Alexandre Reard (8,580,000) all join him heading into Day 7.
And there is still the possibility of a back-to-back final table appearance for Michael Ruane. The 2016 fourth place finisher, who hasn't cashed in a single event since that run, sits in 16th place with 9,340,000 chips. Fellow 2016 final tablist, Kenny Hallaert, finished in 64th place.
Yesterday, I was delivering high praise to the British contingent. Max Silver (45th), Paul Vas Nunes (55th), and Artan Dedusha (52nd), all hit the rail, but Jack Sinclair sits in third place, and Richard Gryko is sitting in 11th place.
And partypoker still have two ambassadors in the mix. The Day 1B Chip Leader, Richard Dubini is in ninth spot, and The Flying Dutchman Marcel Luske is in 26th place. Luske is cashing in the Main Event for the fifth time and will be hoping to beat his career best finish of tenth in 2004.
Chip Counts
1. Christian Pham – 31,440,000
2. Valentin Messina – 28,590,000
3. Jack Sinclair – 27,535,000
4. Ben Lamb – 25,685,000
5. Pedro Oliveira – 22,540,000
6. John Hesp – 20,880,000
7. Randy Pisane – 18,370,000
8. Scott Blumstein – 18,125,000
9. Richard Dubini – 14,975,000
10. Bryan Piccioli – 14,500,000
11. Richard Gryko – 13,760,000
12. Jonas Mackoff – 12,050,000
13. Michael Krasienko – 11,430,000
14. Robin Hegele – 11,150,000
15. Antoine Saout – 9,945,000
16. Michael Ruane – 9,340,000
17. Benjamin Pollak – 8,870,000
18. Alexandre Reard – 8,580,000
19. Karen Sarkisyan – 8,105,000
20. Dan Ott – 7,815,000
21. Damian Salas – 7,800,000
22. David Guay – 7,400,000
23. Scott Stewart – 6,230,000
24. Florian Lohnert – 5,360,000
25. Jake Bazeley – 3,915,000
26. Marcel Luske – 2,990,000
27. Michael Sklenicka – 2,230,000