Two more bracelet wins to catch up on including a fifth all-time bracelet for Israel, a young man reaching the summit of the Romanian all-time money list, and a famous man with Romanian blood coursing through his veins leading the $50,000 Poker Player's Championship.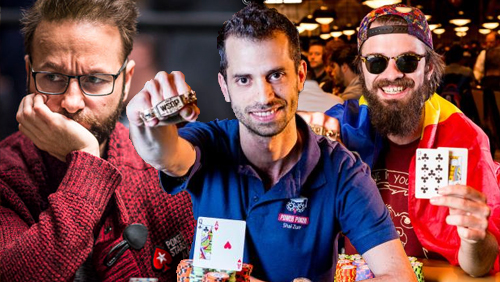 The proud chin of Shai Zurr will be jutting out like one of those stone faces on Easter Island after the Israeli took down Event #65: $1,000 No-Limit Hold'em (30-Minute Levels).
The 34-year-old, Poker Academy owner, taught everyone a lesson on how to play the Turbo format and did so after only three hours of sleep – a strategy I hope he doesn't teach his students.
It's the second bracelet win for Israel at this year's festival (Ben Maya won Event #47: $1,500 No-Limit Hold'em Shootout). It's the fifth all-time, pushing them to #13 in the All-Time WSOP Bracelet List (By Country) – an incredible feat when you consider the authorities deem poker illegal in Israel.
Zurr finished Day 1 just outside the Top 10 chip counts. 27-players made it through to Day 2, led by the RunItOnce coach, Dylan Linde. The final day would only take five hours, from start to finish, and Zurr faced the live grinder from Serbia Ogjnen Sekularac in heads-up action.
As you would expect, the heads-up phase didn't last long – seven hands to be exact. The matchup began evenly once Alex Foxen's deep run ended in third. The pair eventually got it in with Zurr holding AQ and Sekularac holding A2. The kicker played. Zurr was the champ.
Zurr has good form at the WSOP. He has made the final table of two Little One for One Drop events finishing 4th in 2014, and 8th in 2016. He also finished 38th in the 2915 Main Event.
Final Table Results
1. Shai Zurr – $223,241
2. Ognjen Sekularac – $137,909
3. Alex Foxen – $98,761
4. Jonathan McCann – $71,540
5. Erick But – $52,424
6. Phong Nguyen – $38,869
7. Aaron Hirst – $29,162
8. John Brown – $23,143
9. Joshua Liberta – $17,019
Other notables to run deep before ended up looking like a big confused dog was Dylan Linde (11th), Asi Moshe (16th), Andrew Teng (18th).
Alexandru Papazian Wins Event #60: $888 Crazy Eights No-Limit Hold'em 8-Handed

Alexandru Papazian put in a professional performance to take down Kilian Kramer in an unscheduled fourth day of action in the riotous Event #60: $888 Crazy Eights No-Limit Hold'em 8-Handed.
Papazian began the heads-up phase with a 127 bb v 36 bb lead and ground the German down before calling his all-in holding K9o. Kramer held 96s, and it was all over after Papazian flopped two pairs.
Draped in a Romanian flag, and spurred on by a fervent Romanian rail, it was clear that national pride was important for Papazian and his crew. But his move into the All-Time Romanian Live Tournament Money top spot was not on his radar.
"I don't care that much about the rankings in my country, but I do care about winning the first bracelet," Papazian told PokerNews after his win.
Papazian replaced Mihai Manole at the top of those rankings. Manole was one of the first people to hug Papazian after his win. Vlad Darie also made the final table finishing in sixth, and he is ranked fifth in those rankings, but again, I don't think he cares.
Final Table Results
1. Alexandru Papazian – $888,888
2. Kilian Kramer – $$463,888
3. Harry Lodge – $344,888
4. Ioannis Angelou Konstas – $257,888
5. James Cappucci – $193,888
6. Vlad Darie – $146,888
7. Michael Tureniec – $112,888
8. Guillaume Diaz – $86,888
Other star names that went so deep, spit starting to form at the edges of their mouths were Ben Yu (9th), Ray Qartomy (10th), and Randy Pfeifer (11th)
Daniel Negreanu Leads the Final Table of the $50,000 Poker Player's Championship
With less than five bracelet events remaining, it's going to be a tough challenging for Daniel Negreanu to fill those three WSOP bracelet stand boxes he bought at the beginning of the festival.
But he does have a big chance of filling one of them and keeping his hopes alive of winning an unprecedented third Player of the Year award, after finishing on top of an imposing pile at the end of the penultimate day of action in the $50,000 Poker Player's Championship.
There is $1.4m up top and some critical Player of the Year points.
Here is that final table.
1. Daniel Negreanu – 5,930,000
2. Isaac Haxton – 5,205,000
3. Elior Sion – 4,750,000
4. Johannes Becker – 4,560,000
5. Ivo Donev – 2,990,000
6. Paul Volpe – 1,570,000
Other notables who took the hairpin curve at top speed before crashing into the rail were Shaun Deeb (7th), the former champion, Matthew Ashton (8th), and Scott Seiver (9th).