PokerStars will drive online poker players into the arms of BetStars via a new innovative promotion called The Big Race in honour of the forthcoming Ascot Festival.
It's Father's Day on Sunday, and as my wife said I could do anything I want, I have decided to spend most of the day losing my hard earned cash playing online poker.
So what takes my fancy?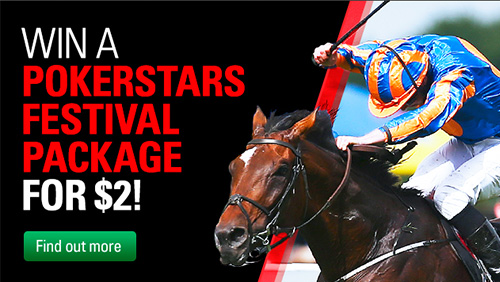 I like the look of PokerStars latest promotion, and the $2 buy-in is well within the framework of my paltry bankroll. When PokerStars announced plans to enter the online casino and sportsbook markets back in 2014, it made perfect sense from a business perspective, but not everyone was pouring delight on the idea from a large metal watering can. Victoria Coren-Mitchell left the team such was her concern over the move into these two areas.
Three years have passed since Coren-Mitchell went the way of daisies in the winter, and this week PokerStars gave one of their clearest intentions yet that they are in the business of cross-pollinating each market.
On Sunday, PokerStars and the sports betting arm BetStars will join forces to launch a promotion called The Big Race, and I have to admit, I am a fan of the innovative idea.
The Big Race is a $2 buy-in online tournament designed to expose online poker players to the sports betting product. The event, which storms out of the stalls Sunday, June 18 15:00 (BST), is also promoting the forthcoming Ascot Festival (June 20-24).
The top finishers in the poker tournament are each assigned a horse at random in the Gold Cup, June 22. There are currently 27 horses taking part, meaning the top 27 finishers in the Big Race will be handed a horse and the first four past the post receive the following prizes:
1. A PokerStars Festival package worth $2,000 for Dublin, Lille, or Bucharest.
2. A free $100 BetStars bet.
3. A free $50 BetStars bet.
4. A free $25 BetStars bet
Anyone cashing in the Big Race tournament receives a free $5 bet, and if your horse is a non-runner, you also receive a free $5 bet.
The idea is genius, and it will be interesting to see how many poker players become habitual users of the sportsbook as a result of these types of promotions.
The lucky punter who wins the PokerStars Festival package will receive six night's accommodation in either Dublin, Lille, or Bucharest, and a €1,100 seat into the PokerStars Festival Main Event.
You can find the tournament under the Events tab in your PokerStars client.
Comments