Sini Rantala wins Hidden Talent of the Year at lavish awards ceremony
16th May, 2017 – Award-winning online casino Videoslots.com has scooped an award at The Women in Gaming Awards 2017, with Sini Rantala winning 'Hidden Talent of the Year'.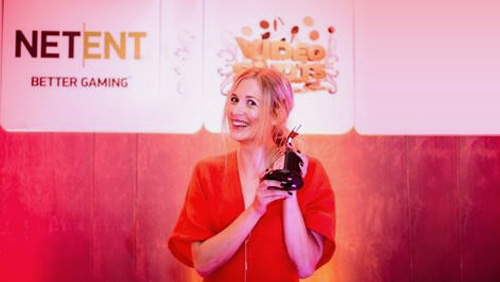 The Finnish Content Writer was presented with the prestigious title at a ceremony held at the Savoy Hotel, London, on 12th May, 2017.
Rantala was initially nominated by Videoslots due to her impeccable working manner, in which she excels in her role of creating content relevant to Finnish customers. Her professionalism and creativity in translating and appropriating foreign content into Finnish with local nuance was highly-regarded by the judging panel.
Rantala, who has been working at Videoslots since April 2016, said: "It is an honour just to have been put forward for Hidden Talent of the Year by my colleagues, and I am so proud to have won this award in a field of such inspiring women.
"The enjoyable working environment at Videoslots provides the platform to be creative and innovative in our various roles and I look forward to many more years with the team."
Simon Copperstone, Head of Content at Videoslots.com, said: "Sini is an inspiration for her peers at Videoslots and in the wider industry as she goes about her role with creativity and professionalism.
"She is a great asset to our team and this award is testament to her commitment across all areas of her job.
Alexander Stevendahl, CEO at Videoslots.com, said: "We are proud of Sini, and all our other fantastic team members at Videoslots who are helping us lead the way in the online casino industry."
The WIGs were founded in 2010 to highlight and promote the exceptional contribution female employees have made to their own businesses and the gaming industry.
Videoslots has championed its female employees since its founding, and is set to grow its burgeoning staff with many roles currently available in its Malta office as it expands its business operations.
To enquire about current vacancies and for speculative applications, please email Jobs@videoslots.com
About Videoslots.com
Founded in 2011, Videoslots.com is an award-winning online casino with the widest variety of games in the industry.
With an unparalleled range of almost 2,000 slots and table games from trusted providers, Videoslots.com offers a premium gaming platform to customers, enhanced by innovative new promotional concepts including Casino Races and Battle of Slots. It aims to create a unique entertainment product via technical excellence, exceptional customer service and the latest game play innovation.
Videoslots.com also provides market-leading customer protection with its industry-first Max Bet Protection and robust compliance procedures. It was the winner of Best Casino at the 2015 and 2016 Casinomeister Awards, Best Gaming Experience and Best Casino Manager at the 2016 Casinomeister Awards, and Best Slots Operator at the 2017 International Gaming Awards.
Videoslots.com is owned by Malta-based parent company Panda Media Ltd, and holds licences in Malta, the UK and Curacao. For more information, please visit www.videoslots.com
Comments