In this week's poker news round-up we remind you that the partypoker MILLIONS Dusk till Dawn should be an award winner, what a great week it was for female poker, and a not so great week for Salomon Ponte.
In March, PokerStars's Eric Hollreiser penned a blog post welcoming renewed interest in live events from his company's competition.
"We believe competition is good for players and good for poker," Hollreiser wrote."Competition makes everyone work harder, be better and it builds more energy and excitement around the game, which in turn creates a rising tide that lifts all boats."
The tide is rising, Eric.
The tide is rising.
Don't be surprised if the good ship partypoker doesn't win a Global Poker Index (GPI) European Poker Award after the incredible success of the £6m Guaranteed partypoker LIVE MILLION Dusk till Dawn DTD event.
It was an event like none other with 8,400 entrants from all over the world playing both live and online. The business end of the action took place at DTD in Nottingham. John Duthie and co ensured there was plenty off the felt action to keep everyone busy. Boris Becker and Carl Froch turned up to play. And Maria Lampropulos won the £1m first prize after beating Jacob Mulhern in heads-up action.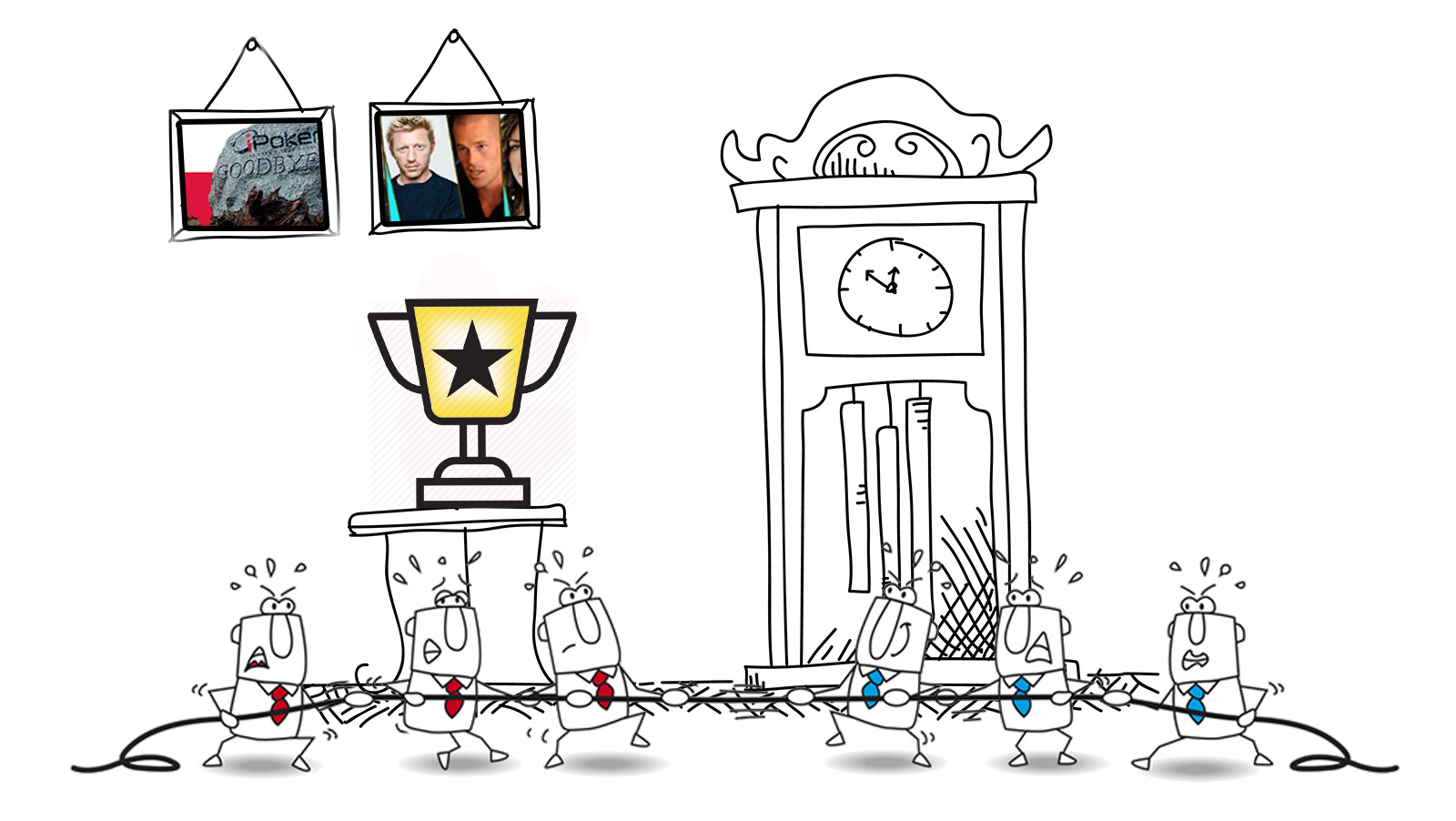 You don't have to spill a tear for Mulhern after he walked away with £750,000, £100,000 of which was earned in the Golden Ticket Last Longer promotion, which kicked off when he made Day 2 of the partypoker Caribbean Poker Party earlier in the year.
Other big winners at DTD over the weekend were Vojtech Ruzicka (£284,210 in the £10,300 High Roller), Pascal Lefrancois (£151,300 in the £25,000 Super High Roller), and Dimitar Yosifov (£80,000 in the £2.5k 6-Max).
Was it a fluke?
Did Rob Yong, Tom Waters, and John Duthie pull a 100-1 shot out of 100 runners?
We will soon find out after partypoker LIVE announced plans to return to Punta Cana in the Dominican Republic for another Caribbean Poker Party and this time there will be a $5m GTD $5,300 Main Event and a $1m GTD $1,100 Side Event.
One man who will be heading to the Caribbean with a partypoker patch on his arm is Dzmitry Urbanovich. The Pole joined them in a deal revealed late on Thursday night.
The tide is rising, Eric.
The tide is rising.
Celebrity Juice
It wasn't that long ago that media outlets were posting headlines declaring that PokerStars was having a change of marketing direction, with the sports stars feeling the brunt of that change.
Regular readers of this column will know that Eric Hollreiser confirmed to yours truly that the accusations were a load of old nonsense. Of course, PokerStars would use a sports star in the future, if it made sense to, and the same rings true for the use of celebrities from other fields.
This week, PokerStars did turn to the world of celebrity when they invited Kevin Hart to appear at the PokerStars Championships in Monte Carlo. The American comedian, who appeared at the PokerStars Championships in the Bahamas, will play in the $100,000 Super High Roller.
And Hart isn't the only star set to appear in Monte Carlo. The Dutch darts megastar Raymond van Barneveld is also scheduled to feature in the festival according to his Twitter account.
And 888Live announced that some pretty big names would be heading to Barcelona for the forthcoming 888Live Barcelona gig in May. Brazilian World Cup winner Denilson will feature, as will the former German star Mario Basler. But the man I am most looking forward to seeing is Patrik Antonius.
I wonder if he will let me give him a kiss?
Online Poker
Poland continues to resemble the earth after everyone got on board the Ark. The new gambling regulations came into force on April 1, and gambling outfits headed to safety after fear of being flooded with a 12% tax on sports betting turnover. The latest news this week is the entire iPoker Network has shut up shop in Poland, and two skins, Titan and Winner, didn't even inform their players they were moving, with some only finding out when the closed sign went up during play.
And players looking for an online poker site that only deals in cryptocurrency were in luck this week after Live Player Games launched the first Android-based app to use Ethereum's cryptocurrency Ether. The app, called Uncle Finney's Poker (who on earth thought of that?), uses smart contracts and Blockchain technology to reduce costs and time spent dealing with payment processors, but it only offers heads-up five card draw.
Personal Poker
Salomon Ponte aka Hashtag King set Twitter ablaze this week after his Poker Night in America (PNIA) debut divided opinion. Ponte spent the evening ripping Shaun Deeb to shreds, and then directed his vitriol at Deeb's wife after Shaun had sent him packing, calling her fucking ugly.
The other person Ponte tried to rile up was Doug Polk. The two were in the middle of discussing a $1m Heads-Up match when Ponte ran out of money to continue in the cash game and tried to sell his passport to get a seat.
One person who wouldn't have seen all of the nonsense on Twitter was Cate Hall. This week, the American Poker Award (APA) winner who is seemingly glued to her Twitter account, went on a blocking rampage with the likes of Natasha Mercier feeling the wrath of the Global Poker Index (GPI) Female Poker Player of the Year.
And Ponte wasn't the only bad boy of poker in the news this week. The two-time World Series of Poker Circuit (WSOPC) gold ring winner, Travell Thomas, received an eight-year jail sentence for masterminding a $31m debt collection scam in New York.
We will finish with a round-up of the biggest live tournament winners this week. Jose Montes added a WPTDeepstacks title to his Heartland Poker Tour (HPT), and WSOPC titles, after taking down the recent event in Maryland for $95,032. Vanessa Truong capped an excellent week for female poker players after winning the gargantuan WSOPC Main Event in Harrah's Cherokee for $318,646. Shawn Busse won the Card Player Tour Ocean's 11 San Diego Classic for $48,910. Michael 'The Grinder' Mizrachi won the April BigStack in Florida for $41k, and Kenna James won the Wynn Signature Weekend for $54k.
Time ladies and gentlemen.
Someone has just called the clock.
Comments