Lee Davy takes a look ahead of the weekend's Premier League fixtures and picks out a potential upset at Sunderland as Man Utd head to the North East looking a little out of sorts.
There are eight games to go, a Championship winner to be selected, four Champions League qualifiers, and a trio of teams who are heading to one of the toughest divisions in the world.
Let's get cracking.
Spurs v Watford
Spurs- 380
Watford +1100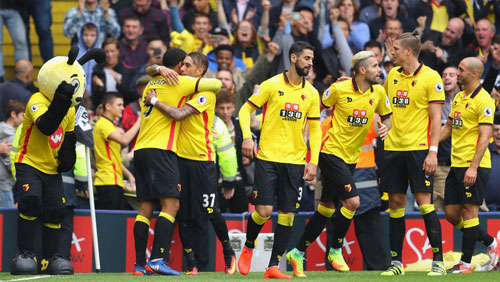 Draw +450
If we are to believe Artificial Intelligence (AI), then Spurs are going to win the Premier League. That's the news floating around the Internet after AI predicted the last eight games and placed Spurs ahead of Chelsea on goal difference.
And it's not a bad shout.
Nobody has won more points than Spurs in the past ten games. They have won their last six in all competitions, and showed against Swansea that they still believe they can upset the caviar cart.
Watford is experiencing a mini-revival winning two on the spin without conceding, but Spurs are unbeaten at home winning 13 times and drawing twice, while Watford has lost eight times on the road.
My Prediction – Spurs home win.
West Ham v Swansea
West Ham +105
Swansea +255
Draw +250
After West Ham slumped to their fifth consecutive defeat away at Arsenal in midweek, under fire boss, Slaven Bilic, told the press that his side was involved in a relegation scrap. If that's true, then this match is crucial for both teams.
If West Ham is going to reverse this devastating free fall, it will be at home against Swansea. The Welsh side has only won three times away from the valleys, and the defeat against Spurs would have knocked the stuffing out of them, not to mention their win/loss record is not much better than the Hammers with four defeats from their last six matches.
West Ham welcome back Michail Antonio, and Fernando Llorente is still a doubt for the Swans. These two players are critical to the success of both sides.
My Prediction – West Ham win
Stoke v Liverpool
Stoke +305
Liverpool -120
Draw +260
One of Stoke's many problems this season has been their poor home form. Mark Hughes's side has only won six of their fifteen games, whereas Liverpool has the fifth best away form in the league.
Stoke also go into the tie on the back of three straight defeats. Liverpool, on the other hand, is quite adept at sweeping away teams in the middle of the table. It's the teams at the bottom that seem to present Jurgen Klopp's side with the most difficulties.
My Prediction – Liverpool win
West Brom v Southampton
West Brom +205
Southampton +140
Draw +220
You couldn't pit two different teams against each other.
West Brom is dour, dull, and difficult. Southampton is silky, soulful, and solid. The Baggies has not won a point in three of their last five games and failed to score in their last two. But they are a rock at the Hawthorns.
Southampton has been half-decent on their travels winning four and drawing three of their 15 matches. But they struggle to put together a decent run of form and are a very patchy side.
I can't separate them.
My Prediction – A draw
Middlesbrough v Burnley
Middlesbrough+135
Burnley +220
Draw +210
The bet here is under 2.5 goals all the way to the bank.
Middlesbrough is the league's lowest scorers with only 22 goals, but Burnley still hasn't won away from home this season, losing 12 of those ties.
The Boro side will feel crushed after losing to Hull, especially after playing so well against Man Utd and Swansea in the previous two matches, but I think they will take this down with a solitary Rudy Gestede goal.
My Prediction – Middlesborough 1-0 win
Man City v Hull City
Man City -600
Hull City +1400
Draw +600
If Hull is going to escape relegation, and the AI supercomputer thinks they will, this game won't have anything to do with it. Hull is playing well. Only Everton, Chelsea and Spurs have earned more points than the Tigers since the appointment of Marco Silva, but Man City is playing some beautiful football of late. At times, City tore Chelsea a new asshole in midweek. Hull won't be able to compete if City plays that well and with a Champions League place up for grabs I am sure they will.
My Prediction – City win
Bournemouth v Chelsea
Bournemouth +500
Chelsea -290
Draw +305
This tie would have been an interesting one had Chelsea followed the script and lost against Man City. But the Blues didn't. They took all three points to make sure their losing run didn't stretch to two matches and now it's business as usual. Chelsea beat them 3-0 in December, and I expect a similar scoreline.
My Prediction – Chelsea win
Sunderland v Man Utd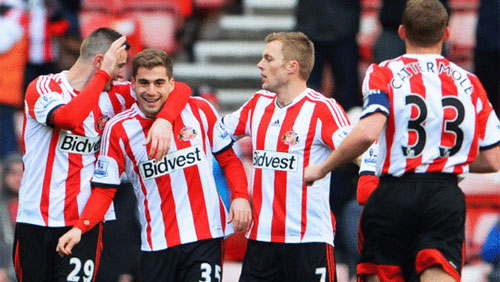 Sunderland +850
Man Utd -290
Draw +400
Manchester United has not lost a Premier League game in over 20-matches. Sunderland can't buy a goal. So there is only one outcome, a Sunderland win.
United have not been at their best since Zlatan Ibrahimovic and Ander Herrera were forced to play FIFA 2017 when suspended. They were held to a bore draw at home to West Brom and were fortunate not to get beat at home to Everton. Sunderland is dire, but my gut tells me they are going to put in a shift for this one.
My Prediction – Sunderland win
Everton v Leicester
Everton -140
Leicester +400
Draw +270
Leicester's incredible winning streak will come to an end at Everton. Five of those six straight wins have come at the home of the champions. When the foxes leave their den, they usually come back with their tail between their legs. Leicester has won only once on their travels, losing 10 of their 14 games.
In their past 14 Premier League games, Everton has only lost to Liverpool and Spurs. They have won ten home games, and with Romelu Lukaku banging goals in for fun, there is only one winner in this one.
My Prediction – Everton win
Crystal Palace v Arsenal
Crystal Palace +340
Arsenal -135
Draw +285
Crystal Palace's nice run of four wins on the spin came to an end against Southampton in midweek, and that's a shame because I think they needed that win going into an incredibly tough period.
After facing, and losing, to Arsenal on the weekend, they have to square off against Leicester, Liverpool, Spurs, Man City and Man Utd in their final eight games.
Five of those eight games are at home, but Palace has the third worse home record in the division winning only four times, two of which came in that mini-revival.
My Prediction – Arsenal win
Premier League Table
1. Chelsea – 72
2. Spurs – 65
3. Liverpool – 60
4. Man City – 58
5. Arsenal – 54
6. Man Utd – 54
7. Everton – 51
8. West Brom – 44
9. Southampton – 37
10. Watford – 37
11. Leicester – 36
12. Stoke – 36
13. Bournemouth – 35
14. Burnley – 35
15. West Ham – 33
16. Crystal Palace – 31
17. Hull – 30
18. Swansea – 28
19. Middlesbrough – 23
20. Sunderland – 20
Premier League Odds (Courtesy of Bodog)
Chelsea – 1400
Spurs +1000
To Be Relegated
Sunderland -5000
Middlesbrough -1400
Swansea -150
Hull +135
Crystal Palace +700
Comments