Week 26 of the English Premier League concludes with the Champions returning to form with a 3-1 win over Liverpool less than a week after they sacked Claudio Ranieri.

 Let me ask you a question.
When you watch Claudio Ranieri during his post-match interviews, does he strike you at a tactical genius? An inspirational leader? An aggressive boot a tea cup in your face type of guy?
I didn't think so.
This time last season, the Tinkerman was the darling of world football. His Leicester City side was three points clear at the top of the Premier League with ten games remaining.
And today?
Ranieri was sat at home, watching his former team beat Liverpool 3-1 after the Leicester board sacked him days after receiving a vote of confidence.
There has been an outcry; I understand that, but we have to remember that last season was a fluke of unprecedented proportions and with it the accomplishments of their manager.
The table doesn't lie, and Leicester began their home game against Liverpool in the bottom three. They hadn't scored a Premier League goal this side of Christmas and hadn't won a Premier League game since New Year's Eve. I nearly forgot. Millwall knocked them out of the FA Cup.
He had to go.
And when he did the players were always going to be fired up for this one because the whole world was blaming them for Ranieri's sacking. They had a long hard look in the mirror and decided to pull their socks up.
The opening goal came on 28-minutes, and it was classic Leicester. Marc Albrighton making the pass of his season to put Jamie Vardy through on goal and after not scoring in nine matches he made it two in two with a neat finish.
Leicester went into the break 2-0 up thanks to an absolute pearler from Danny D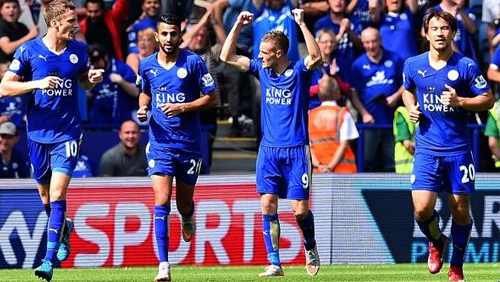 rinkwater. Last season, his appearances thrust him to the periphery of the Euro 2016 squad. This season, he hasn't turned up. But he did turn up when at the edge of the box on 39 minutes to hammer a vicious volley into the back of the net for his first goal of the season.
After the break, Leicester seemed in control and made it 3-0 after a lovely move involving Riyad Mahrez and Christian Fuchs ended up with a cross finding the head of Vardy, and that's all she wrote. Philippe Coutinho scored a consolation goal eight minutes later in a night to forget for Jurgen Klopp's on/off side.
The victory moved Leicester out of the bottom three, two points clear of the drop zone. Crystal Palace replaces them.
Here are the odds for the next Leicester City manager:
Nigel Pearson – 11/8
Roy Hodgson – 9/1
Craig Shakespeare – 12/1
Guus Hiddink – 18/1
Roberto Mancini – 20/1
Alan Pardew – 25/1
If Pearson is the man, it would be his third spell in charge of the club, and more dull, drab, and death inducing post match interviews on Match of the Day.
Here are the rest of the weekend's results.
Premier League Results (Week 26)
Crystal Palace 1 v 0 Middlesbrough
Hull 1 v 1 Burnley
Everton 2 v 0 Sunderland
West Brom 2 v 1 Bournemouth
Chelsea 3 v 1 Swansea
Watford 1 v 1 West Ham
Spurs 4 v 0 Stoke
Leicester 3 v 1 Liverpool
Premier League Table
1. Chelsea – 63
2. Spurs – 53
3. Man City – 52
4. Arsenal – 50
5. Liverpool – 49
6. Man Utd – 48
7. Everton – 44
8. West Brom – 40
9. West Ham – 33
10. Stoke – 32
11. Burnley – 31
12. Watford – 31
13. Southampton – 30
14. Bournemouth – 26
15. Leicester – 24
16. Swansea – 24
17. Middlesbrough – 22
18. Crystal Palace – 22
19. Hull – 21
20. Sunderland – 19
Premier League Title Odds (Courtesy of Bodog)
Chelsea -700
Man City +1000
Spurs +2000
Liverpool +3300
Arsenal +4000
Man Utd +4000
To Be Relegated
Sunderland -600
Hull -120
Middlesbrough Evens
Crystal Palace +120
Leicester +175
Swansea +300
Bournemouth +550