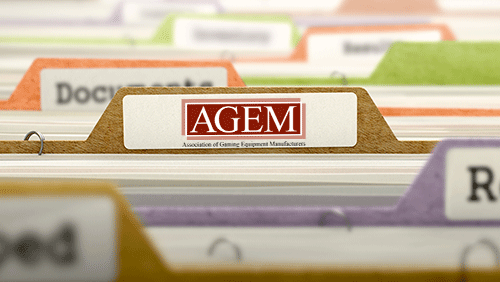 LAS VEGAS, NV–(Marketwired – Jan 6, 2017) – The AGEM Index ended 2016 on a positive note with the gains reported during December 2016 largely offsetting losses experienced during November 2016. The composite index stood at 321.28 points at the close of 2016, which represents an increase of 13.14 points, or 4.26 percent, when compared to November 2016. The AGEM Index reported a year-over-year increase for the 15th consecutive month, rising 123.96 points, or 62.8 percent, when compared to December 2015.
During the latest period, seven of the 13 global gaming equipment manufacturers reported month-to-month increases in stock price, with two up by more than 10 percent. Six manufacturers reported decreases in stock price during the month.
On the year, positive performances were posted by the majority of equipment suppliers. Galaxy Gaming (GLXZ) posted the largest percentage gain, increasing by more than 200 percent. A handful of players posted impressive 50-percent-plus gains during 2016, including the following: Konami Corp., International Game Technology PLC, Scientific Games Corporation, Aristocrat Technologies (ALL) and Crane Co.
The broader stock markets reported positive results in the first full month following the election. The S&P 500 reported a month-to-month increase of 1.8 percent, rising to 2,238.83 at year-end. Additionally, the Dow Jones Industrial Average increased 3.3 percent to 19,7652.60, while the NASDAQ increased 1.1 percent during the period to 5,383.12.
Selected positive contributors to the December 2016 AGEM Index included the following:
Konami Corp (TYO: 9766) contributed 14.05 points due to a 21.32 percent increase in stock price to ¥4,695.
Ainsworth Gaming Technology (AGI) reported a stock price of AU$2.11 (+16.57 percent) and contributed 0.87 points.
Selected negative contributors included the following:
With a stock price of $72.12 (-1.86 percent), Crane Co (CR) contributed negative 0.98 points.
Scientific Games Corporation (SGMS) contributed negative 0.78 points to the index due to a 5.08 percent decline in stock price to $14.00.
Technological advancements continue to change the way in which the world functions. This is also true of the gaming experience within the four walls of a traditional casino floor. Skill-based gaming recently entered the market, and the expectation is that these cutting-edge devices will not only enhance the gaming experience for existing customers, but it will attract a whole new demographic.
Nevada legislators were quick to recognize the possibilities of skill-based games when they approved legislation in 2015 authorizing their use in casinos. However, Atlantic City casinos recently unveiled the new technology on a live casino floor. In October of 2016, Caesars Entertainment launched skill-based games across all three of its Atlantic City properties featuring a total of 21 gaming positions. Caesars partnered with GameCo to bring its flagship game "Danger Arena" to the casino floor. The arcade-style first-person shooter places players in an arena environment tasked with destroying six robots. Payouts vary based on achievements of the player. GameCo designed the game to have the same return-to-player ratios as a traditional slot machine.
The cabinet is what GameCo calls a Video Game Gambling Machine (VGM) and while the first-shooter concept is the first type of skill-based game to hit the casino floor, numerous other types of games are in development. The skill-based game model is also being applied to a number of other genres such as action, adventure, sports, racing and fighting.
With the adoption of these games at Caesars' properties, other Atlantic City operators have taken notice. In December of 2016, Tropicana Atlantic City announced that it would also feature nine gaming positions with GameCo's technology, bringing the total number of positions in the area to 30. The performance of these initial units will likely provide insight to a broader rollout.
Interestingly enough, the journey for skill-based games in Atlantic City can be traced back to a free-throw shooting competition at the Borgata in March of 2015. The tournament featured a $20 buy-in with participants going head to head in a bracket format until a group of finalists received a total of $10,000 in prize money. Players outcomes were determined solely on physical skill with luck removed as a determinant of outcome.
The tournament was approved by the New Jersey Division of Gaming Enforcement as part of the "New Jersey First" program. In an effort to bring innovation and rejuvenate the Atlantic City region, New Jersey has been quick to approve new forms of gaming, bucking the trend of New Jersey being the one of the last jurisdictions to approve a new game or technology. The New Jersey Division of Gaming Enforcement has offered to review and potentially approve more contests like the free throw shooting competition, expanding the potential game offerings for casinos in the region.
The AGEM Index
The Association of Gaming Equipment Manufacturers (AGEM) produces the monthly AGEM Index that comprises 14 global gaming suppliers throughout the world. A total of 9 suppliers are based in the United States and are listed on the NYSE, Nasdaq or OTC market, while two trade on the Australian exchange, one supplier trades on the Athens exchange, one on the Tokyo exchange, and another trades on the Taiwan OTC exchange. The index is computed based on the month-end stock price (adjusted for dividends and splits) of each company and weighted based on approximation of market capitalization. Market capitalizations for manufacturers trading on foreign exchanges have been converted to US dollar-equivalents as of month-end for comparability purposes. The AGEM Index is based on a 100-point value as of January 2005.
About AGEM
AGEM is an international trade association representing manufacturers of electronic gaming devices, systems, lotteries, and components for the gaming industry. The Association works to further the interests of gaming equipment manufacturers throughout the world. Through political action, tradeshow partnerships, information dissemination and good corporate citizenship, the members of AGEM work together to create benefits for every company within the organization. Together, AGEM and its member organizations have assisted regulatory commissions and participated in the legislative process to solve problems and create a positive business environment.
AGEM Index
The AGEM index and overview is prepared by Applied Analysis (AA). AA is a Nevada-based advisory services firm providing consultation services for public and private entities. The company utilizes extensive experience in economics, information technology and finance to provide a wide range of services, including urban economic consulting, financial advisory services, market analysis, public policy analysis, hospitality industry and gaming consulting, and information system and technology consulting.
AGEM Membership Roster
AGEM Gold Members:
AGS
Ainsworth Game Technology
Aristocrat Technologies
NOVOMATIC Group
Everi Holdings Inc.
International Game Technology PLC (IGT)
Intralot S.A.
Konami Gaming
Merkur Gaming
Sega Sammy Creation
Scientific Games
AGEM Silver Members: Action Gaming, Aruze Gaming America, Casino Technology, Crane Payment Innovations (CPI), Gaming Partners International (GPI), JCM Global, NYX Gaming Group, Ortiz Gaming, Suzo-Happ Group, TCSJohnHuxley and Zitro.
AGEM Bronze Members: Abbiati Casino Equipment, Alfastreet, Amatic Industries, APEX gaming, Astro Corp., BetConstruct, Bingotimes Digital Technology, Boss Gaming, Cammegh Limited, Century Gaming Technologies, CG Technology (CGT), Cole Kepro International, DEQ Systems, Euro Games Technology (EGT), Exacta Systems, FBM, Galaxy Gaming, Gamblit Gaming, GameCo, Gaming Arts, Gaming Support, Glory Global Solutions, Gold Club, Grand Vision Gaming, Incredible Technologies, Inspired Gaming, Interblock USA, Intervision Gaming, ISMS, Iverson Gaming Systems, Jumbo Technology, Matsui Gaming Machine Co., Metronia, Patriot Gaming & Electronics, Quixant Ltd., Table Trac, Universal Gaming Resources, Vantiv Entertainment Solutions, Wells-Gardner Technologies and Win Systems.
AGEM Associate Members: 3M Touch Systems, Advanced Gaming Associates, Adlink Technology, Advantech-Innocore, Agilysys, AMD, Arrow International, Asimex Global, Atrient, Automated Cashless Systems, AVUITY, Axiomtek, British Group Interactive (BGI), Brown & Brown Insurance of Nevada, Camryn Industries, CardConnect, Carmanah Signs, Casino Connection International, Casino Screens, Catapult Global, CDC Gaming Reports, CMC Trading Engineering, Cooper Levenson, Digital Instinct, DiTronics Financial Services, Duane Morris LLP, DynaGraphic Printing, EFCOtec Corporation, Eilers & Krejcik Gaming, Elite Gaming Technology, Esterline Interface Technologies, Fantini Research, Finnegan, Henderson, Farabow, Garrett & Dunner, Four Corners, Fox Rothschild, G2 Game Design, Gambling Compliance, GAN, Gaming and Entertainment Touch Technology, Gaming Capital Group, Ganlot, Gary Platt Manufacturing, Gasser Chair Company, Genesis Interactive Technologies, GeoComply USA, Global Gaming Group (G3), Greenberg Traurig, Holley, Driggs, Walch, Fine, Wray, Puzey & Thompson, House Advantage, Howard & Howard, Impact Display Solutions, Intel, IPS, James Industries, James Industry Research Group, JCS Technologies, Jones Walker, KEY-BAK, Kontron, Lazcano Sámano, Lewis Roca Rothgerber, Lightstone Solutions, Majestic Realty, Media Resources, Metalcraft, NanoLumens, Olsen Gaming / Spectronix, Outpost Creative, Patir Casino Seating, Portilla Ruy-Díaz y Aguilar, Proforma GPS, Regulatory Management Counselors (RMC), RMMC, RSM US LLP, Sanmina, SCA Gaming, Sightline Payments, Slot Constructor, Southwest Manufacturing Services, Spin Games, StylGame USA, Taft Stettinius & Hollister, Talent Associates, The Bright Group, Tohkoh Plastics America, Touch Dynamic, Touch Embedded Solutions, Tournament One, TOVIS, TraffGen USA, TransAct Technologies, Veridocs, Wells Fargo, Young Electric Sign Company (YESCO) and Zebra Technologies.