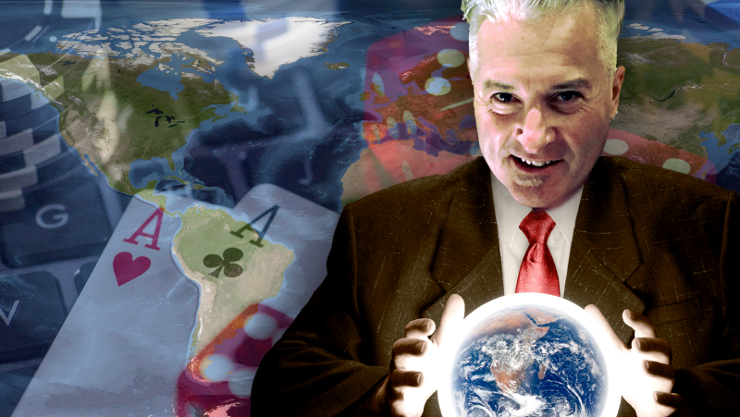 Before I get into my look ahead at 2017, let's look back at my 2016 predictions made here on this site one year ago. On the whole, I did okay, predicting a tough slog for daily fantasy sports, more consolidation in UK/Europe and that PokerStars' New Jersey launch wouldn't dramatically improve the state's online poker market. Oh, and I also predicted that James Packer and Marian Carey would go splitsville, but in hindsight, that was basically a gimme.
On the flip side, I erred when I predicted Pennsylvania would join the US intrastate online gambling ranks in 2016, even if one-half of the state's legislative bodies did vote thumbs up on the plan. I also goofed by putting faith in Australian politicians' ability to recognize reality and approve, rather than outright ban, online in-play sports betting. Live and learn.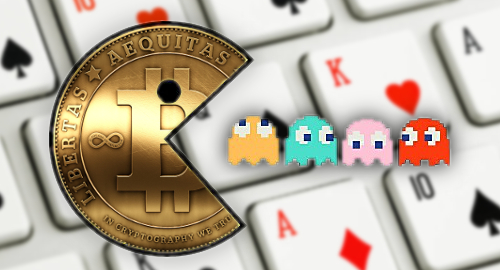 BITCOIN EATS EVERYTHING
The single biggest development in 2017 is already here and growing in importance with each passing day. Bitcoin officially 'arrived' in 2016 thanks to adoption by some farsighted mainstream operators and even the UK Gambling Commission accepted that the ground was shifting under their regulatory feet.
Mark my words: Bitcoin is eventually going to eat the whole global online gambling industry and the first courses of this meal are already being digested. Quite apart from liberating gambling sites from the anti-competitive dictates of government-imposed payment blocking, the blockchain technology underpinning Bitcoin is rapidly making the role of gaming regulators obsolete.
Think of it: with the blockchain documenting every financial transaction, spin of a roulette wheel and roll of the dice, gamblers can act as their own regulators, with any examples of shady behavior on full display for all the world to see and market forces punishing any operator stupid enough to think they can get away with it. There are lots of things that Bitcoin has been predicted to make redundant, but I'm guessing the concept of 'trust' wasn't high on most of these lists. Yet here we are.
Bitcoin has undoubtedly benefited from the reckless policies of central bankers, who have seriously undermined confidence in the durability of fiat currencies. With its finite volume hardwired into the technology, Bitcoin is increasingly viewed as a safe haven more akin to gold than the highly speculative investment it once was, and operators who store their loot on the blockchain will find themselves with extra capital to fuel expansion plans.
PHILIPPINES LOSS IS ANTIGUA'S GAIN
It may not have gotten much play from the US- and European-focused gambling media, but this summer's election of Philippine President Rodrigo Duterte had a seismic impact on the vast Asian-facing online gambling sector, and the fluidity of the situation will likely continue in 2017.
Operators fortunate enough to have scored one of PAGCOR's coveted new Philippine Offshore Gaming Licenses (POGO) are counting their blessings, while those whose applications failed to make the cut will have to search out new jurisdictions to call home, not only for licensing but also for hosting the vast business process outsourcing (BPO) departments that support these online operations.
As luck would have it, Antigua is in the process of revising its gaming regulations, with the explicit goal of attracting more online licensees. Antigua has a BPO labor force with a skill level equal to or surpassing that available in the Philippines, and Antigua's leaders appear determined to craft a new tax and fee structure that will prove inviting for operators set adrift by the Philippines shakeup.
UK RESTRICTIONS AHEAD
The UK government hasn't been too kind to its betting industry in recent years and I suspect more abuse is coming in 2017. It appears almost certain that betting sites will face new curbs on television advertising, forcing companies to put more effort into creating viral videos that get their message across.
Changes also appear imminent on the fixed-odds betting terminals front, as the constant deluge of alarmist tales and dubious statistics spewed by anti-gambling campaigners and the reliably hyperbolic Daily Mail seem to have reached critical mass. The campaigners may not get their desired £2 maximum wager but some significant stake reduction is coming, and possibly a reduction in the number of FOBTs per betting shop as well.
Any success on this front will only embolden the outrage brigades, leading to calls for similar restrictions at the FOBT's online equivalent. They might not achieve an online curb in 2017, but as we've seen with the FOBT debacle, persistence pays off.
CONSOLIDATION
The merger and acquisition mania that gripped the UK market in the past few years will continue in 2017, with everybody wondering why those crazy kids at 888 Holdings and William Hill can't recognize that they're perfect for each other. Especially since adding 888's proprietary software suite would allow Hills to finally tell Playtech where to get off.
I can see GVC Holdings making a play for another online-only operator, perhaps taking a second shot at Amaya Gaming, unless David Baazov returns with a third bid backed by magic beans and cereal box-tops.
While the M&A mantra is that scale is the only thing that will allow gambling companies to survive future regulatory shocks, I can't help noting that all the activity involves public companies, whose top execs and directors award themselves big bundles of shareholder cash for pulling off these deals, regardless of whether they make solid business sense.
Which probably explains why, despite sitting on a cash mountain that Sir Edmund Hillary would find intimidating, the privately held Bet365 has yet to see the need to entertain any acquisition plays. Given that the company's top shareholders, execs and directors are all the same people, there's little incentive to reward themselves with their own cash for doing a deal at any cost.
NEW MARKETS
Brazil will finally put its political turmoil behind it long enough to pass its long-delayed gaming legislation, but while international casino operators will have a field day bidding for land-based licenses, the online gambling component will be limited to a single technology supplier to a state-run monopoly. And unlike the European Union, there's no common market court to which operators can make anti-competitive appeals.
People desperately want India to legalize sports betting and other gambling products but it's not going to happen in 2017, at least, not at the national level. I imagine a staggered rollout not unlike the US market, a long, tedious state-by-state process that creates the dreaded patchwork quilt of legally available options, with preference shown to local operators.
Germany will cop to the inevitable and legalize online casino and poker products when it formalizes its new sports betting rules. The country's got a million refugees just in from the middle east and the government can use all the tax revenue it can get.
Several European regulated markets will make good on their promise to permit cross-border sharing of online poker liquidity, only to find that the poker business in these markets doesn't get the major boost they expected. Poker will remain a key part of full-spectrum online operators' product suite, but it's no longer the draw it once was and likely never will be again.
Australia is going to discover that banning online casino, poker and in-play sports betting works really well… on paper. Just ask China, where all online gambling is banned, and yet somehow the entire Asian-facing online gambling industry caters to Chinese gamblers. The only thing Australia's ban will guarantee is jobs for life for the handful of individuals tasked with compiling the daily lists of online gambling mirror sites that need blocking.
NEW PRODUCTS
The so-called Millennial generation's disinterests in casinos' traditional electronic gambling offering hurried the arrival of new skill-based games in a few select casinos this year, and while the jury is still out on their ability to draw a significant crowd, it's hard not to see more of these types of products migrating online.
Not all operators will welcome this shift. In most cases, gamification will require fresh eyes and ears, and it won't be easy for many old school gambling CEOs to defer to the unproven opinions of some twenty-something hipster.
Someday, one or two bolder companies may attempt to develop epic gambling products with intricate storylines that mimic the big Xbox and Playstation titles, but for the coming year, the most we can expect is more awkwardly superimposed social gaming-type 'missions' and reboots of old arcade titles that don't require sophisticated controllers to facilitate gameplay.
eSports betting will continue to make inroads at mainstream bookmakers in 2017, but the industry will be rocked by a major cheating scandal that will bring more regulatory scrutiny. Like tennis, cricket and other sports involving solo athletes or small teams, there's less effort involved in 'turning' an eSports player, and the relative youth of eSports players makes them more susceptible to the lure of easy money.
US MARKET
I'm repeating last year's Pennsylvania-only intrastate gambling passage prediction for 2017. There's just no other state in which the politicians — or, in California's case, the Hatfields & McCoys posing as stakeholders – appear ready to take that step.
As for what the election of Donald Trump as US president means for federal gambling laws, I think anyone who predicts what Trump will or won't do based on his previous statements is simply rolling the dice. Yes, Trump is a former casino owner who has suggested sports betting should be legal, but he's also beholden to Sheldon Adelson, who believes land-based casinos are the only form of gambling that doesn't spread the Zika virus.
Personally, I don't see any action – pro or con – being taken at the federal level regarding gambling in 2017. Trump and the GOP have a long to-do list, like ensuring those uppity polar bears get what's coming to them for faking all those global warming deaths all these years. Any gambling moves will have to wait until after Trump's first state of the union address in January 2018, when he informs the world that the state of the union is "awesome."
JAPAN
There will be bloodthirsty lobbying efforts by casino operators to win one of the coveted Japanese casino permits. I suspect there will be two main licenses and one smaller resort license up for grabs, and the recipients will be required to team with a local partner.
The local partner requirement won't sit well with the reliably cranky Adelson, who will make one or more insensitive comments regarding his lack of interest in doing some local company a favor, which will eliminate Las Vegas Sands from contention. I think MGM Resorts will win one major license, while Melco's Lawrence Ho will get the other.
FINALLY
With another year in the books, I want to wish everyone reading this a gobsmackingly fun 2017. Most of us got into the gambling industry because it was fun, and it never hurts to occasionally remind ourselves of this fact, and to take in stride whatever events beyond our control that might transpire over the coming 12 months. Next year at this time, I fully expect to be writing my 2018 predictions from the deck of my lake house in the Philippines. Until then, happy new year, everyone!