East Coast's Biggest Esports Event ESL One New York to be held In Brooklyn for Four More Years
Next ESL One New York event to be held September 16 & 17, 2017 
Brooklyn, N.Y., December 2016 — Barclays Center has been named the home to ESL One's North American flagship event and the biggest esports tournament on the East Coast. ESL One New York will be held at the Brooklyn venue for the next four years, with the next event scheduled for September 16 & 17, 2017.  Tickets are available through Ticketmaster.com beginning Thursday, December 15 at 10 a.m. and more information can be found at esl-one.com.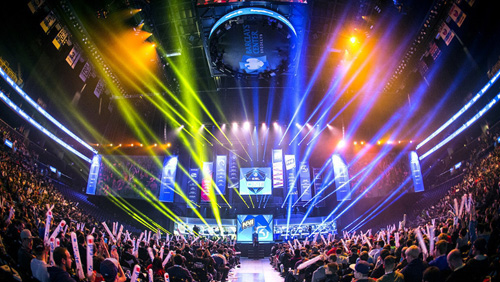 ESL One New York, produced by ESL, the world's largest esports company as a part of international entertainment group MTG, and AEG, the strategic long-term global partner of ESL, made its Barclays Center debut on October 1 and 2 of this year. The event set records with attendance of 8,500 fans on each of the main event days, and generated a total of 20 million unique online viewers. The weekend event featured the world's best Counter Strike: Global Offensive teams battling for a share of the $250,000 prize pool with more than 1,000 hopefuls fighting for the $75,000 Street Fighter V purse in the Score eSports Brooklyn Beatdown.
"We are thrilled to make Barclays Center the home of ESL One for the next four years," said Steven Roberts, Executive Chairman, ESL North America.  "This partnership will allow fans to experience the thrill of a professional esports competition in a first class venue and extend our reach with online viewership."
"There is no doubt that Barclays Center is the ideal venue to showcase ESL One," said Chuck Steedman, Chief Operating Officer, AEG Facilities.  "Along with our strategic partners ESL, we believe that the state-of-the-art amenities, facilities and technology Barclays Center has become known for combined with the passionate and savvy fans who attend esports events in the region will create the most incredible atmosphere and experience this signature event has ever encountered.  It's these type of core events that will continue to play a role in the tremendous growth of esports we are now witnessing worldwide."
"This announcement is the next step in our strategy to position Brooklyn Sports & Entertainment venues as the home to esports events," said Brett Yormark, CEO of BSE. "We are proud to align with ESL and AEG to grow the exposure of esports in the market and attract a new audience to Barclays Center."
The 2016 ESL One New York at Barclays Center saw record-breaking social media engagement, with more than 122 million impressions generated on ESL's Twitter and Facebook channels, which included more than 7 million fan engagements. ESL's own content reached more than 21 million unique fans worldwide, 10.6 million of which were generated via highlights and backstage content. Nearly 80,000 Twitter accounts joined the conversation around the event with approximately 182,027 tweets and a potential reach of 1.3 billion Twitter users, making ESL One New York one of the most talked about events in ESL history.
ESL and AEG's partnership was created to further broaden the reach of esports around the world. ESL utilizes AEG's global network of more than 120 clubs, theaters, arenas and stadiums for qualifying events, tournaments, and world championships.  The deal also leverages AEG's leadership in live event production, ticketing, marketing and sponsorship to further promote and expand competitive esports worldwide.  Additionally, the two companies are looking to develop new esports events and expand the ESL's global presence.
ABOUT BROOKLYN SPORTS & ENTERTAINMENT
Brooklyn Sports & Entertainment (BSE) develops and operates state-of-the-art venues and manages premier sports franchises, delivering dynamic content and experiences for audiences. BSE oversees programming, marketing, sales, and operations for Barclays Center and Nassau Veterans Memorial Coliseum presented by New York Community Bank, and manages and controls the NBA's Brooklyn Nets and its Development League team, the Long Island Nets, as well as the business operations of the NHL's New York Islanders.
Barclays Center, which opened on September 28, 2012, offers 17,732 seats for basketball, 15,795 for hockey, and up to 19,000 seats for concerts, and has 101 luxury suites, four bars/lounges, four clubs, and 40/40 CLUB & Restaurant by American Express.
The New Coliseum Presented by NYCB, scheduled to reopen April 5, 2017 after extensive renovation, will offer 13,000 seats for hockey, 13,500 for basketball, and 14,500 for standard concert configurations, with the ability to flex up. The bowl will have a theater seating option for 4,000 guests. With a focus on emerging businesses, BSE identifies and creates alliances, strategic partners and other business opportunities to ensure the success of its assets.
For additional information, please visit Brooklynse.com.
Barry Baum
Chief Communications Officer
(718)942-9533
[email protected]
Mandy Gutmann
Communications Director
(718)942-9587
[email protected]
Stuart Bryan
Communications Manager
(718)942-9574
[email protected]
Brittany Borsanyi
Communications Coordinator
(718)942-9069
[email protected]
ABOUT ESL
ESL , a part of the international digital entertainment group MTG, is the world's largest esports company, leading the industry across the most popular video games with numerous online and offline competitions. It operates high profile, branded international and national leagues and tournaments such as the Intel® Extreme Masters, ESL One, ESL National Championships and other top tier stadium-size events, as well as grassroots amateur cups, leagues and matchmaking systems. ESL covers a broad field of services in gaming technology, event management, advertising and television production, fully catering to the needs of the esports ecosystem. With offices in North America, Germany, Russia, France, Poland, Spain, China, and partners in many other countries, it has a truly global footprint (www.eslgaming.com).
ABOUT AEG
Headquartered in Los Angeles, California, AEG is the world's leading sports and live entertainment company. With offices on five continents, AEG operates in the following business segments: AEG Facilities, which with its affiliates owns, manages or consults with more than 120 preeminent venues around the world including The O2 Arena, the Sprint Center and the Mercedes-Benz Arenas;  AEG Live, one of the largest live music companies in the world dedicated to producing and promoting global and regional concert tours, music and special events and world-renowned festivals; AEG Sports, the world's largest operator of sports franchises and high-profile sporting events;  AEG Global Partnerships, which oversees worldwide sales and servicing of sponsorships including naming rights, premium seating and other strategic partnerships; and AEG Real Estate, which develops world-class venues and  sports and entertainment districts like STAPLES Center and L.A. LIVE. Through its worldwide network of venues, portfolio of powerful sports and music brands, AXS.com ticketing platform, AXS cable television channel and its integrated entertainment districts, AEG entertains more than 100 million guests annually. More information about AEG can be found at www.aegworldwide.com.
Media Contacts:
AEG
Michael Roth
[email protected]
(213)742-7155
Cassandra Zebisch
[email protected]
(213)763-7712
ESL
Anna Rozwandowicz
[email protected]
+49 177 3787070