The state of Arizona will not be building any new casinos for the foreseeable future after State Governor Doug Ducey and 10 Indian tribal nations agreed on a new compact on Monday.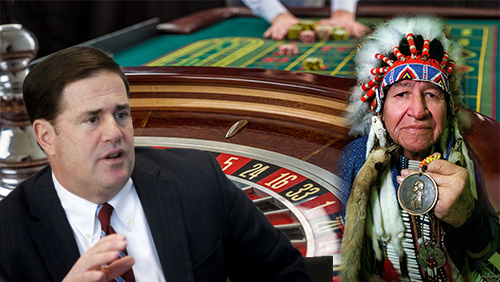 In 2002, voters gave the thumbs up to an agreement between the state of Arizona, and the Indian tribes that lived within those invisible four walls, to limit the number of casinos that would rise from the state's dirt. 14-years later, Governor Doug Ducey and 10 Indian tribes, have once again put pen to paper to update that agreement.
The new deal – signed on Monday inside the state Capitol's old Senate building – allows the current tranche of casinos to grow their business while preventing further casino expansion within the Phoenix Metro area.
As part of the new deal, existing casinos will be able to increase the number of Keno games from two to four, and casinos within a 40-mile radius of a population of more than 400,000 can enhance their number of poker tables from 100 to 105.
Speaking to the press about the compact, Ducey said:
"Increase gaming operations in return for not constructing further facilities in the Phoenix Metro area marks the beginning of imminent discussions to bring additional improvements to the gaming compacts of our state.
"Today, these tribal leaders are reaffirming the promises they have made to each other and Arizona. It is vital for healing the integrity of the original agreement. The partnership forged over a decade ago established the standard that helped these nations prosper."
Desert Diamond Casino Project
The 'healing' refers the Tohono O'odham Nation's decision to open the Desert Diamond Casino in Glendale at the turn of the year.
The Indian nation – who bought the land from the Phoenix University Stadium in 2009 – sparked controversy because that land was not part of an Indian reservation, and contravened 2002 compact. The legal wrangle has burned hard ever since. The casino is open but does not operate as a fully fledged casino because it does not possess a Class III gaming license.
News pouring out of the signing indicates that the revised compact allows room for the Tohono O'odham Nation and the government to reach a suitable agreement moving forwards.
The Tohono O'odham Nation wasn't one of the Indian tribal nations present at the signing.