Lee Davy brings you updates from the World Series of Poker Main Event as nine players battle it out for the title of poker's Champion of the World and $8m in prize money.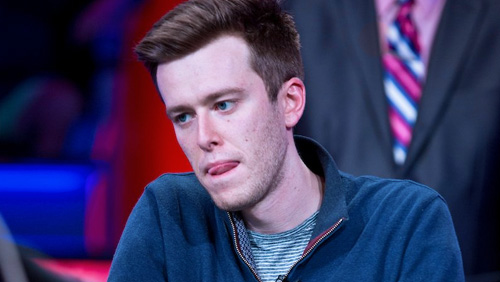 Yesterday, Gordon Vayo was the only player to temporarily take the chip lead from Qui Nguyen when he doubled through Vojtech Ruzicka, and he has done it again at a vital moment in this competition; this time with Cliff Josephy nursing a sore head.
Josephy opened to 2,500,000 on the button; Vayo called in the small blind before Nguyen squeezed to 7,700,000 from the big blind – both players called.
Flop: [Kd] [3c] [2s]
The action checked to Nguyen in the big blind who c-bet to 9,900,000. Josephy took his time before calling; Vayo also called.
Turn: [4d]
Over 53 million chips are lying in the middle of the table.
Vayo checked, Nguyen checked, Josephy bet 21,000,000, Vayo moved all-in for 75,100,000, Nguyen folded, and Josephy made the call.
Showdown
Vayo: [3d] [3s]
Josephy: [2d] [2c]
Once again Vayo had flopped a set – as he did in his hand against Ruzicka – and this time he didn't need his opponent to fire three bluffs at him because Josephy was holding a lower set. What a cooler, Josephy was down to one out, and the [6d] on the river wasn't the card he was seeking.
Vayo is now the chip leader with 203,600,000 chips.
Josephy is down to just eight big blinds and has a lot of doubling up to do if he is going to get back into this contest.
Final Table Payouts
1. $8,005,310
2. $4,661,228
3. $3,453,035
4. Michael Ruane – $2,576,003
5. Vojtech Ruzicka – $1,935,288
6. Kenny Hallaert – $1,464,258
7. Griffin Benger – $1,250,190
8. Jerry Wong – $1,100,076
9. Fernando Pons – $1,000,000