Arch rivals Liverpool and Manchester United played out a snore draw at Anfield as Jurgen Klopp's side miss the opportunity to go joint top of the table with Arsenal and Man City.
Liverpool's clashes with Manchester United are some of the hotly anticipated games of the season, but tonight, the British public would have been better off watching the Great British Bakeoff.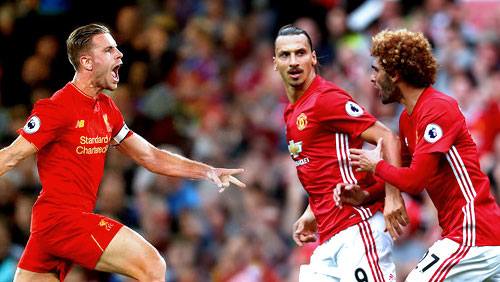 It was the 197th meeting between the two North West teams stretching back as far as 1894, and I doubt you will find one as boring as this.
It was a game of few chances as United started to look like a Jose Mourinho side for the first time this season. The industry of Marouane Fellaini and Ashley Young preferred to the silky skills of Juan Mata and Jesse Lingard. Wayne Rooney found himself on the bench once again. Liverpool started with Daniel Sturridge up top. Georgino Wijnaldum was missing due to an injury sustained during the international break, and Adam Lallana began on the bench.
Despite Liverpool's dominance of the football, it was United who should have gone ahead in the second half. Paul Pogba danced through a couple of weak tackles down the right, and his pinpoint cross landed on the top of Zlatan Ibrahimovic's head at the far post, but the man who scored 50 goals last season, skewed his header across the face of the goal.
Liverpool had two great chances to win the match only to be denied by David De Gea. Emre Can was the first to feel the wrath of the Spaniard when he wriggled free in the box only for De Gea to save smartly to his right through a ruck of players. Then Philippe Coutinho produced a 25-yard screamer destined for the top corner before de Gea flew through the air to flip it beyond the far post.
Liverpool could have drawn level with Man City and Arsenal at the top of the league had they taken all three points, and they will be disappointed not to. Jose Mourinho was bullish about his side's performance despite only having 35% possession, an all-time low for a United side since Opta started recording stats in the 2003/4 season.
Premier League Results (Week 8)
Chelsea 3 v 0 Leicester
Arsenal 3 v 2 Swansea
West Brom 1 v 1 Spurs
Stoke 2 v 0 Sunderland
Bournemouth 6 v 1 Hull
Man City 1 v 1 Everton
Crystal Palace 0 v 1 West Ham
Middlesbrough 0 v 1 Watford
Southampton 3 v 1 Burnley
Liverpool 0 v 0 Man Utd
Premier League Table
1. Man City – 19
2. Arsenal – 19
3. Spurs – 18
4. Liverpool – 17
5. Chelsea – 16
6. Everton – 15
7. Man Utd – 14
8. Southampton – 12
9. Crystal Palace – 11
10. Watford – 11
11. Bournemouth – 11
12. West Brom – 10
13. Leicester – 8
14. Burnley – 7
15. West Ham – 7
16. Hull – 7
17. Middlesbrough – 6
18. Stoke – 6
19. Swansea – 4
20. Sunderland – 2
Premier League Title Odds (Courtesy of Oddsshark)
Man City 11/10
Liverpool 7/2
Arsenal 5/1
Spurs 10/1
Chelsea 12/1
Comments