You might have seen cool things so far, but certainly not something as ground-breaking as the project Endorphina and EiG are about to present.
For the first time in the history, there comes a custom slot developed exclusively for an EVENT! Everyone can enjoy the game on www.eig2016slot.com and even win some serious prizes such as AAA ICE 2017 Conference Pass, 2017 Slot Academy Pass, a 3-month free trial of Endorphina games, genuine space food and more.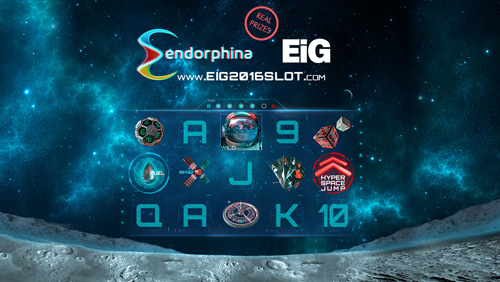 This cutting edge idea comes from collaboration of Endorphina and Clarion events and is dedicated to the upcoming EiG 2016 expo in Berlin, Germany on the 18th-20th October. That is the leading iGaming industry event and estimating to welcome up to 2,000 iGaming professionals travelling from more than 83 countries to meet, network and share ideas. Bringing together decision makers from across the entire ecosystem, the event provides rare insights into the challenges and benefits present in today's market.
Rory Credland, the Event Director for EiG from Clarion events, said this about the the collaboration: "EiG is all about innovation and we are looking for something new and unique. When Endorphina came up with this terrific idea, we just couldn't say no to it, it was bold, brilliant and challenging at the same time, something that nobody-has-ever-done-before kind of a thing."
Endorphina's team had this to say about the collaboration: "We do what nobody else does. We always try to think out of the box and reinvent what has already been invented. So when this idea came to our minds we knew that we had to go for it and turn this vision in reality. EiG expo this year is about innovation and we always strive to push the industry forward and bring fresh cutting-edge ideas, so we chose this event for our courageous project. Clarion events leadership agreed and so a new milestone for igaming industry was set."
Endorphina´s highly skilled professionals prepared a custom made online slot game designed exclusively for EiG expo this year. High volatility mathematics, beautiful space design and attractive prizes are some highlights of the new game. All this combined with the ultimate focus on the player, knowledge of player-psychology and player-game interaction that is undoubtedly Endorphina´s  competitive advantage, will make this slot the sensation of the year.
We wish the best of luck to all players!