G2E 2016 took place last week at the Sand Expo in Las Vegas and more than 26,000 attendees walked through the doors across the four days of the event.  G2E is the largest event of the year focusing on the North American gambling industry and beyond, featuring a gigantic expo floor, a selection of sessions dedicated to hot topics in the industry, celebrities, networking events, awards and so much more.
There is no better way to get your finger on the pulse of the North American gambling industry than by attending G2E and here are my top five takeaways from our time in Las Vegas.
The talk is about millenials, but slots still prevail
The most shocking aspect of the G2E expo hall is the sea of slot machines on display at the industry-dominating supplier booths such as Scientific Games and Novomatic.  As someone who has attended G2E for the past decade, I can confirm slots on display have maintained their dominance despite shifts, trends and technological developments in the market.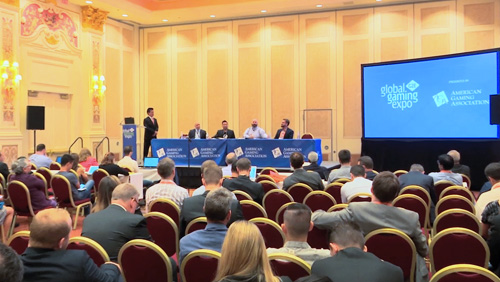 This year the majority of the celeb appearances were tied to slot machine brands, for example Scientific Games hosted "The Soup Nazi" in honor of their Seinfeld slot, the Playboy Playmate of the Year in honor of their Playboy slots and IGT hosted Vanna White in honor of their Wheel of Fortune Slot.
You would think with all this talk about millenials, slot machines would become less and less of a focus at a giant expo such as G2E, but clearly there is a still a massive demand in the market for the old-fashioned slot machine otherwise these suppliers would not spend hundreds of thousands of dollars to put their latest slots on display.
eSports maintains its position as a hot topic
This is now the third consecutive G2E where we've been treated to sessions dedicated to eSports and how the gambling industry can take advantage of this growing sector.  The eSports and Casino session on G2E's Day 3 was absolutely packed and I had to wait for an interview with speaker Rahul Sood of UNIKRN after the session as he attracted a line-up of delegates wishing to ask follow-up questions.
Sood told CalvinAyre.com he is pushing for Las Vegas to become "The eSports capital of the world", both by hosting eSports tournaments MMA-style at Vegas properties such as the MGM and by creating "zones" on the casino floors that appeal to eSports enthusiasts and gamblers.
Less focus on iGaming regulation in USA
Several years ago there were plenty of G2E sessions dedicated to iGaming regulation in the United States, both on a federal and state-by-state level.  These types of sessions can now be classified a rare commodity as the focus on potential regulation of iGaming in the USA has hit a lull period.  There is still discussion of potential regulation in states such as Pennsylvania, but the online focus has shifted from iGaming to online social casino strategies for land based properties and DFS.
AGA's push for regulated sports betting in USA
Every day at G2E this year there were dedicated sessions addressing regulated sports betting across America, including several hours dedicated to the subject with former NBA commissioner David Stern on the final day.
The AGA's President, Geoff Freeman, has led a number of campaigns to raise awareness on the benefits of legalizing sport betting on a federal level and has been in close touch with the leagues and other related parties to increase momentum.
In my interview with Freeman at G2E about regulated sports betting he said:
"It really is the topic du jour, DFS is what was being talked about last year, a little bit of eSports this year, but the broader issue of sportsbetting is a constant.  I feel very good about the direction of it, the tide is turning pretty quickly, I've had the chance to spend considerable time with David Stern, with Adam Silver and with others. We're making headway and I think the prospects for the legalization of sports betting are greater today than they have ever been, we've got such a diverse coalition, a wide coalition, of law enforcement of leagues, of owners, broadcasters and advertisers.  The universe of folks who want to see sports betting legalized is bigger today than its ever been, and as such, I think we're going to be well positioned in the next administration to make some serious headway on that front".
Freeman has also spent countless hours talking on the integrity of sport and how sports betting regulation will help protect the cause.  The AGA's networking area at G2E promoted a recent study on the integrity of sport and a G2E Panel was dedicated to the subject as well.
"We had Rick Parry from the UK as well as the Liverpool School of Management help us on some new research that spoke to how a transparent market, a regulated market in the UK is leading to greater integrity than we have in the US sports. We don't have access to the data so we're kind of living with our heads in the sand here and its time to pull them out", Freeman shared with me at G2E.
Innovation: twist on traditional games
Of course innovation in the gambling industry was a theme at G2E 2016 as it is every year.  We saw everything from new payment systems to updated virtual reality technology to sharper virtual sports offerings and also a few new twists on traditional table games.
Roberto Coppola and Mark Lipparelli have partnered up and created Chinese War, an innovative twist on baccarat.  Coppola designed the game with millenials and Westerners in mind as plenty of people, young and old, find traditional baccarat confusing and Chinese War is easier for them to understand.
We also passed by "Down Under Blackjack" and CEO Kyle Morris walked us through his innovative twist on blackjack, a version of the game that lets players see the strength of the dealer's hand before they decide how to play their own hand, allowing players to make more informed decisions and hopefully have more fun.