3-barrels of pure value of a partypoker flavour including Carl 'Foggy' Fogarty winning the Big Bluff Challenge at the Grand Prix Poker Tour in Brighton, hometown boy James Dempsey winning the Main Event, and 2,545 players taking part in a vote on HUD use at partypoker.
Can anyone play poker?
Of course, you can, and to prove it, partypoker chose four celebrities who had never played the game before and set about training them to compete in a Sit n Go with the opportunity to win money for charity.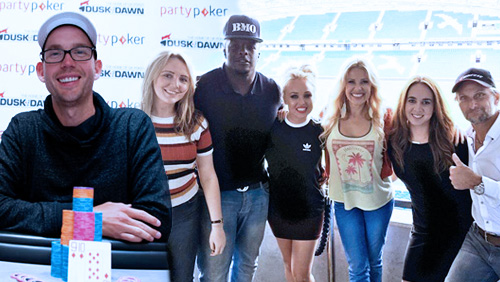 The four celebrities were the former model and presenter Melinda Messenger, actress Jorgie Porter, pro footballer Adebayo 'The Beast' Akinfenwa, and 4-time world superbike champion Carl 'Foggy' Fogarty.
The quartet was subjected to three poker boot camps to hone their skills in preparation for the big day. Former Late Night Poker winner, Simon Trumper, taught them the rules of poker and basic play; 4-time World Boxing Champion, Carl Froch, taught them how to create the perfect poker face, and world-renowned elite performance coach, Dave Alred MBE, got to work on the mindset angle of the game.
After three months of intensive training, the celebrities took part in a specially arranged Sit n Go at the Grand Prix Poker Tour (GPPT) at Brighton's Amex Stadium, with the title of Big Bluff Champion going to the celebrity that would last the longest.
The first player to hit the rail was Messenger. She got it in with AKdd against the AA of The Beast. The former Page 3 model had flush draw and straight draw outs by the river, but they failed to emerge from the deck.
The Beast didn't stop there.
The former Hollyoaks star, Porter, was the next player to drift into his crosshairs. And that set up the last longer encounter with The Beast facing off against Fogarty, and it was Fogarty declared Big Bluff Champion after eliminated the man with arms bigger than one of Foggy's bikes.
"I was born on the first; this is what I do." Said Fogarty after his win.
"There is a weird winning thing that circles his aura." Said Porter.
Fogarty's charity of choice was the NSPCC.
Big Bluff Final Table Results
1. Simon Trumper (The Boss)
2. Bob Tait (Online Qualifier)
3. Simon Allen (Online Qualifier)
4. Carl Fogarty
5. Adebayo Akinfenwa
6. Liam Arnold (Online Qualifier)
7. Jorgie Porter
8. Andrew Harris (Online Qualifier)
9. Melinda Messenger
James Dempsey Wins the GPPT Brighton Main Event
During a recent trip to the Rendezvous Casino in Brighton it was sweet to see James Dempsey's World Series of Poker (WSOP) bracelet, and World Poker Tour (WPT) trophy in a cabinet at the venue.
Dempsey is Brighton through and through, and so it was great to hear that the UK pro had bested a field of 2,100 entrants on his way to locking up the $40,000 first prize in the GPPT Main Event held at the Brighton Amex Stadium.
Dempsey came into the event in fine form after cashing eight times at the WSOP including a fourth-place finish in the $1,000 buy-in Tag-Team event where he partnered with Chris Godfrey.
Dempsey started the final table third in chips behind Ken Priestnall and James Alsop, but it was Tom Simm who put up the heartiest fight against the experienced pro finishing in second place.
The GPPT now moves to Cardiff City Stadium Sep 3-4, and you can qualify online at partypoker in satellites running as low as a single cent.
GPPT Brighton Final Table Results
1. James Dempsey – $40,000
2. Tom Simm – $24,000
3. Seth Webber – $16,000
4. James Alsop – $12,260
5. Ken Priestnall – $9,000
6. Peter Burgon – $7,000
7. Paul Nugent – $5,500
8. Jamie Robinson – $4,000
9. Jaraslaw Szwarc – $3,000
Players Don't Want HUDs in partypoker Cash Games
On July 10, Dusk till Dawn (DTD) owner, Rob Yong, posted a tweet asking poker players if partypoker should ban HUDs in online cash games and 56% of those who entered the poll voted for them to be loaded onto a rocket and sent into space.
What partypoker will now do with that information remains to be seen, but don't be surprised if partypoker takes the feedback to heart and bans the things.
2,545 players voted in the survey.
HUDs Vote: Do you think @partypoker should prevent the use of HUDs in online cash games – please RT and Vote

— Rob Yong (@Rob_Yong_) July 10, 2016