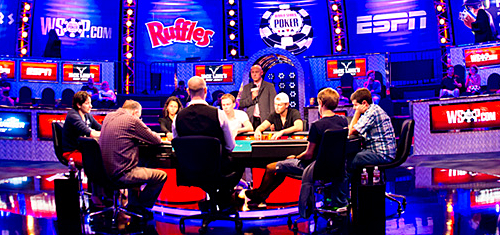 With the World Series of Poker Main Event playing down to the November Nine, Lee Davy gives you a blow by blow account of all the action of the final day starting with Level 31.
On July 9, the first of 6,737 dreamers walked into the world's most cavernous poker room hoping and praying that they could find the luck needed to drive them towards the most prestigious stage in the game: The World Series of Poker (WSOP) November Nine.
It is an experience like no other.
It is the end of a quite tumultuous journey.
Today, is Day 7, the day when we will learn who made the cast of the November Nine. There are 27-players in contention. The action begins in Level 31 with blinds at 100k/200k Ante 30k, and here at CalvinAyre we will bring you a review of every level until only nine sets of chips are stowed away until November.
Top 10 Chip Counts
1. Vojtech Ruzicka – 26,415,000
2. Michael Ruane – 24,565,000
3. Cliff Josephy – 23,860,000
4. James Obst – 19,560,000
5. Mike Shin – 19,345,000
6. Valentin Vornicu – 17,450,000
7. Fernando Pons – 17,270,000
8. Thomas Miller – 17,185,0009.
9. Kenny Hallaert – 15,465,000
10. Tom Marchese – 15,420,000
The first big hand of the level happened between Jared Bleznick, who has none other than Phil Hellmuth in his corner, and Christopher Kusha. Kusha opened to 425k on the button, Bleznick three-bet to 1.3m in the small blind, Kusha moved all-in, and Bleznick made the call. It was pocket nines for Bleznick and A2o for Kusha. Bleznick dodged the Ace and doubled to 12m. Kusha had less than a big blind. William Kassouf nabbed it, putting him down 44 v AK. Kusha flopped an ace, but Kassouf flopped a set. Kusha was out in 27th place.
James Obst is one of the favourites, and he eliminated Philip Postma in 26th place. Fernando Pons opened to 450k from the first position; Postma jammed for 1.6m in the next chair, Obst four-bet to 2.78m from the small blind and Pons stepped aside. Postma showed Queens, and Obst tabled Aces. The board handed Obst a wheel and Postma was sent to the cash desk to pick up his $269,430. Obst moved up to 23.47m in chips.
Kakwan Lau opened to 475k in midfield, John Cynn three-bet to 1.27m, and Griffin Benger moved all-in for 6.785m. Both players laid it down, and Benger picked up a nice uncontested pot.
Each level is two-hours in length. Those sharing the same table as Michael Ruane and James Obst have had to spend 18 minutes of those two hours watching the pair in a long drawn out chip lead defining hand that went as follows:
Pons opened to 450k from the first position; Ruane called on the button, and Obst also called from the small blind as did Qui Nguyen from the big. Four players saw the dealer fanning QsJc7c onto the flop. The action checked to Pons, who c-bet for 625k. Ruane raised to 2m on the button, and the action stopped with Obst in the small blind. The Australian pondered his decision for some time before raising to 5.3m. Nguyen and Pons both folded. Ruane took two minutes of thought time before calling.
The turn card was the Tc; Obst checked, and Ruane tanked before betting 3.75m. Obst took his time before calling. The river was the Td, pairing the board, and the Australian led for 4.7m and Ruane moved all-in for 13.5m. Obst took a good four minutes of thinking time before folding. Ruane moved into the chip lead with 37.94m, and Obst dropped to 11.6m.
Kenny Hallaert is living in dreamland. The Belgian waded through 22,374 players to finish fifth in The Colossus last year, and here he is playing in the final 27 of the WSOP MainEvent. It's started well. The Belgian opened to 475k from the hijack seat, Valentin Vornicu three-bet to 1.1m from the button, and Hallaert called. The flop was ThTs7d; Hallaert checked, Vornicu bet 1.225m, and Hallaert called. The turn was the 6c; Hallaert checked for the second time; Vornicu bet 2.2m, and Hallaert called once more. The 4h was the river card; Hallaert checked, Vornicu bet 2.65m, and Hallaert check-raised all-in for 8.69m; Vornicu called. Hallaert showed ATdd for trip tens, and Vornicu showed pocket queens for two pairs. Hallaert moved up to 26.97m, and Vornicu dropped to 7.695m.
Significant levels for Michael Ruane and Kenny Hallaert, not so much for James Obst and Valentin Vornicu.
Level 31 Eliminations
27 – Chris Kusha – $269,430
26 – Philip Postma – $269,430
Top 10 Chip Counts
1. Michael Ruane – 39,050,000
2. Kenny Hallaert – 26,520,000
3. Cliff Josephy – 25,700,000
4. Vojtech Ruzicka – 20,875,000
5. Fernando Pons – 20,265,000
6. Mike Shin – 17,870,000
7. Jerry Wong – 17,175,000
8. Tom Marchese – 14,495,000
9. Kakwan Lau – 14,175,000
10. Thomas Miller – 14,105,000
25 players will begin Level 32.