Lee Davy sits down with World Series of Poker bracelet winner, Matthew Ashton, to talk about the differences between cash games and tournaments, his internal dialogue, and much more.
*To download this audio, right click and save link as*
I am staring at Mike Gorodinsky's 2015 World Series of Poker (WSOP) Player of the Year (POY) giant banner, and perhaps it's my Britishness but my thoughts race to Matthew Ashton.
In 2013, Ashton announced himself on the part of the poker world we allow the world to see. He came to the WSOP with a modicum of tournament success and had a blinder.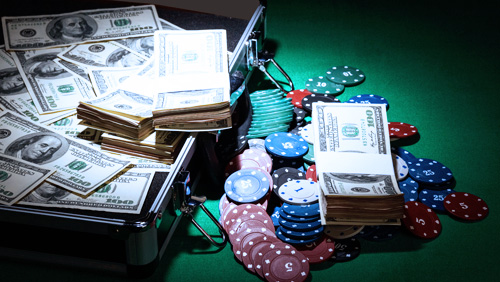 He made five final tables, won the $50,000 Poker Player's Championship (PPC) for $1.7m, and pushed Daniel Negreanu all the way in the POY race.
So, as I look at Gorodinsky's giant mug, I wonder if Ashton ever stares at it wondering what might have been?
"I think about it a bit, but when I do, I feel lucky that I ran that far above expectation in tournaments. It helps me, for example, when I run bad like I have this year. I can look back and see I ran so good back then that I am running a million dollars above expectation and have nothing to complain about – forever."
It was a rational response from a brilliant young man. I should have expected it. He is a poker player. What about emotion? What about ego? Doesn't he want to see his handsome hairy mush amongst the Gallery of Champions?
"There is a minuscule part of me that would want that. It would be nice to look up at it knowing it will be there every year. However, I'm not a tournament player. It's the cash games that get me going more than the tournaments."

And therein lies the problem. Poker doesn't want to photograph the faces of the cash game players. Hidden from view, like Dwarfs mining for gold in the Mines of Moria. And that is why we will never actually know who the greatest players in the world are, no matter how many PPC's the WSOP organises.
"You can't define success by any one tournament. It's not a long enough span even if the tournament is a good structure like the PPC. Anyone can win."
So how do you find the true greats of poker?
"To be considered one of the real greats you need to be able to do it over a very long time in cash games, tournaments, live and online – although some people may disagree with that. I feel like the more areas you compete at the highest level and do well at, the better your claim will be. I get more satisfaction consistently being in the biggest cash games and winning in those. That makes me feel like I am one of the better players. A tournament won't do that for me."

So is Matt Ashton willing to sacrifice the limelight and the banners? Is he content, knowing that he is one of the best, or does he feel the natural urge that most humans have to scream at the top of their voice – LOOK AT ME!
"Cash game players and tournament players have very different mindsets. Tournament players enjoy the spotlight. It's in the cash game players best interest to make everyone think they are worse than they are. They downplay the limelight to get more action. Tournament players want to the be in the limelight because it can help them achieve a sponsorship deal for example."

I wonder how many great cash game players will find the doors of the Poker Hall of Fame locked because of their cloak of anonymity?
"I don't think many will get the vote. Cash game players don't get enough attention, and they won't want that attention. There will be players competing in Bobby's Room who have been doing it for years and winning the odd tournament who will get in, but that's it."

So nobody from Europe or anyone playing solely online cash games has a chance then?
"It's unlikely. People already believe there is an American bias. People have been campaigning to get Devilfish in and it doesn't look like that will happen."
The Devilfish was poker's loveable villain. I ask Ashton who represents the villain in his poker life?
"It's within yourself; your own mental game. It's a battle with yourself more than other people."
So what happens when the fight kicks off in Ashton's mind? Does it affect him at the table, or is it more reflective?
"It's definitely at the table. Odd hands will come into my head afterwards, and I will think harder about them. When playing tournaments, I have to remind myself not to get too involved because I don't have to play every hand.

"I have trouble making bigger adjustments to the way I usually play. You have to do that in tournaments because you are playing weaker players and it's not natural to me. I am set with my strategy and making smaller adjustments. That's the kind of thing I get annoyed at myself. I should know better instead of making what I feel is the right play."

I ask Ashton what triggers these internal dialogues?
"I am patient in general, but I still get impatient at the table. It doesn't hurt like it used to. I won't reach that level of intensity easily. I do find that I don't follow the action like I used to. It's complacency, and the result in any one tournament doesn't change my life in any way. It's a little harder to motivate myself. I try not to beat myself up over that. I think my A game comes back when I reach the final table."

With over $2.6m in live tournament winnings, and I assume a decent wedge earned playing online cash games, from the outside-in, Ashton's life seems pretty comfortable. I wonder if he has ever experienced a rock bottom, either in life or at the tables?
"I have never had that. I have had one of the smoothest rides in poker. When I lose, my instinct is not to play for a week so I don't go on a big downswing. This summer is the worse I have run over a month and a half period. Emotionally it's not as taxing because I don't need it as much as other players when they are on their biggest downswing."

But doesn't Ashton worry about money during a downswing?
"That's never happened to me. Even from a young age, I have never had a need for money nor have I valued money highly."
And where did he learn those values?
"It comes from my family. We are very conservative. I have never taken the money seriously. I haven't been trying to reach up to higher limits like some players do. Say 10-12 years ago; bankroll rules were different for me, but even if I lost it all – I had no responsibilities. I could have built it back up."
So what about the future?
If Ashton had 10,000 hours to work on anything what would he choose and why?
"I have been asking myself the same question a lot this year, and I don't have any firm answers. I would like to do something for the world. Poker doesn't provide much for society. But I am not in a rush."