As Fedor Holz breaks into the Top 10 All Time Live Tournament money earners, Lee Davy investigates how he was able to achieve this feat in only four years.

Fedor Holz has achieved more in poker in four years than most of his peers will achieve in a lifetime.
Does this mean he is a savant?
Was he born with a freakish genetic disposition to play poker?
Is he the illegitimate love child of Stu Ungar?
What is it?
What is the secret sauce?
The $111,111 High Roller for ONE DROP is the largest buy-in event at the 2016 World Series of Poker (WSOP). Fedor Holz is one of 183 entrants competing for a slice of the $19,316,565 prize pool. It is the largest field in WSOP High Roller history. Holz is the youngest player in the tournament at 22 years of age.
At the end of Day 1, Holz clashes with Justin Bonomo in a hand that sees him soar towards the top of the chip counts. At the end of Day 2, Holz has finished in the middle of 13 players and shares a table with the winner of the inaugural $1m buy-in Big One for ONE DROP winner Antonio Esfandiari.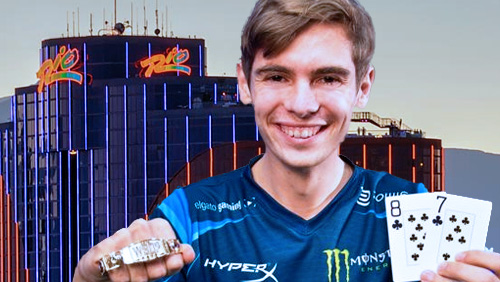 "When Antonio won back in 2012, that's the time I started to get into poker." Holz would tell WSOP officials after the event ended. "I was such a fanboy."
On Sunday 9 Sep, 2012, Holz finishes runner-up to Tomas Petru in a 228 entrant €500 buy-in No-Limit Hold'em event at King's Casino, Rozvadov, for €15,320. It's the first cash of his career. He would turn that into $13.5m in the next four years playing live tournaments.
How?
K. Anders Ericsson is a Swedish psychologist who has done more research than most on what makes people great. In his new book Peak: Secrets From The New Science of Expertise a theme emerges after talking to so many people he deems as extraordinary, and it's that very few of them believe they were the winners of some genetic lottery.
In the case of Holz, this means he has acquired a way to become exceptional at poker; understands what the secret sauce is, and keeps consuming more of it to get even better. There is a hint in his discussion with WSOP officials at the climax of the ONE DROP High Roller as to what it is.
"I have to credit a lot of the high-stakes players I play with in the High Rollers." Said Holz. "From playing with them, they teach you. If you do not play well, they eat you alive. You play with them, and you see their skill sets and get in tune with what they are doing."

And what I love about Holz's rise to fame is he is doing it at a time when people have been saying it's harder to become a winning player than at any other time in poker. In Peak, Ericsson's research shows that as our capability to learn improves, so does the level of talent.
Holz wasn't born with a Doyle Brunson type poker gene floating around his body wearing a Stetson. He leveraged his character, and his talent, to become friends with some of the greatest poker players in the world, and understood the importance of learning from them to improve his ability.
There was something else that Holz did that Ericsson believes a vital part of the epic quest to find innate talent.
"You have to keep pushing the ante," writes Ericsson, "Run farther, run faster, run uphill. If you don't keep pushing and pushing and pushing some more, the body will settle into homoeostasis, albeit at a different level than before and you will stop improving."

Five months after Holz appeared in that €500 buy-in event in the Czech Republic he competed in the €3,500 World Poker Tour (WPT) Main Event in Baden finishing 10th. Later that year he competed in a $7,000 High Roller. A year later moved up to a €10,000 buy-in. In 2015, he competed in  €100,000 buy-in. In 2016, he competed and won a $200,000 buy-in.
He keeps pushing and pushing and pushing.
It might not be physical as Ericsson stresses, but he is pushing his mental boundaries.
And it's working.
He is winning everything. He is beating everyone. And it all comes down to talent; deliberate and precise practice; his personality, and a little bit of luck.
Ok, maybe a lot of luck.
We have the final table of the $111,111 One Drop High Roller. Dan Smith came into the final day with the chip lead, and he takes it into the final hurdle. Holz is fourth in chips behind Brian Green and the young Brit Jack Salter.
The first player to hit the rail is Scott Seiver. It's Holz who takes him out 44 v AJ. Next to leave is Niall Farrell. The WSOP Main Event Champion, Joe McKeehen, takes care of the Scotsman QQ > TT.
Seven players remain.
Dan Smith and Fedor Holz are in control.
The action folds to the short stacked Nick Petrangelo in the small blind, and he moves all-in holding [Js] [9d]. Holz, in the big blind, looks down to see pocket fours again. He calls. It holds. Petrangelo is out. Holz has the chip lead.
The Holz express train keeps on grinding the axle to the rail when he eliminates McKeehen in fifth place. It's a cooler with McKeehen holding [Kh] [6h] on [Qh] [Jh] [3h] and Holz holding [Ah] [Th]. Green is the next one to feel the blunt force trauma of the German. Green getting it all-in JJ<A9dd, and Holz spikes aces on the flop and the turn to rise to 90bb.
Holz then made it three in a row when he moves all-in from the cutoff holding [Kh] [7h] and Salter calls with pocket tens in the small blind. A king on the turn ending Britain's hopes of another bracelet. Holz goes into three-handed play in great shape.
Fedor Holz: 111 bb
Dan Smith: 58 bb
Koray Aldemir: 13 bb
Aldemir doubles through Dan Smith to create a spot of hope. Smith then crushes it. Aldemir moving all-in holding pocket sevens and Smith calling with pocket nines. They held, and we were heads-up for the title.
Holz started the heads-up battle against Smith with a 93 bb to 59 bb chip lead. Smith would take the chip lead at one point, and then this crucial hand gave the initiative back to Holz.
Holz raises to 1.8m on the button, Dan Smith three-bets to 6m, and Holz calls. The flop is [Jh] [8c] [6s]; Smith bets 4.1m and Holz calls. The turn is the [6c] to give Holz trips. Smith checks, Holz bets 5.4m and Smith calls. The river card is the [9d]; Smith checks again, Holz moves all-in for 18,975,000, and after some considerable time in the tank Smith makes the call.
When Smith sees Holz's cards, he taps the felt in a very sporting recognition of a hand well played. Holz has an 86 bb v 28 bb chip lead. The tournament ends a few hands later then Holz moves all-in holding [8c] [7c] and Smith calls with [As] [9s]. Holz flops an open-ender that gets there on the turn.
You can look back over the course of the final table and can say that Holz ran hot. He did. But the German has now won $18,495,174 in live tournament earnings since that €500 buy-in event in 2012.
He is the winningest live tournament player in German history and the ninth winningest in the history of the game.
He is only 22.
"It is one of the best experiences of my life." Said Holz after his win.
So what next for Holz?
If he wants to keep improving, then he had better maintain the pedal to the metal. According to Ericsson, our advancement in learning techniques might mean, that one day, should Holz chill out, he might be just another average Joe. Talking about the incredible genius of Wolfgang Amadeus Mozart, Ericsson points out on Freakonomics Radio:

"If you compare the kind of music pieces that Mozart can play at various ages to today's Suzuki-trained children, he is not exceptional. It anything he's relatively average."

And for the rest of you inspiring Fedor Holz's; practice, both deliberately, and precisely. Dedicate your life to the game. And then cross every digit you have, and pray the Poker Gods take a liking to you.