In today's World Series of Poker roundup we bring you news of a huge bracelet sweat between Jason Mercier and Vanessa Selbst, Roberto Romanello denied a Triple Crown, and much more.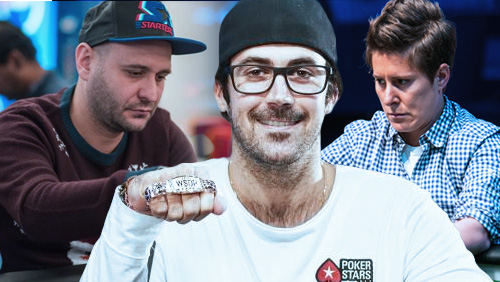 Vanessa Selbst is in a world of hurt.
After Jason Mercier had become the 39th player in history to win four gold bracelets, after victory in the $10,000 2-7 Draw Lowball Championships on Monday, the PokerStars Team Pro revealed that he stood to win $1.8m from Selbst if he could win two more by the end of the summer.
Coming into the 47th Annual WSOP, the poker community were aware that Selbst had offered Dzmitry Urbanovich 200:1 odds that the Pole wouldn't win three bracelets in his rookie year. But news of the Mercier bet didn't emerge until more recently.
The betting has created some controversy. If PokerStars teammates Mercier and Selbst were good friends before the summer, that relationship must now be strained to breaking point. Selbst released a statement on Twitter explaining how she offered Mercier odds of 180:1 after she had been drinking. After her hangover had subsided and the news of her latest bet had sunk in she offered Mercier to back out of the bet for $1k.
Mercier refused.
Then he went and won a bracelet. Selbst upped the ante, this time to $100,000.
Mercier once again refused.
And it's this refusal to allow Selbst to backtrack from her drunken bet that has set the sabre tooth tiger amongst the pigeons.
Should Selbst be Worrying?
Before the summer, only six players in 47-years had won three bracelets in a single WSOP: Puggy Pearson (1973), Phil Hellmuth & Ted Forrest (1993), Phil Ivey (2002), Jeff Lisandro (2009), and George Danzer (2014).
That doesn't seem a lot, but it's enough to scare Selbst into offering Mercier $100,000 to back out of the bet. Mercier's refusal of what is a large sum of money for effectively doing bugger all is also a sign that one of the world's greatest poker players believes it's possible.
And it seems the sniff of $1.8m has affected his play. No sooner had he won the 2-7 Draw Lowball Championship, he jumped into the $10,000 Razz Championship and now leads the final eight players with a substantial portion of the chips in play.
If Mercier does win bracelet number five, Selbst will be under incredible pressure because the WSOP is still to get into full swing. It's common knowledge that professional players have microscopic amounts of their action when competing in bigger buy-in events, so it's doubtful Selbst has been in this situation before, and $1.8m is an awful lot of money to be lost on a single bet.
2-7 Draw Lowball Championships Final Table Results
1st. Jason Mercier – $273,335
2nd. Mike Watson – $168,936
3rd. Lamar Wilkinson – $120,025
4th. David Grey – $86,302
5th. Benny Glaser – $62,810
6th. Stephen Chidwick – $46,277
7th. Alex Luneau – $34,522
8th. Herezel Zalewski – $26,078
9th. Jesse Martin – $19,953
Other big names to make a dash for the final table included Anthony Zinno (10th), Brian Hastings (12th), Mike Matusow (13th), and Daniel Negreanu (14th).
As previously stated, Mercier is also the big chip leader heading into the final day of Event #20: $10,000 Seven Card Razz Championships.
$10,000 Seven Card Razz Championships Final Table Chip Counts
1st. Jason Mercier – 1,595,000
2nd. John Racener – 1,174,000
3rd. Ray Dehkharghani – 838,000
4th. Brian Hastings – 367,000
5th. Robert Campbell – 360,000
6th. Yueqi Zhu – 312,000
7th. Bart Hanson – 246,000
8th. Jyri Merivirta – 109,000
Jason Dewitt Wins the Millionaire Maker
From someone who may lose a million to a few people who have just won a million.
7,190 entrants created a $9,706,500 prizepool, making the 2016 Millionaire Maker the eighth largest event in the games history, and Jason DeWitt has beaten Garrett Greer in heads-up action to take the million dollars first prize. Greer won't be too disappointed as he also picked up a million dollar consolation prize.
It was an unusual pay structure with a chasm of $500,000 between second and third. To get three-handed and then miss out on the million would be tough, but one doubts there were too many consternations, this time, around after kindergarten teacher, Lisa Meredith, picked up the half a million dollar booby prize after competing in her first WSOP event of her life. Meredith's amazing feat of jiggery-pokery is the fairytale of all fairytales and exactly what the WSOP should be all about.
Back to the winner and it was DeWitt's second bracelet, and both came attached to huge scores. The 32-year-old has cashed 20 times in the WSOP, this was his seventh final table, and in 2010 he won a $5,000 buy-in No-Limit Hold'em event for $818,959.
Final Table Results
1st. Jason DeWitt – $1,065,403
2nd. Garrett Greer – $1,000,000
3rd. Lisa Meredith – $500,000
4th. Frank Rusnak – $366,787
5th. Luke Anthony – $276,632
6th. Arkady Tsinis – $210,112
7th. Michael Semenov – $160,725
8th. Alessio Deicesare – $123,828
9th. Stanley Lee – $96,091
Other notables to have a successful Millionaire Maker were the 888Poker Ambassador Sofia Lovgren (12th), UK star Simon Deadman (27th), and former Jeopardy winner Alex Jacobs (52nd).
Paul Volpe Wins Event #15: $1,500 Eight Game Mix (Six-Handed)
Paul Volpe continues his exceptional recent WSOP form with his second bracelet victory in the past two years. 491 entrants created a $663,820 prizepool in the $1,500 Eight Game Mix, and Volpe defeated Jason Stockfish in heads-up action.
Volpe must have felt the butterflies after getting heads-up. Last year, he lost out to Shaun Deeb and Keith Lehr at this same stage in the $10k Pot-Limit Omaha (PLO) and Heads-Up (HU) Championships. But bracelets are not Volpe's primary focus. It's all about the money and security for his family.
"With me, poker is mostly about the money." Volpe told WSOP officials after his win. "I know with the World Series of Poker there's so much history and I respect that. But I am here mainly to earn a living, make money, and support my family."
And he does a pretty good job of making a living. The 35-year old has now cashed 27 times in WSOP events, made eight final tables, and has now won $4.9m in live tournament earnings.
Final Table Results
1st. Paul Volpe – $149,943
2nd. Jason Stockfish – $92,638
3rd. Ronald Ware – $60,882
4th. Benjamin Ludlow – $40,911
5th. Tony Lazar – $28,123
6th. Gavin Smith – $19,787
Other notables to run deep included Chris Klodnicki (9th), David Steicke (13th), and David "ODB" Baker (14th).
Roberto Romanello Denied Triple Crown
Only five players have the opportunity to join Gavin Griffin (2008), Roland De Wolfe (2009), Jake Cody (2011), Bertrand Grospellier (2011), and Davidi Kitai (2012) in poker's Triple Crown Club by the end of the summer. One of them has just come mightily close.
Roberto Romanello has just finished third in a $1,000 No-Limit Hold'em event after ploughing through a field of 2,242 entrants. His $142,926 cash is the largest of his esteemed WSOP career, but that won't matter to the Welsh All Time Top money earner. He would have given it all up for the touch of gold.
It was a great spot for the Welshman. The final table was devoid of experience, and the eventual winner, Chase Bianchi, was cashing in a WSOP event for his first time whereas Romanello was cashing for the 22nd time and making his sixth final table. Biology teacher Erik Silberman finished second.
Final Table Results
1st. Chase Bianchi – $316,920
2nd. Erik Silberman – $195,738
3rd. Roberto Romanello – $142,926
4th. Charlers Carragher – $105,308
5th. Paul Nunez-Devillavic – $78,301
6th. James Alexander – $58,758
7th. Felix Morin-Dutil — $44,503
8th. Cameron Rezaie – $34,024
9th. Christopher Leong – $26,259
A few others superstars who came close to an appearance on the Mothership were Jeff Gross (23rd), Michael Telker (26th), and Georgios Zisimopoulos (31st).
Marco Johnson Wins Event #18: $3,000 H.O.R.S.E
Marco Johnson joins the ranks of multiple bracelet winners after victory in Event #18: $3,000 H.O.R.S.E. Johnson overcame a field of 400 entrants to take the first prize of $259,730. It was his second gold bracelet. He won a $2,500 buy-in No-Limit Hold'em Six-Handed event for $206,796 back in 2013.
Johnson also finished 47th in the Colossus II. The 30-year old was making his 33rd WSOP cash, and eighth final table. He has now earned $2.5m in live tournament ITM finishes. It was a timely win. His wife is six months pregnant.
Chino Rheem made the final table finishing in the eighth position. Phil Hellmuth created a new WSOP record for 'most WSOP cashes' when he cashed in 45th place for $5,801, his 116th WSOP career cash, and the first of the 47th Annual WSOP.
Final Table Results
1st. Marco Johnson – $259,730
2nd. Jared Talarico – $160,522
3rd. Gerald Ringe – $108,924
4th. Todd Ickow – $75,397
5th. Glenn Engelbert – $53,259
6th. John Crisp – $38,409
7th. Tom Kalaj – $28,291
8th. Chino Rheem – $21,294
Other big names to make a deep run were Eli Elezra (11th), Michael Gathy (12th), and Chris Bjorin (17th).