London, May 31, 2016: GamCrowd, the home of ideas and innovation for the global gambling industry, is delighted to be hosting a one-day conference on June 21 as part of London Technology Week at London's coolest casino, the Hippodrome in Leicester Square.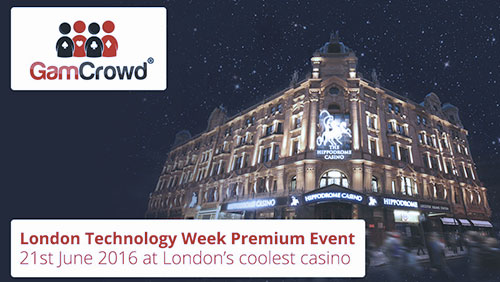 GamCrowd hope to show how dynamic the gambling tech scene is and provide a deeper understanding of the sector for people from inside and outside the industry.
The conference will feature presentations and panel discussions from some leading lights from the online gambling industry tech scene and from other tech sectors including Phill Graham, chief technology officer at Gamesys, Will Mace from Unibet and Hans Lombardo from Chain Finance.
Among the subjects the GamCrowd London Technology Week conference will be discussing are London's impact on global gambling technology, blockchain and gambling, cloud-based services in gaming, data and personalisation, and a session that looks at the recent moves by the UK's Financial Conduct Authority (FCA) to open up a regulatory sandbox and asks whether a similar initiative might be applicable in the gambling world.
Also taking part in sessions during the day will be multi-million selling songwriter turned chief technology officer and co-owner of gaming technology specialists Grand Parade, Dominic Hawken who will be asking whether the gambling industry can match the success of London's innovative eSports and entertainment industries, Helen Walton from Gamevy winner of Pitch ICE 2015 in partnership with Clarion Events and GamCrowd will be looking at the challenges of setting up a gambling tech business, and a presentation from Sarah McChesney from Fresh8 Gaming who will be looking at how sports-betting has taken to adopting personalisation.
Another centrepiece session is the tech talent session that will be moderated by Rick Brownlow, founder of Geektastic. The session will address how the gambling industry can go about attracting the best talent and why the best and the brightest should consider looking at the gambling industry. Included in the panel will be Alastair Cleland, the new chief executive at specialist iGaming recruitment firm Pentasia, and Tina Southall, director of people from Gamesys.
Chris North, chief executive of GamCrowd, said: "Having been involved in the London tech scene for some years now and I noticed a lack of knowledge about the gambling industry amongst other sectors. Our one-day conference is about starting that conversation and is aimed at people from all sectors. I feel that the gambling industry needs to do a better job at promoting what a great sector so we so we can attract different ideas from other sectors and show the best tech and creative talent what they are missing."
The one-day conference is the first time a gambling specific conference has taken place as part of London Technology Week. The conference is one of over 200 events taking place throughout the capital between 20-26 June. Tickets and more information can be found www.gamcrowd.com/events

About GamCrowd
GamCrowd is an online content provider and event organiser focussed on the gambling Industry where it aims to be the home of ideas and innovation. Founded in 2013 by Chris North and Ian Hogg the company launched as a crowdfunding and crowdsourcing platform for the gambling industry. Never afraid to adjust their model to respond to what the market was telling them, GamCrowd has pivoted away from the crowdfunding element of the business to focus on GamCrowd Marketplace, a crowdsourcing platform for the gambling industry and the GamCrowd News, Studio and Events business which build on the lessons learned from the crowdfunding platform. GamCrowd is actively involved in start-up and small business focussed events in the industry including GamCrowd Pitch ICE, GamCrowd Studio Live and the Launch Pad events at GIGSE and EIG with their partner Clarion Events. They are also holding the first gambling focused conference at this year's London Tech week where they aim to open the doors of the London gambling tech world to the London Tech scene.
About London Technology Week http://londontechnologyweek.co.uk/
London Technology Week is a festival of live events taking place throughout the UK's capital. It celebrates and cultivates London as a global powerhouse of tech innovation by connecting the entire ecosystem both within London and beyond. This week of face to face networking, discovery and learning creates an inclusive and sustainable growth environment for organisations and social enterprises of all shapes and sizes.
Since its launch in 2014 London Technology Week has included more than 400 events and has welcomed delegations from around the world. Since its launch in 2014 London Technology Week has included more than 400 events and has welcomed delegations from around the world.