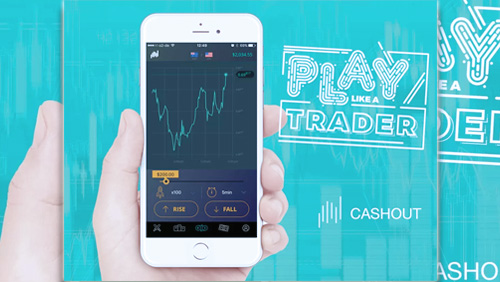 Berlin, April 20th, 2016 – Cashout (www.cashoutapp.io) brings the thrill of currency trading to a general audience through a free-of-charge gaming app for iOS. The app aims to allow everyone to understand the principles of foreign exchange using real-time data and without putting personal money at risk. Via an intuitive interface and minimalist design, Cashout makes it possible for users to dive into the currency markets in less than a minute in a fun and easy manner.
John Krehbiel, founder of Cashout: "Our vision is to make the foreign exchange markets accessible to everyone, and not just an exclusive few. Existing foreign exchange platforms dissuade those interested from ever trying their hand. At the same time many brokers push novices to begin trading with money before they have learned the basics, thus putting their capital at unnecessary risk. Cashout offers a clear solution to these issues by making it intuitive for new users to learn currency trading in a fun and stress-free environment."
The Foreign Exchange market ("ForEx" or "FX") is by far the largest market on the planet with over USD 5.5 trillion traded every day. By 2019, the Aite Group estimates FX volumes to near USD 8 trillion a day. In particular, the speculative retail markets have grown significantly over the past years. Today individuals and brokers speculate on trades of over USD 400 billion each and every day.
This is how Cashout works
Users download the app, create a trader profile and receive USD 10,000 in free trading currency. They then complete a simple tutorial that results in making a first trade in less than a minute. All data is live and the number of functionalities remain limited so that the user can grasp the concept of foreign exchange by interacting with the market. Beyond the basic trading functionalities, users can compete against other traders in real time battles. The app offers a global ranking system where users can follow their progress within the Cashout community. If a user is ready to try real money trading, Cashout provides a curated list of brokers.
About Cashout
Cashout is a Berlin-based startup founded in 2016 in Berlin by John Krehbiel. The company is backed by MAKERS. The app is currently available for iOS and will soon be on Android.
About MAKERS
MAKERS' community of entrepreneurs, investors and experts helps digital innovators turn their vision into reality. The Berlin-based company was founded by Friedrich A. Neuman and Marius Schulze in 2013. MAKERS helped build 8 companies with a combined revenue of more than €60M to date. Across the platform, MAKERS companies employ more than 120 people from 25 countries. For more information, please visit: www.makers.do