The Tiger Woods Foundation has announced details of their forthcoming Annual Tiger Jam event and the 14-time World Series of Poker bracelet winner, Phil Hellmuth, will be the MC for the charity poker tournament.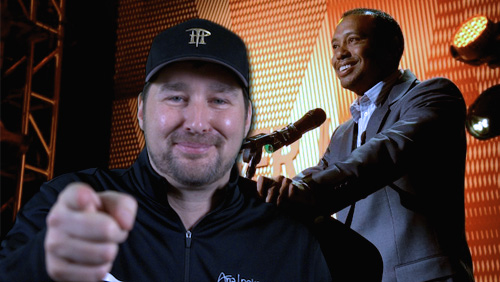 Phil Hellmuth once again takes charge of Tiger's Poker Night on behalf of the Tiger Woods Foundation (TWF) when the festivities kick off Friday, April 29.
The 14-time World Series of Poker (WSOP) bracelet winner is becoming an annual fixture at a philanthropic event that has played their part in the $17m raised by the foundation for the education of underprivileged children in America.
The event will span two days over the weekend of April 29/30 and will include a charity poker night, music, and a round of golf with the great man himself at the world renowned Shadow Creek Golf Resort.
The MGM Grand will play host. Guests who arrive 6 pm on the dot will be greeted with a cocktail reception in the Ka Theatre reception area. At 7.15 pm the players will move into the casino area to compete in Tiger's Poker Night presented by The World Poker Tour (WPT).
The full poker experience will cost you $11,000. For that top dollar, you will receive a seat in the charity event for you and a guest, two tickets to the cocktail reception and auction, two special gift packages, and two tickets to the Tiger Jam concert and VIP Post-Party tickets.
If you want to sneak into the event for free, then you need to be a very special guest, or you have to win the WPT Tournament of Champions (TOC). The winner of the WPT's season-ending finale will receive a seat into the event.
Players who fall into the 'special guest' category include WPT Champions Club member David Williams, Global Poker League (GPL) LA Sunset Star Maria Ho, the WPT's very own Vince Van Patten and Lynn Gilmartin, and white magic himself.
If you prefer golf over poker, then you can secure a round with the great man himself at Shadow Creek for the cost of $25,000. You and three guests will attend a private Q&A session with the man who has 79 PGA Tour victories under his belt, compete against him in the charity golf event, and take away an array of unique gift packages.
For those at the lower end of the income scale, a $3,000 ticket will get you into the cocktail reception, auction, concert, and VIP post party dance off.
All proceeds go towards the Tiger Woods Learning Centre and the Earl Woods Scholarship Program.