Lee Davy takes a look at the Martin Jacobson WSOP documentary 10 for 10 and picks out ten reasons why the Swede eventually became the champion.

Ok, so it took me two years to get around to watching it, but I have finally sat down and watched the '10 for 10' documentary inspired by Martin Jacobson's 2014 World Series of Poker (WSOP) Main Event victory.
I loved it. It made me cry. Then again, so does King Kong.
Sticking with the 10 for ten theme that will illuminate Jacobson's dreams for the rest of his life, here are 10 takeaways from the documentary.
1# You Are the Sum Total of the Five People You Hang Out With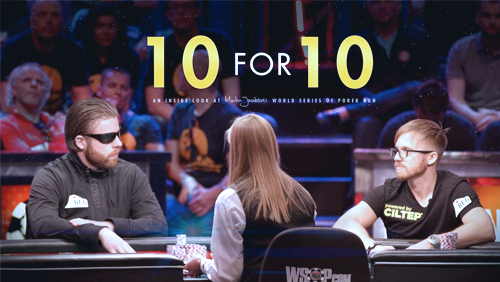 There is a scene in the documentary where Jacobson is preparing for the November Nine. He looks like he is in a Las Vegas suite. He is not alone, accompanied by Mark Radoja ($2m live earnings), Sam Chartier ($2.5m live earnings), Sam Greenwood ($2.8m live earnings), and Mike Watson ($9m live earnings).
When you surround yourself with bums, the likelihood is you will become a bum. When you surround yourself with some of the greatest poker players in the world, then the likelihood is…well you get the picture.
Wait, did I say five?
Jacobson once told me that the inspiration behind his work off the field on his mindset and health came from behaviours and habits from his girlfriend Angelica Lundberg, and I imagine he spends as much time with her as anyone.
2# Always Seek Advice
The reason those four poker players were in that suite with Jacobson was to prepare a game plan. You are never too good to seek advice from people. No money, no titles, and no amount of prestige should stand in the way of reaching out and asking the opinion of others.
3# Mentors
My first two points blend into my view that having mentors in every area in your life is crucial. Sure, you can try and plough a lonely furrow, but your back won't ache as much if you seek out those who can point you down the tracks already made by people who have ploughed that arid land before you.
4# Meditation
Meditation should be the number one habit that all professional poker players should adopt with immediate effect. I practice Transcendental Meditation 20-minutes, twice a day, and those closest to me tell me that my typically angry, rushed, and impatient demeanour has changed dramatically.
Jacobson recommends an app called Headspace in the documentary. I have heard it's mighty fine. If you are going to create one smart productivity habit tomorrow, then meditation is what you need.
5# Focus
Jacobson's level of focus has always impressed me and it went up several notches during his WSOP Main Event run. I believe this increased awareness of his surroundings, and the people within his sphere of influence, is down to his increased use of meditation
When the play was three-handed, he was the only one staring down without shades. For years, he has worked on his posture, and pose, and he cuts an extremely intimidating figure at the table while also projecting incredible comfort within his own bones.
6# Stretching
One of the reasons that Jacobson has such great posture is because he stretches a lot. Even a small period of stretching helps calm the mind and gives the body a little pick me up.
The first session of the final table lasted 17-hours. You need to ensure you are comfortable in the chair for that long, and frequent stretching helps loosen up blood flow to the muscles.
Anyone who has been to a yoga class, and has felt those dormant areas of your body awaken for the first time, knows what I am on about.
7# Nutrition
Look at that body.
Does that look like a man who eats French Fries and drinks Red Bull?
After his victory, it came to light that Jacobson had not consumed alcohol for three months leading up to the November Nine. Here is a lad who knows that food = energy.
He needed to be alive, fit, and in control during that final table. What better way to ensure that was to happen than to build strength from within. Poker players often cite environmental constraints when it comes to making the right food choices. Jacobson is proof positive that this is an excuse.
8# Biohacking
Before the three-handed action, Jacobson faced the media. When asked to explain his secret, he replied, "CILTEP". It was a tongue in cheek response, but there is something to gain from this comment.
CILTEP are one of Jacobson's sponsors and he takes their products for focus, motivation, and enhanced memory. While I am not sure that performance enhancing substances have much of a future in poker (I believe the likes of the GPL will eventually have to have some regulation and testing around this), Jacobson's approach is a wise one.
The former World Champion knows the importance of finding any edge he can in an environment getting increasingly more competitive with each passing year. Biohacking seems to be a way of life for Jacobson, as it should be for all of us.
9# Service
Jacobson had no affiliation with Raising for Effective Giving (REG) before his incredible run in this event. As he knew he was likely to win a substantial amount of money, he took the decision to join a non-profit and pledge 5% of his winnings.
Think about that?
You could win $5m (He had 50% of his action), and if so, would have to hand over $250,000 to a charity that you had no affiliation with up until that point.
What does that say about the values and vision of Jacobson?
10# Humility
When the ten card hit the flop in that dramatic final hand, Jacobson was drowning in a sea of family, fans and supporters on the rail. With all of his strength, he pushed them back, because he knew there was an opponent standing across from him who was just about to have his dream taken away.
If you ever are fortunate to spend time with this young man, his humility shines through. There are no airs and graces. There are no Billy Big Potatoes in his garden. What you see is what you get. A beautiful young man who happens to be one of the toughest tournament players of his generation.
What you see, is a real champion.
Comments