Aspers Casino in Westfield, Stratford are about to embark on their most ambitious poker festival to date – a five-day festival of non-stop cash game action.
There's a scene in the classic movie Crocodile Dundee when a mugger holds the characters played by Paul Hogan and Linda Kozlowski at knifepoint. Kozlowski tells Hogan to hand over his wallet to the knife wielding thug.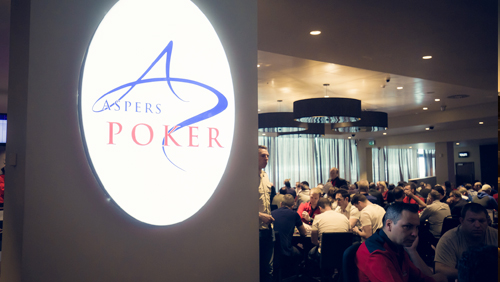 "Why?" Asks Hogan with a smile from ear to ear.
"Because he has a knife." Says Kozlowski.
"That's not a knife," says Hogan before pulling out a Bowie knife that would have made Rambo's look like a Swiss Army knife, "That's a knife."
It's that scene, and those two knives, that pop into my head when I think about cash games and tournaments. The tournament is the Swiss army knife. The cash game is the big Bowie knife.
It's widely believed that the greatest poker players in the world are those that master the art of cash games. They can cut tournament players to ribbons. But when it comes to poker festivals, the cash game action always enters the fray wearing the bridesmaid dress.
That's about to change.
Aspers Casino in Westfield, Stratford, has teamed up with Poker Icons to create a first in the UK – a five-day cash game festival. Poker Icons have run similar events at the Olympic Casino in Tallin, Estonia, and believe the UK is the perfect place to take it up a notch.
The event will operate 30th March to 3rd April and Aspers Head of Poker, John Scanlon, thinks it will be a winner. He is expecting over 3,000 players, from over 50 countries to take part in 120 hours of non-stop cash game action.
"There has been 48 and 72-hour continuous cash games held in the UK before, for example in the form of a tv series, but nothing with the ambition of running for 120 hours in a structured festival." Said Scanlon.
The event promises sponsored feature tables, high hand bonuses and many other surprises as the week unfolds. Visitors can expect to find No-Limit Hold'em (NLHE), Pot-Limit Omaha (PLO), 9-Game, and Open Face Chinese. If there isn't a game on display, then ask, and they will make sure it happens.
888Poker, OlyBet and Guts.com are event sponsors – online qualifiers will be available on all of those sites. One hopes all knives will be left in the kitchen draw.
Comments