ICE – the biggest gaming show in the world – is known for its razzmatazz, its product launches… and its promo girls in tiny skirts and outsize heels.
To industry newcomers, Gamevy – the winner's of last year's Pitch ICE – it was an opportunity to do something a little different – just like their games.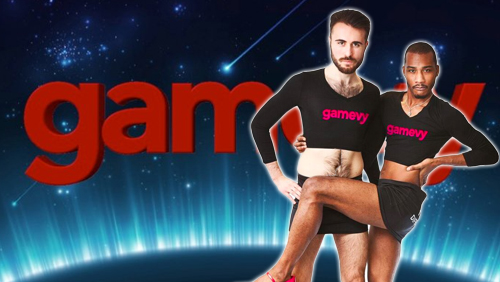 And here's the result – two lads from London, complete with hipster beards and ready to take on the girls when it comes to strutting their stuff in killer heels.
"Our games play differently," commented Marketing Director, Helen Walton. "They're like nothing else on the gambling market at the moment. The choices and skills of our players make a difference – whether they're hunting for the prize on a scratch, solving a puzzle or showing their trivia knowledge. So we like everything we do to play differently – to really stand out from the crowd!
"It's 2016 and the idea of seeing lots of promo girls all wearing skimpy lycra felt rather dated. We planned a cheeky take on the industry with our own "promo girls". If customers do a double take, that's fine with us – Gamevy is all about fresh ideas!"
A new concept, for a new audience
Gamevy has created a range of games designed to appeal to a much broader demographic. We aim to expand beyond the traditional core gambling audience to the 75% of adults who enjoy playing the lottery and who are looking for a 'softer' gaming experience. For millennials, accustomed to a more interactive experience in every other aspect of entertainment, Gamevy's new products are especially appealing.
"We took gameshows as our inspiration," explains Chairman Paul Dolman-Darrall. "People love to watch and play gameshows – the mix of skill, luck and life-changing prizes is always popular. Indeed, most people don't think of games like this as being gambling! Our games offer a choice of different skills and high quality design that offers a real sense of jeopardy and excitement."
True Innovation
Too many bookmakers offer exactly the same selection of games, with endless slots or scratch instant wins. For any customers looing for something different, the choice is underwhelming. It leaves sites all looking alike.
Continued overleaf
Gamevy – by contrast – is about true innovation. It's the first company to offer a unique combination of skill and chance games with jackpots up to £5million.
Games where the player matters
Most slots or scratch can be played endlessly on autoplay – the result is completely predetermined. For Gamevy, the thought is anathema and the company has brought their equally innovative approach to bear on scratch and slots as well!
"For too long scratchcards have been constrained by their heritage," comments Helen Walton, Marketing Director. "The digital versions available are simply paper translated online. It's crazy – the online arena allows for far more interesting interactions. That's why our scratchcards are the first where player choices really matter. Rather than selling people a predetermined card – our wins are determined in play – through choices a player makes. There really is a million pounds available to win on every card."
An all-out launch at ICE
Gamevy – who launched their ideas at PitchICE in 2015 and carried off the coveted Best Start-Up Award – will be introducing a range of their new games at ICE2016. New games include:
Sloto – the first lottery slots game where the player chooses their lucky numbers and can play for a £5million jackpot
Diamond Deal – the player must find the diamonds hidden on the board to scoop the glittering prize
Boss the Lotto – a scratch where the odds are in your favour – there are 43 good balls and only 6 bad!
Back of the Net – the sports and football quiz with a penalty shoot out for the £1 million jackpot
GoldenBalls – the game where everyone gets a second chance.
SuperSports – football, tennis, greyhound and horse racing… if you're a sports fan you will love Super Sports.
Unmissable!
As well as exhibiting, Gamevy will appear on the Pitch ICE stand to tell their remarkable story. Visit the stand N2-320 to learn more or chat to the Gamevy male models – you really can't miss them!