The gambling industry may be a tightly-knit industry, but that doesn't mean it's a collaborative one! And while innovation is a current buzzword, the reality is that the barriers to entry for start-ups make true innovation far more of a gamble than the casino games themselves…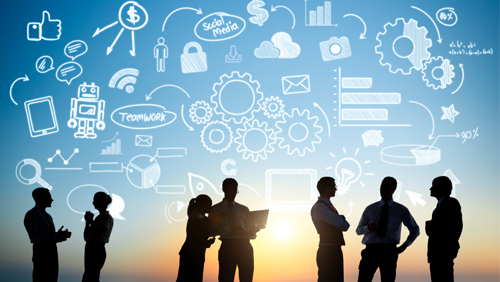 It's a problem epitomised by the biggest event in the gambling industry calendar – ICE Totally Gaming. With many companies prepared to spend close to 6 figures on the overall build and promotion, making any kind of splash at ICE is beyond the range of most newly-established companies – even when they are comfortably outside the 'start-up space'.
Punching above their weight
Four innovative young companies have joined forces to exhibit at ICE Totally Gaming 2016: allPay, BlockEx, Gamevy and W2 Global Data. All very different in their industry sector, maturity level and size – they shared an understanding that ICE could have a big upside for their business…
They have booked N2-320, a 90m2 stand in the North Hall in a prime position and will be dividing the space between them as well as having several shared meeting areas.
"It's quite simple," says Martin Pashley, CCO at W2 Data, "by joining together, the four of us can get a far better position and more space. If we were on our own our costs would be higher – and we'd be tucked away at the back of the hall with far lower traffic."
Aleks Nowak, one of the founders at Blockex agrees – "As a start-up, we know the value of being visible to our customers. Yet we also have to be prudent with our capital. This way we can launch our Digital Asset Exchange Platformat ICE with all the fanfare it deserves!"
Working Together
It was not all plain sailing. "We took a risk," admits Marketing Director of Gamevy, Helen Walton. "W2 and Gamevy booked the space – and then started looking for others to share with us. Plenty of companies we contacted treated us with outright suspicion – as if we were proposing something really dubious! Fortunately, we soon found allpay and Blockex who instantly got why collaborating was a good idea."
A joint design needing to be approved by 4 companies sounds like a recipe for trouble, but Katy Lawrie, Business Development & Product Manager at AllPay found the process straight-forward.
"We knew we wanted a stripped back and high impact design and we made the little compromises really quickly. In many ways, there's nothing like strict budgets to force you to think creatively! Emerging into new markets is always challenging but to collaborate at a high impact event with three other innovative companies has made that goal much more achievable. "
Indeed, all four companies believe that this is just the start of a more collaborative way of working between non-competing companies and even between start-ups in the same space striving to get established.
Visit the 4 companies at N2-320 to learn more about their products and services – and to play some games!
allpay Ltd: allpay is the market leader in bill payment, prepaid and cashless payment solutions, delivering innovative and value-added services. allpay has been in the prepaid market since 2009 providing innovative solutions across a variety of markets. As part of expansion plans, allpay have introduce a new platform with 'banking lite' capabilities and enhanced functionality which they plan to exhibit and demonstrate at the event.
Blockex (Digital Asset eXchange Platform) is a multi-asset trading platform, built for next generation assets (BITCOIN). Blockex provides a turnkey solution for operators to launch their own digital asset exchange. The Blockex platform is  the newest option for operators looking to expand into the financial sector. "Playtech for exchanges)  Bitcoin or Blockchain is the fastest growing and most talked about  segment of the financial industry.
Gamevy was the winner of Pitch ICE Best Start-up 2015. They build unique 'gameshows' – a new type of gaming which mixes skill, luck and huge jackpots up to £5million. They will be introducing new gameshows, instant wins and slots at ICE this year, including The Heist, Gears of Fortune, Buzzword, Boss the Lotto and Sloto.
W2 Global Data provide a wide range of SaaS screening tools to help organisations conduct regulatory Know Your Customer (KYC), Anti Money
Laundering (AML) and Fraud prevention due diligence. Services include ID and Age verification, PEP and Sanctions screening and device location or reputation
management. W2 have access to some of the world's largest data providers to offer clients intuitive, real-time access to the best information and their software enablement platform aggregates this through a single, intuitive point of access.
For more information please contact:
Helen Walton, Marketing Director, Gamevy Ltd
07906 236870
Comments