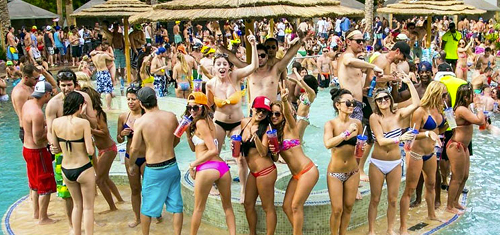 Nevada casinos had a November to remember thanks in part to a record sports betting performance.
According to figures released by the Nevada Gaming Control Board, November's statewide gaming revenue came to $944.3m, a 7.8% improvement over the same month last year. While still safely in positive territory, the figures were slightly less buoyant on the Las Vegas Strip, which enjoyed a 5.4% rise to $535.6m.
Slots had a good month, rising 13.3% to $596.4m. VIP baccarat, the traditional bellwether of Nevada's fortunes, generated $109.9m in November, a year-on-year fall of 14.3%. However, November's total was nearly $31m more than baccarat earned in October 2015, so the casinos ain't complaining too loud.
Most of the other table games were in positive territory, led by blackjack ($84.9m, +3.6%), craps ($26.6m, +11.8%) and roulette (($24.2m, +22.5%). The rest of the table tallies finished as follows: three-card poker ($12.1m, +1%), mini-baccarat ($7.4m, -8.8%), pai gow poker (($6.6m, -22.7%), let it ride ($2.4m, -21.3%), keno ($2.4m, -1.7%), bingo (($1.1m, +41.2%) and pai gow ($561k, -51.7%). The state's licensed poker rooms reported revenue down 3.9% to just under $9m.
The good times were at least partly attributable to the state's licensed sportsbooks, which reported betting handle of $557m, a new record for the month of November. The books also got lucky, holding 7.7% of wagers for a win of nearly $42.8m, another November record and the sixth-highest monthly win in Nevada history.
The books earned a hefty $29.1m from football wagers, a 4.3% year-on-year gain thanks to a 7.36% hold and the second highest football handle on record ($395m). Basketball win spiked nearly 157% to $8.2m on a 7.3% hold. Parlay cards dipped 1.5% to $5.1m while other sports contributed $640k, down 22.5%. Race books had a down month, falling 27.7% to just under $3.1m.
Meanwhile, the Las Vegas Convention and Visitors Authority announced the city had already set a new record for number of tourists in 2015, even without the expected contribution from New Year's Eve revelers. Last year saw 41.1m tourists descend on Sin City but 2015 has already welcomed 42m. Official figures for 2015 will be released in January.