First off, let's examine what I got right in my predictions one year ago.
I correctly predicted there'd be no progress on the US online gambling legislation front, pro or con, state or federal.
I also get points for saying Amaya Gaming's PokerStars would be approved to operate in New Jersey, although I lose points for predicting that this approval would come on the condition that Stars exit grey- and black-markets, which has yet to come to pass. (More on this later.)
I foresaw that a wave of consolidation would wash over the UK market following the introduction of the 15% online point of consumption tax. And I predicted Bwin.party would finally find a buyer, although I wouldn't have believed that this buyer would let Norbert stay on in an executive capacity.
I also took issue with overly optimistic analysts who suggested Macau's casino market would rebound in 2015, which obviously didn't happen.
Anyway, enough patting myself on the back. Let's dust off the crystal balls and see how they'll be hanging in 2016. (I've hidden a few less serious predictions in amongst the real ones, so do your best to discern between shit and shinloa.)
US MARKET
Pennsylvania will disrupt the US intrastate stasis by passing online gambling legislation in 2016, although the tax rate may turn out to be higher than operators are expecting.
But that's it. Other states may introduce bills and hold informational hearings but the bills won't get out of committee and the hearings will be like watching yet another Spiderman reboot. Come to think of it, having Doc Octopus testify on behalf of multi-tabling poker grinders would liven things up immeasurably, but I'm not holding my breath.
California nudged slightly closer to the online poker finish line in 2015 but so long as the Pechanga-led faction doesn't want it to happen, it ain't going to happen. Online poker is just not a major priority for California legislators, so until the state's gambling stakeholders are truly speaking with one voice, legislators have better things to do than wade into this morass.
Meanwhile, having convinced himself that he'd actually built a successful company rather than buy already successful companies with borrowed money that his parent company never intended to repay, Caesars Interactive Entertainment CEO Mitch Garber (pictured) will convince himself that he's a good enough acrobat to perform in Cirque du Soleil, leading to a literal and metaphorical fall from grace in front of a horrified audience in Las Vegas. Get well soon, Mitch.
TECHNOLOGY
Bitcoin inventor Satoshi Nakamoto will end the media speculation and reveal himself to the world in time to travel to Stockholm to accept his Nobel Prize for Economic Sciences.
Putting a face to this world famous nom de guerre will give libertarianism a new icon, one that will prove an unabashed supporter of the online gambling industry and of the rights of individuals to spend their money how they choose, rather than how repressive nanny-state governments in countries like China and the US would have them behave.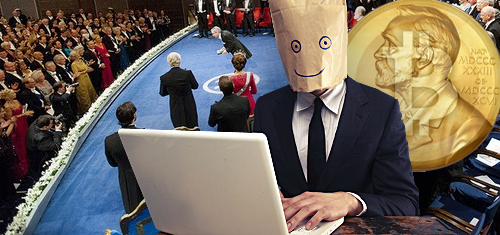 Consumer demand will ultimately compel all major online gambling sites to feature a Bitcoin payment option by the end of 2016. I've been promoting the potential of anonymous currencies in my predictions since 2012 and I'm going to keep pushing this idea until the rest of the world gets on board.
Bitcoin will also loom large as operators diversify into eSports betting. The eSports crowd is already used to seeking out technological alternatives due to the mainstream sports media's reluctance to slot eSports tournaments in their programming schedule, so when they bet on eSports, a significant chunk of them will want to do so using Bitcoin.
Gambling operators will also devote more time and resources to developing augmented reality interfaces, particularly for mobile devices. The technology isn't quite ready for prime time, but the companies that make the effort now will be able to make their mistakes when the stakes are relatively small. Laggards will save a little now and pay a lot later.
DAILY FANTASY SPORTS
Daily fantasy sports operators are going to lose their early January reckoning with New York courts and will be forced to exit the market (again) until legislators can muster enough support to amend the necessary regulations. Even then, official state authorization of DFS could trigger federal intervention for violating the PASPA sports betting prohibition.
(Speaking of PASPA, New Jersey will likely lose its Third Circuit Court of Appeal fight in February. But the Court will clarify an alternative path forward and New Jersey can be counted on to continue to push this envelope until PASPA finally collapses under the weight of its own contradictions.)
In the meantime, more state attorneys general will follow Eric Schneiderman's lead by getting tough with DFS operators, meaning more market exits, declining revenue and rising legal costs.
Facing bankruptcy, DraftKings will spend its remaining cash on a Super Bowl commercial that is nothing but one full minute of a drunken Jason Robins flipping the bird and mooning the camera (promo code: GAME OF SHILL).
AMAYA/POKERSTARS
The online gambling media will cover PokerStars' launch in New Jersey like Cronkite covered the moon landing. This will indeed be one small step for Stars' owners Amaya, but it won't be a giant leap for US online gambling.
Stars' launch will provide a small bump in New Jersey's online poker revenue, but the Garden State remains a walled garden with finite liquidity. Stars will perform respectably, but primarily at the expense of the state's other licensed operators.
I still think US regulators in other states will put pressure on Amaya to cease its grey market activity. It may not have been an issue in New Jersey, but Sheldon Adelson has a presence in Pennsylvania, and while he may not be able to derail the regulation train, he could exact a concession regarding Amaya's use of 'tainted assets.'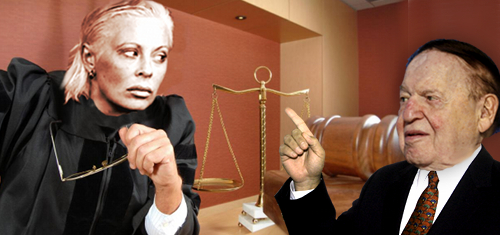 (Speaking of Adelson, he will deny ordering the Las Vegas Review-Journal to run a yearlong investigative series into allegations that Nevada Judge Elizabeth Gonzalez is actually Lock Poker's Jennifer Larson in disguise.)
The coming year will be tough on Amaya in other ways. The lack of a flashy new acquisition in 2015 allowed investors to notice reduced earnings numbers, which the company won't always be able to blame on currency fluctuations.
Whatever growth Amaya experiences will depend on its non-poker operations, primarily the continued rollout of its casino product. The new BetStars sports betting boat will rise with the Euro 2016 tide but Amaya is about to discover that, unlike poker, a sportsbook can actually cost a company money if a rash of favorites lives up to their advance billing.
Combine Amaya's focus on non-poker offerings with Stars' increasingly antagonistic stance towards its high-volume players, and the opportunity is arising for a competitor to challenge Stars' global market dominance.
EUROPE
The UK's new online point-of-consumption tax took a heavier toll than operators expected, adding fresh urgency to the wave of consolidation that washed over the major market players in 2015. At the rate things are going, Paddy Power-Betfair will merge with Ladbrokes Coral and GVC-Bwin.party, all of which will then be acquired by Intertain and rebranded as Acme Betting PLC.
Seriously, I expect further consolidation among the remaining independents in 2016, but mostly after Euro 2016 concludes, as smart companies won't welcome the distraction during the last big football event before the 2018 FIFA World Cup in Russia.
Consolidation may offer benefits of scale but, as the Bwin.party debacle amply demonstrated, it can also leave companies bloated, indecisive and unable to recognize or react to changing market conditions. As the number of market players shrinks, opportunities will arise for nimble and innovative startups.
Other than that, I have only one other European prediction, and this one's a mortal lock: more operators will come to the conclusion that it's just not worth being in markets in which the tax and regulatory compliance structures make it impossible to make money.
And Norbert Teufelberger (pictured, wearing sash) will joyfully rush the stage at the International Gaming Awards after Bwin.party is announced as Online Gaming Operator of the Year. He'll be halfway through his inspirational speech about the power of redemption when host Steve Harvey reveals that he read the wrong name.
AUSTRALIA
The Australian government's review of the 2001 Interactive Gambling Act will not attempt to bolt the door after the cows have fled. Operators are already offering online in-play betting via those voice-recognition smartphone apps so the government will accept the inevitable and explicitly legalize the practice.
However, the government will also bring the Northern Territory online licensing party to an end by allowing individual Aussie states to impose a point of consumption tax. States have long protested receiving no tax benefit from NT operators' dealings with their state's residents, while domestic corporate bookies have complained about NT operators getting a free ride while they pay through the nose. So it's a real crowd-pleaser, assuming you're not an NT-licensed operator, and thus an easy decision for legislators.
MACAU
I still don't believe Macau is due for a comeback. The monthly revenue declines will fall back to single digit territory in 2016 but that will be more due to the comparison with 2015's severely depressed numbers.
Beijing appears determined to finally squash the bogus purchase scams at pawnshops and jewelry stores, which will further squeeze junkets as well as premium and base mass cash customers. New smoking restrictions won't help.
And Mariah Carey will break off her romance with James Packer after he advertises her residency at Melco Crown's Studio City resort as 'More Junket In the Trunk.'
VIETNAM
After many years of hemming and hawing, Vietnam will finally lift its longstanding prohibition on locals entering casinos. While the fiscal requirements for entry will still keep many locals on the outside looking in, the change – along with the promised lower investment threshold – will spark renewed interest in the market from international casino operators.
PHILIPPINES
I've been saying this for the past couple years, but a lot of Asian-facing online operators are growing increasingly disenchanted with the licensing regime in the Philippines. The country was the first in the region to recognize the benefits of becoming a hub for online gambling companies but the First Cagayan licensing model has been showing its age for some time now.
The Philippines carved out a lucrative niche in the business process outsourcing world but they now appear to believe that this business is theirs by right. The opportunity is ripe for another nation to seize the moment and add good-paying white-collar jobs to its local economy.
LATIN AMERICA
The financial meltdowns in Brazil and Colombia appear to have finally pushed legislators into supporting online gambling legislation. These countries could act as the cork coming out of the continental bottle, similar to what we saw in Europe after France liberalized its online market, particularly in countries where governments are strapped for cash. An Argentine province launched its own online site just last month, apparently tired of waiting for the national government to make a move.
Mexico's senate has been sitting on online gambling legislation for a year now but I think they'll wake from their siesta long enough to approve the measure in 2016 (although the regulated market won't actually launch until 2017).
AND THAT'S THAT
Well, that's another year in the rearview and a fresh one looming on the horizon. Hope 2015 was good for everyone reading this and that 2016 is even better. Aggravations aside, this is a remarkable, dynamic industry and we'll all be taken by surprise by innovations and market shifts that no one sees coming. Cool, huh?