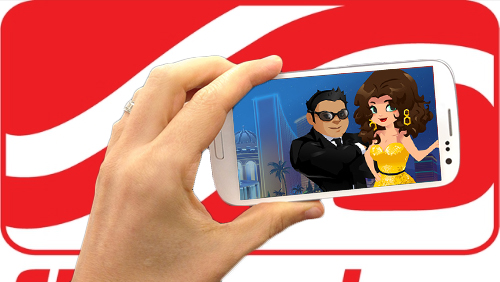 SEATTLE – December 2015 –FlowPlay, a leader in virtual world games and technology, today announced the launch of Vegas World Free Slots, its most engaging and robust multiplayer mobile game to date. Available now for download in the Google Play store for Android devices and coming soon to iOS, the free-to-play game boasts unmatched multiplayer and social functionality allowing players to chat with friends, share virtual goods, and play their favorite slots alongside hundreds of other players.
To download and play Vegas World Free Slots for Android, visit: https://goo.gl/jKPh0A
Vegas World Free Slots is the latest social casino offering from the development team behind the social casino industry's first truly social free-to-play game, Vegas World. Launching in late 2012, Vegas World features multiplayer functionality and a suite of casual casino-style games that has helped grow a tight-knit community of millions of players who make an average of 46 new friends while playing Vegas World for an average of more than 9 months. With this launch, FlowPlay is building on the success of Vegas World to bring some of the most popular features of the online version to mobile, including social gifting and one-to-many chat.
Key features of Vegas World Free Slots include:
One-to-One and One-to-Many Chat – Directly chat with friends or engage with an entire room while playing a variety of slots. Vegas World Free Slots will be the first and only game of its kind to offer a one-to-one chat across the entire player base.
Connect Seamlessly Across Platforms – Players can chat and interact with their Vegas World friends whether they're playing through the mobile app, on a tablet, or online.
Pay-to-Win Power Ups – Charms increase the payout value of slots, allowing players to continuously increase their balance over time.
Social Gifting – Become the life of the party by sharing Charms with friends, including drinks and other virtual goods.
Variety ofSlots – Choose from more than six slots, including original themes such as Space Girls, Mystic Millions, and Cat Party, for a new spin on classic slots gameplay. New themed slots will launch every two weeks.
"For an industry that touts social capabilities in its own name, the social casino industry is largely overrun by single-player slots games and, as a whole, has failed to provide truly social experiences," said Derrick Morton, CEO of FlowPlay. "Our goal with Vegas World Free Slots is to fill the gap left by today's standard mobile social casinos and bring engaging multiplayer experiences to a game genre that millions of people enjoy everyday."
About FlowPlay
FlowPlay, a developer of virtual environment and game technologies, make immersive worlds and massive multiplayer games possible with no software required beyond a basic browser. FlowPlay's first consumer product, ourWorld, is played by over 35 million players and is one of the most popular teen virtual worlds. Vegas World, FlowPlay's flagship social casino MMORPG, achieves industry-leading player monetization rates. In November 2013, FlowPlay introduced its social casino white-label platform, allowing businesses from any industry to quickly and easily bring their own uniquely branded social casino games to market. FlowPlay was founded in 2006 and is primarily funded by Intel Capital and the creators of Skype. For more information on FlowPlay, contact [email protected].