Eric Hollreiser, VP of Corporate Communications for Amaya Inc. and PokerStars has released the first piece of corporate literature since the strike in which he says it was 'ineffective.'
PokerStars has finally reacted in print to the three-day boycott. The grinders are up in arms. Effigies of Eric Hollreiser are selling out quicker than Kim Kardashian sex tapes.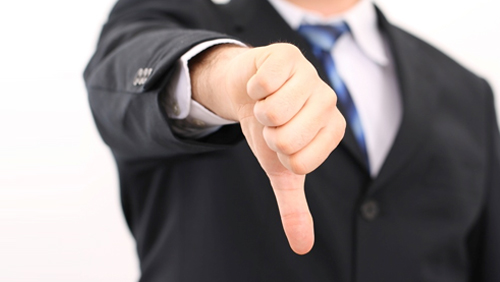 But before we get to that…
I went to my hairdressers for a short back and sides today. I should have been in and out – 10 minutes tops. I was in there for an hour. There wasn't even a queue.
This young kid, dressed like a chav, would snip here and there, step back and stare. He was looking in my eyes, at my cheekbones, at my clothes. At one point he even looked down at my shoes.
He wouldn't stop talking. He asked more questions than Chris Tarrant. Where did I live? What did I do for a living? Did I have kids? Where did I go out partying? What music did I like? What shows did I watch on Netflix?
In between staring at me like I stare at boobs, and chewing my ear off, I could tell that he loved his job. He was almost OCD, snipping one way and then the next.
"You love your job don't you." I said when paying.
"Yeah." He replied.
We talked for a little while. What he told me seemed irrelevant until I got home and read Eric Hollreiser's response to the strikers on behalf of PokerStars.
The hairdresser said that to provide a great haircut he needs to know how his customers are going to feel when they wear it. That's why he was assessing me. He was trying to get as close to me as he could.
"Whoever gets the closest to the customer wins." He said.
Customers want to be seen.
That kid saw me today.
He knew that being an excellent hairdresser does not make him successful. It's the difference he has made in my life that does that.
PokerStars has announced plans to launch four $1m free rolls in 2016. It came neatly packaged in a press release written by Eric Hollreiser. The feedback has been vitriolic.
There are many bones of contention one can pick out of the press release, but the femur seems to be his assertion that PokerStars players were given adequate warning that the VIP program was going to change.
"We first announced that there would be significant changes to the 2016 VIP program in October 2014, following a comprehensive review we had undertaken earlier that year, and repeated this several times throughout 2015."
,@erichollreiser Can you clarify what you mean when you say players were repeatedly warned through 2015 of VIP club changes? Where exactly?

— Dani Stern (@TheRealAnsky) December 10, 2015
Rubbing sulphuric acid into the wounds Hollreiser then told the readers that the three-day players strike was ineffective as 'traffic actually spiked during the period. He continued to impress that they also 'recorded the healthiest consecutive three-day ecosystem results of the year,' and PokerStars had now found the 'right foundation' for them to build upon.
You'd think a communications expert at a multibillion $ company would be able to hide his contempt for the customers https://t.co/NKKnuDqSEa — Phil Galfond (@PhilGalfond) December 10, 2015
There was also a heavy use of the word 'could', which translated means 'I am in charge, not you.'
"We could have communicated to players more often that significant changes were coming in 2016."
"We could have been more explicit that these changes would be significant and would take effect in 2016."
"And we could have noted this on our VIP web pages that gave details of the program."
But they didn't.
#couldhavedonemore pic.twitter.com/9Sl4I9DrHn

— Phil Galfond (@PhilGalfond) December 10, 2015
Hollreiser did apologise, but it came after a press release that has now driven a chasm between PokerStars and their primary grinders.
@TheRealAnsky I will look thru forum posts. I will come to same conclusion as I said in blog: we could have done more. I am sorry. — Eric Hollreiser (@erichollreiser) December 10, 2015
But here's the rub, I don't think PokerStars gives a shit.
All great marketers segment their customers into categories. Aspects such as gender, age, income and occupation are important. But the greatest of great marketers go even deeper. Like, my hairdresser. They want to understand your pains, problems and parasites. They want to see the world through your eyes. They have empathy.
The problem with ineffective communication is it destroys trust. People don't trust PokerStars anymore. Future behaviour will always be tacked onto the need for Stars to make more money and not to create an ecosystem that is better for the players.
However, if we could trust them, then it's apparent that there is a real problem here. Hollreiser is selling a story – not a very convincing one – that they are like my hairdresser. They do understand the pains, problems and parasites that affect the bulk of their customers, and unfortunately, those parasites are the grinders.
E-Mail marketing solutions providers like Mailchimp, AWeber and ConvertKit realised a long time ago that there is no one size fits all solution for most online companies. They solved this by creating segmented e-mail list solutions so companies could ensure they empathised with all of their customers no matter what their problems were.
PokerStars have an explicit segmentation – grinders and recreational players. They see the world through the eyes of the recreational players. They aren't doing the same for the grinders.
"We believe that these freerolls are further affirmation of our commitment to bring more excitement and recreational players to PokerStars, which is good for ALL players." Says Hollreiser.
By capitalising the ALL, it's as if Hollreiser is trying to tell the grinders that they don't understand what PokerStars are trying to do, and if they did, they would stop complaining. From my vantage point, these changes are NOT good for all players because they recently went on strike for three days in protest. Nothing I have seen since on Twitter makes me feel otherwise.
The foot also came down…hard.
"We will not alter those plans." Wrote Hollreiser. "Changes are needed, and we are making them."
So PokerStars has made their move.
Check.
Now, it's over to Stern and co.
Daniel Negreanu Goes to Print
Daniel Negreanu also went to print to voice his views on the press release and the strike. People who listened to the Joey Ingram podcast wouldn't have learned anything new. For those of you who didn't, Negreanu believes the communication from PokerStars has been appalling and has apologised profusely for not getting involved sooner.
Today, he started by praising Amaya chief David Baazov. He stated that the previous management was planning to cut the VIP program in Jan 2015, but Baazov delayed it because the notice given to VIPs was insufficient.
"I did my absolute best to find the best compromise possible for the players." Said Negreanu before acting all Spartacus on us. "I want to take full responsibility for my role in the communications breakdown between PokerStars and the players."
Negreanu did say that 'upper management' have agreed to regular dialogue with the players. But who should represent them? At the moment, it seems likely that Dani Stern will take that role, but I would also like to throw the name of Phil Galfond into the ring.
Also, I know some disagree but I think @RealKidPoker is in a tough situation w/ Amaya changes & is doing MUCH better than most people would.

— Phil Galfond (@PhilGalfond) December 10, 2015
So there you have it.
PokerStars screwed up communication and told the grinders they were taking away their money.
The grinders threatened to go on strike.
They did.
PokerStars reacted by telling everyone that the strike was ineffective, and the changes will stand.
My guess is we will see more strikes both online and at the PokerStars Caribbean Adventure (PCA).
In the meantime, I am off out.
I didn't pay £10 for a haircut to sit here all day typing articles.