Gibraltar, 10 November 2015 – Cashtrovaders is the new instant win game from lottery supplier Inchinn. It brings the retro 8-bit "shoot'em up" arcade game into the 21st century real-money arena.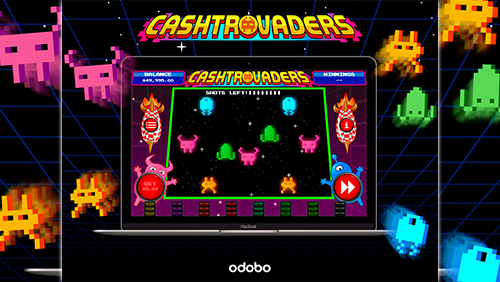 Players are tasked with clearing the skies of alien invaders in during this homage to 80's arcade classics. Cashtrovaders offers the perfect balance of nostalgia and excitement, with fast game play and trendy "big-pixel" graphics.
Each colourful, animated alien that the player zaps then combusts into a cloud of dust and reveals a cash value; players are immediately rewarded when they match three of the same values.
The addition of Castrovaders and its original game play complements Odobo's existing instant win games, which include scratch cards and multi-level symbol matching titles.
Lee Bowden, Managing Director at Inchinn, commented, "We believe that games should deliver instant gratification with high-production values and entertainment beyond the potential to win cash prizes. At Inchinn we're creative yet we understand a real-money player's motivation. Working with Odobo allows us to focus on that creativity as it handles the technology that powers the game without restricting the game play itself. We're excited to see the game live."
Shelley Hutchinson, Games Delivery Manager at Odobo, said, "Cashtrovaders is an imaginative take on an instant win game with animations to increase engagement and the ability to select which aliens to blast-to-dust. Inchinn is known for its innovative take on this genre of game and it has certainly delivered with Cashtrovaders."
Cashtrovaders is live and available to license via the Odobo Marketplace. Try the game for free at: http://odo.bo/p/cashtrovaders
About Inchinn:
Based in the jewellery quarter in the city of London, the newly regenerated "Tech City" part of the capital, Inchinn leads the way as one of the UK's leading digital and creative gaming agencies.
After finding its feet with applications for renowned media clients such as the BBC, Channel 4 and MTV in 2010, an invitation arrived to work with Camelot and the UK National Lottery in the provision of Instant Win Games (IWGs).
Within just 6 months, Inchinn emerged as their number one agency and over the next two years have completed over 40 games and have been entrusted with such global and high profile properties such as Bejeweled, Monopoly, Battleships, Top Cat, Connect4 & their Bingo offering. With games now running with lotteries in Ireland & the U.S, Inchinn is one of the most experienced game developers for the lottery & softer gaming market places in the world.
About Odobo:
Odobo is the industry's first HTML5 Developer Program and Marketplace for the real-money gaming industry. The result is an award-winning, modern, fully-distributed and cloud-enabled regulated gaming content solution, devised by industry veterans. Operators license content from over 40 studios via the Odobo Marketplace.
Odobo Play is a consumer games discovery channel, offering games for free with the option to play for real-money with regulated operators. Odobo Play is now available as an iOS App.
Odobo, based in Gibraltar, is licensed and regulated in the UK and by the Gibraltar Gambling Commission. For more information contact: [email protected]
http://odobo.com – corporate
http://odo.bo/play-ios – consumer