PayPal continue their U.S. Online gambling pilot scheme with the launch of services via WSOP.com in New Jersey, and Skrill has been removed as a withdrawal option on the Merge Network.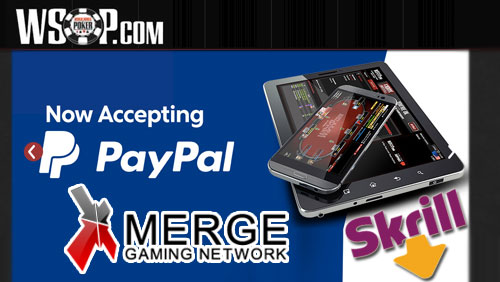 Two months after the umbilical cord was severed between PayPal and eBay, the online payment giant has tiptoed back into the choppy waters of U.S. online gambling.
A fortnight ago our very own Peter Amsel picked up that PayPal had quietly agreed a deal with WSOP.com to offer their services via their Nevada-based online entities, and their New Jersey based operations have also been added to the deal.
PayPal is still yet to make an official announcement, but they did offer the following statement to CNBC yesterday:
"PayPal is launching a pilot program to support four leading real money gaming (RMG) operators to offer PayPal as a way for gamers to fund their online accounts with these merchants. We are launching this pilot now that we are able to fully comply with the evolving laws surrounding RMG in the United States as well as the requirements of our payment partners. As a global payments provider, PayPal's goal is to give people safe and simple ways to pay for the things they want, so long as we can comply with applicable laws."
It's great news for the image of online gambling in the U.S. In the early years of PayPal they were losing millions due to fraud and nearly went out of business. To partner up with online gambling companies is a sure sign that they believe it is a safe and efficient environment from which to do business, not to mention the potential income source it believes it can be.
PayPal were once the largest online payment processor for online gambling in the U.S. before their 2003 merger with eBay brought that relationship to a shuddering halt.
It seems inevitable that once PayPal has conducting it's pilot scheme that the other major online gambling brands in the U.S. will be approaching PayPal to be approved as a merchant.
No More Skrill on Merge
Whilst players at WSOP.com are no doubt cock-a-hoop over the PayPal news, the same cannot be said for players continuing to use the Merge Network.
Dan Katz at PokerNewsDaily has reported that players using the Skrill withdrawal method on the Merge Network received e-mail from the firm advising them that their Skrill withdrawals have been declined and the money transferred back to their online account.
The statement read: "We apologize for the inconvenience but we are no longer able to provide Skrill as a withdrawal solution"
There was no reason given for the change.
Katz also reported that bank wires were taking 41 days to reach players bank accounts, and Skrill withdrawals were taking as long as three months.