Consumers can expect the official rollout of Apple's iOS 9 in a week or so, an operating system that will support ad blocking and other content blocking features.
Small to mid-size publishers have been on red alert since they learned of iOS 9's plans and some even say this move by Apple could be a "game changer".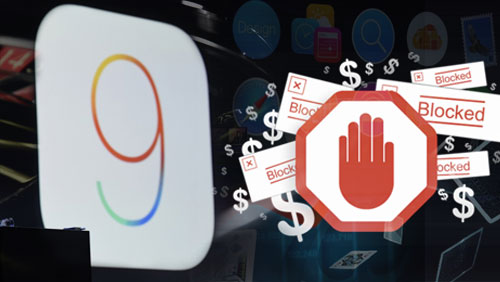 The use of ad blockers are already widespread amongst desktops, but not nearly as common for mobile and tablet devices.  Considering Apple's dominance in the mobile marketplace, the iOS 9 rollout and its ad blocking capabilities will likely have a big impact on the digital publishing and advertising industries targeting mobile users.
After reviewing the general impact of ad blocking technology on the online gambling industry this summer, this week I'd like to investigate how the imminent iOS 9 rollout will fit into the picture.
iOS 9 Ad Blocking support- how will it work?
All signs are pointing towards an automatic roll out of ad blocking capabilities in Safari with iOS 9.  The new software will also allow developers to create ad blocking apps with ease, allowing consumers to download these apps and block ads in other mobile browsers such as Chrome.
Such ad blockers have the functionality to detect script in code for pulling ads but also prevent the gathering of valuable consumer behavior data such as how long the consumer stays on a particular page, information that publishers will surly miss.
So why is Apple doing this?
There appear to be two clear benefits here for Apple:
1)Smoother consumer experience
2)More control
Lets begin with consumer experience.
Most ads are annoying.  Consumers are eager to skip ads on YouTube, Snapchat, commercials on TV, pop-ups are ever so intrusive and even more annoying are auto-play video ads with sound.  We've all been trained to ignore banner ads, so who cares about them anyway?
Aside from the aesthetics of an ad-free web page, without ads, these pages load much faster and use less data.  Less data means a potentially smaller data package for the consumer, resulting in a reduced phone bill each month.
However, what consumers need to realize is the very ads they are blocking are what pay the bills for a number of the sites they are surfing.  Its possible a lot of the free content available today might disappear as smaller publishers go out of business, or the content might come with a cost.
Here's where more control for Apple comes in.  iOS 9 will also debut an Apple News app, a place where publishers can submit their content to get the views and collect advertising revenue, but they will have to pay a fee to Apple, of course.
What impact will iOS 9 rollout have on affiliates and operators?
At this stage we can only speculate, but according to Franc Goebbels & Fintan Costello of RevenueEngineers.com, "Given the popularity of the Safari browser and how quickly apple devices upgrade to the latest operating system this is a big deal".
They pointed out iOS 9's roll out is especially a big deal from a general publisher perspective as it will cost them cold hard cash.  In terms of affiliates, the same advice applies for any ad blocking software challenges:
-Invest in first-party ad serving and stop relying on the third-party ad serving of the gambling companies.
-Use custom messaging or restrict content if ad blockers are used.
-Use "back to basics" advertising such as icons, buttons, text links and other formats that don't get blocked.
Goebbels & Costello added, "From a gambling operator perspective, the advertising landscape gets even more fragmented and complicated and having systems that can handle the complexity are even more important".
So what do we do now?
Its too early to pinpoint exactly how much of an impact the iOS 9 roll out will have on the online gambling industry, but its certainly not the end of the world.
As Goebbels & Costello pointed out, "For users who don't install an ad-block app they will still see ads on other browsers such Chrome or Firefox and it won't have an impact on in-app banner ads as well as Apples own iAds".  More and more consumers are seeking content via mobile apps vs. browsers, so perhaps focusing on apps is the way forward.
Regardless of the big iOS 9, ad blocking in general has been around for a while now and as technology sharpens, our industry will have to look into more powerful ways to capture the attention of consumers.  One area to focus on is native advertising, for example.  Start innovating.  Rather than panic about the inevitable, create better ads.
Comments